Travis Kelce Says His Dad's Laziness Has Led to People Mispronouncing His Last Name for Years
At this point in his NFL career, Kansas City Chiefs tight end Travis Kelce is a household name. But is every household pronouncing that name wrong? That appears to be the case.
The pronunciation of Kelce's last name has been a hot topic of conversation on social media within the past month or so, and he recently revealed why people have been mispronouncing it for so long.
Chiefs TE Travis Kelce's last name is not pronounced the way you think it is
In July, a clip of Travis Kelce on Taylor Lewan's Bussin' With The Boys podcast made its rounds on the internet.
In the clip, Kelce said this about the pronunciation of his last name (it's spelled in the quote how he pronounced it): "I got Kell-see and then Kels, my real name is Kels, so I mean, I just kind of roll with the punches," per Bleacher Report.
The comment created quite the stir on social media, and Kelce's teammates even chimed in.
"So I've been saying his name wrong this entire time," Tyreek Hill tweeted.
Patrick Mahomes added: "Bro he never corrected us once."
So, what's the story behind this? Is it really Kels instead of Kell-see? And, if so, why has the world been mispronouncing it his entire career?
We finally have a clear answer.
His dad's laziness had something to do with the mispronunciation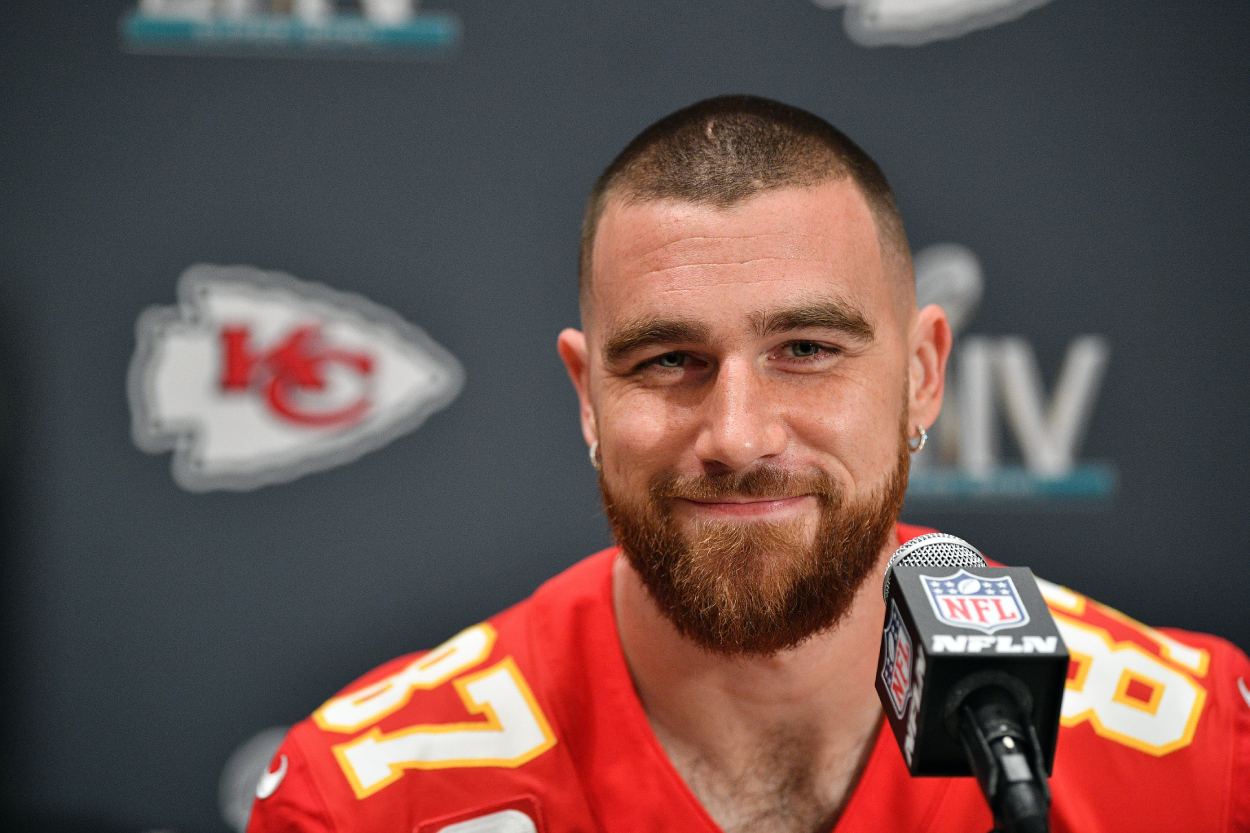 Kelce recently appeared on The Rich Eisen Show, and Eisen, of course, had to ask him about the pronunciation of his last name. The All-Pro tight end then cleared some things up.
"Everybody on my father's side has said Kels my entire life, but my father growing up just kind of got lazy and didn't really wanna keep correcting everybody that was calling him Kell-see, so he just went along with Kell-see," he said on the Aug. 26 episode. 
He continued: "So, my father worked from home and answered the phone calls every single time somebody would call it, 'Hello, it's Kell-see.' So, my name is Kell-see. I'm rolling with what my dad says, what my brother says. Shout out to all the Kelses that are in the family tree. I hope we're not pissing you off."
OK, so if you're debating who the best tight end in football is, it's fine if you say Kell-see, but you wouldn't be wrong by saying Kels, either.
No matter how you pronounce his name, Kelce is a baller on the field.
Kell-see or Kels, Travis Kelce is a star for the Chiefs either way
People were so shocked by the news about Travis Kelce because of the fact that his play for the Chiefs has made him one of the biggest names in sports.
He went to Kansas City in the third round of the 2013 NFL Draft, and after only playing in one game as a rookie due to injury, Kelce has been a star ever since, never gaining under 850 receiving yards in a season.
Kelce has also earned a Pro Bowl selection every year since 2015 and has gained over 1,000 receiving yards in five straight seasons from 2016 through 2020. He has been a first-team All-Pro three times and broke the single-season record for receiving yards by a tight end in 2020 with 1,416. 
The Cincinnati product has become one of the greatest pass-catching tight ends to ever play and is a big reason why the Chiefs are one of the best teams in football. He even helped take them to back-to-back Super Bowls the past two years and they won it all during the 2019 campaign.
To put it simply: Kelce is a game-changer.
So, no matter how you want to pronounce Kelce's last name, just know this: He is one of the best tight ends to ever play. He is box office.
Stats courtesy of Pro Football Reference