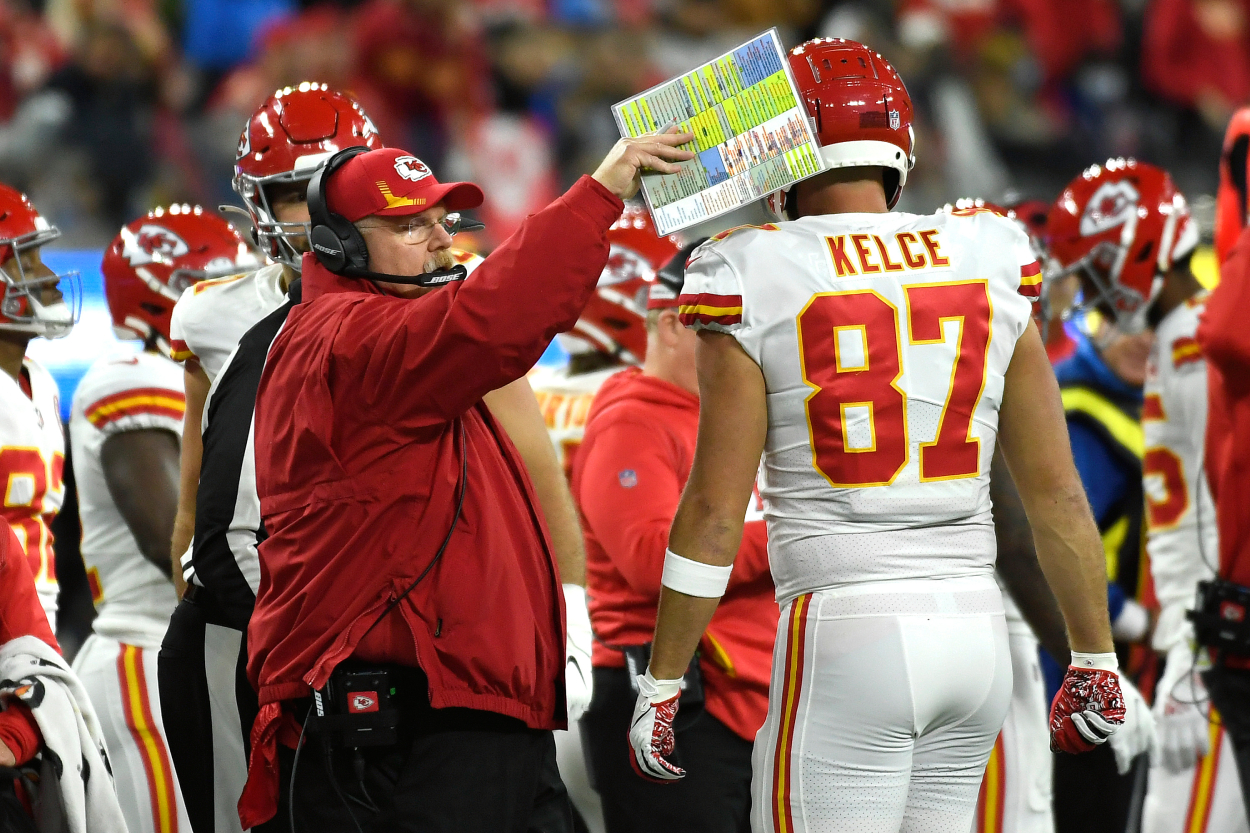 Travis Kelce's Working Relationship With Andy Reid Began With 1 Vulgar Phone Call … Or so It Seems
Travis Kelce is a future Hall of Famer, but his working relationship with Chiefs coach Andy Reid supposedly began with a vulgar phone call during the 2013 NFL Draft.
Every legendary athlete needed someone to give them a chance, and that was the case for Kansas City Chiefs tight end Travis Kelce.
Kelce has turned into one of the greatest tight ends in NFL history. His athleticism at his size makes him almost impossible to take down. But before becoming a future Hall of Famer, Kelce needed someone to give him a chance. Actually, he needed multiple people to give him various chances. 
In fact, who knows what his career would look like had Andy Reid not given him a phone call during the 2013 NFL Draft.
Travis Kelce had maturity issues during his college career at Cincinnati
Travis Kelce was a fantastic athlete at Cleveland Heights High School in Ohio. But not at tight end. He was a star quarterback, and he had all intentions of playing QB in college at the University of Cincinnati (that was why he chose UC over some larger schools that wanted him to play tight end).
However, Kelce redshirted on Brian Kelly's Bearcats team in 2008 before appearing in 11 games in 2009, making his mark as a Wildcat quarterback.
Then, the 2010 season came.
Travis didn't play that entire year for violating team rules. According to USA Today, he failed a drug test for marijuana. But thanks to his brother, All-Pro center Jason Kelce, UC gave him another chance and welcomed him back to the team in 2011.
Butch Jones, though, was the new head coach at that point, and Kelce switched to tight end. He had a decent year in 2011 before becoming a star in 2012. Kelce recorded 45 catches for 722 yards and eight touchdowns in his senior year, catching the attention of NFL scouts everywhere.
Andy Reid supposedly made a vulgar phone call to Travis during the NFL Draft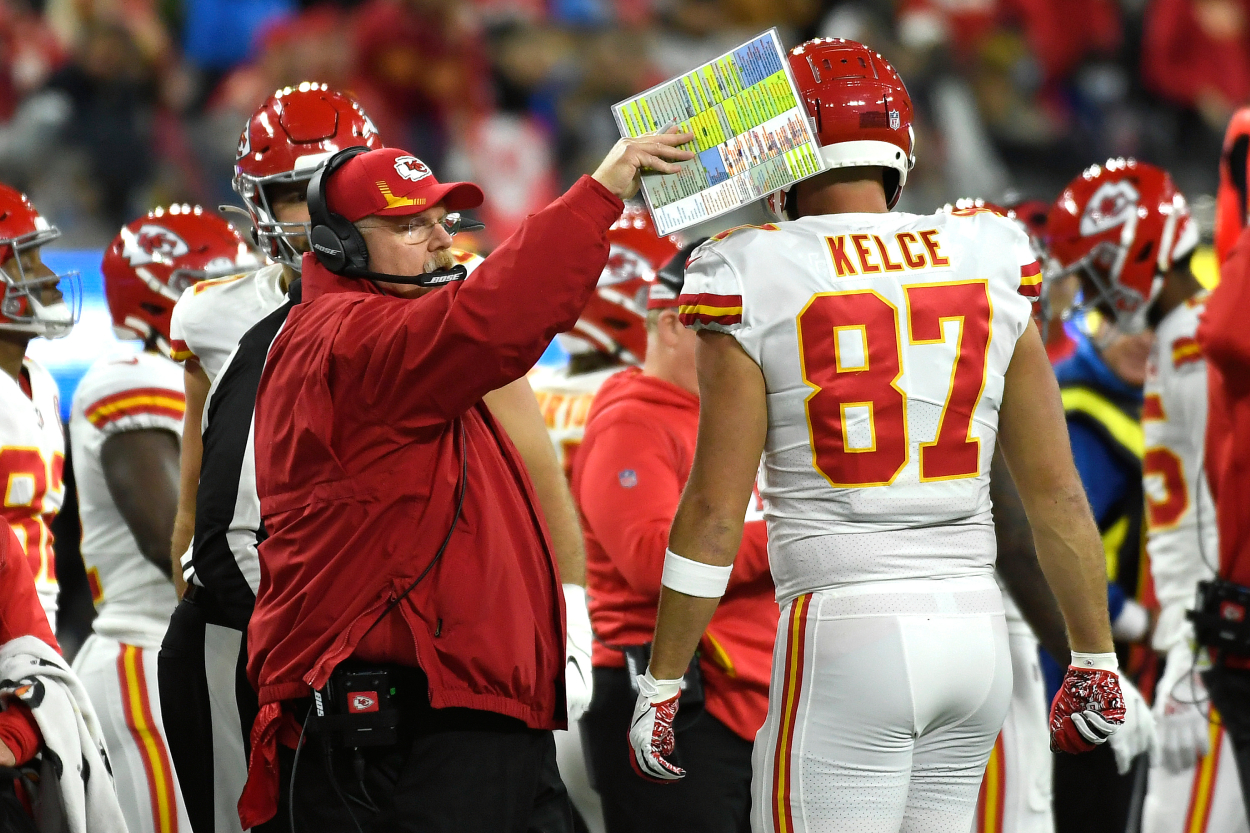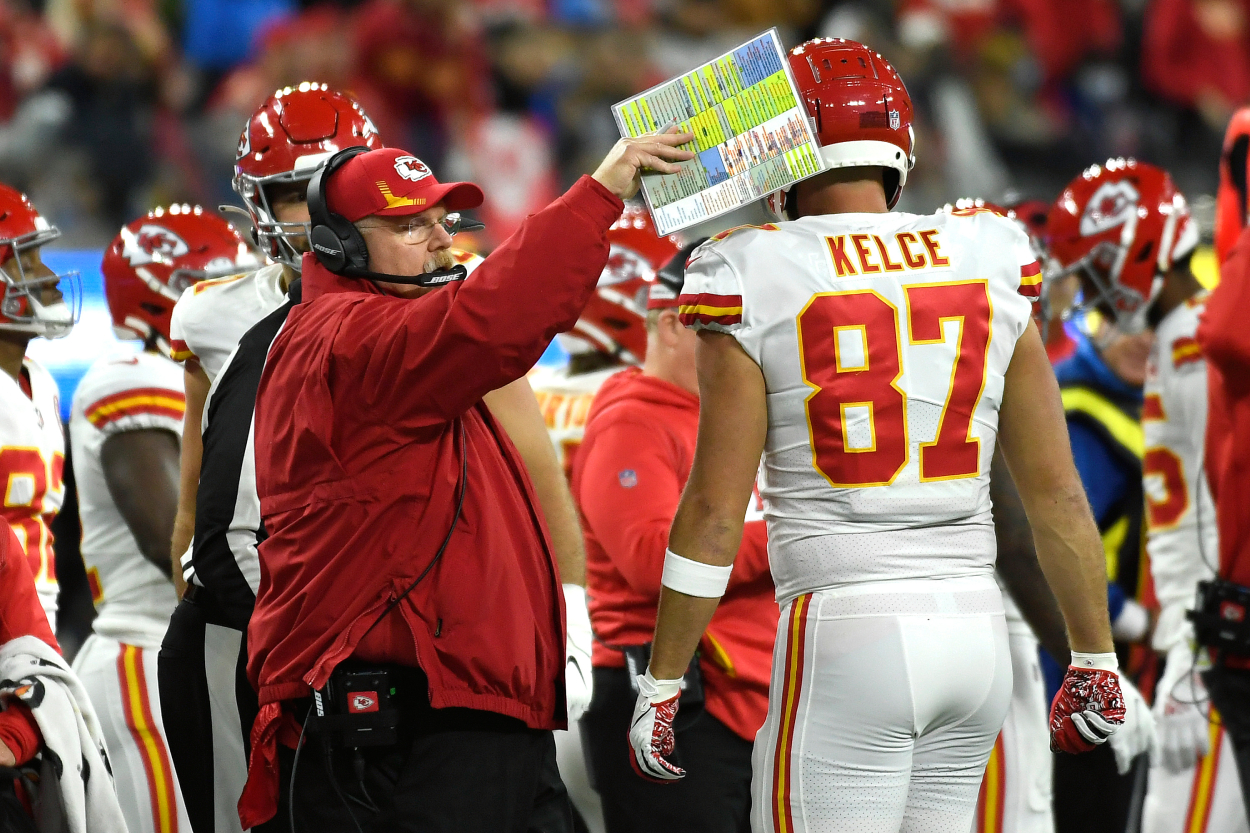 Andy Reid was trying to get back to his old winning ways in 2013 when he became the Chiefs' head coach. He went 4-12 in his final season with the Philadelphia Eagles the year before. And in his first draft with his new team, he took Travis Kelce in the third round.
According to Nate Taylor of The Athletic, Reid, aware of the concerns surrounding Kelce's maturity, called the young prospect during the draft.
He asked him a simple question.
"Listen, are you going to f*** this up?" Reid asked, according to The Athletic. "Are you going to screw up this opportunity if I take you?"
Taylor wrote that Jason Kelce, who played under Reid on the Eagles for two seasons, also talked to the coach during that phone call. He vouched for his brother. Travis promised he would do his best, and the Chiefs took him with the 63rd overall pick.
The only problem is that Reid has denied asking him if he would screw things up.
"You have to understand that I knew Travis before we took him. I had his brother (with the Eagles), and he came to visit his brother all of the time," Reid said to the Associated Press in 2019, per USA Today. "I didn't ask if he was going to screw it up or tell him that he was going to screw it up. I just said that you know how I operate, and welcome aboard — and that I'm probably not going to be the easiest on you. He said, 'I got it.'"
Whether Reid asked that question or not, he took a chance on the immature Kelce. And it has resulted in one of the most extraordinary careers in NFL history.
Travis Kelce has grown up and is now a future Hall of Famer with the Chiefs
Travis Kelce now takes his craft seriously. He has become a seven-time Pro Bowler and a three-time First-Team All-Pro with Reid and the Chiefs. He has gained over 1,000 receiving yards in six straight seasons and holds the NFL record for most receiving yards by a tight end in a season (1,416 in 2020). He's also sixth in NFL history in career receiving yards by a tight end with 9,006 (H/T StatMuse).
But he has developed into the leader the Chiefs have needed during their magical run as one of the best teams in NFL history as well. While helping guide them to four straight AFC Championship Games, two consecutive Super Bowls (as of Jan. 30, 2022), and a Super Bowl title, Kelce is now the man his teammates listen to for inspiration.
"He's that vocal leader that you need," Tyreek Hill said, per The Athletic. "Even for me, I'm six years in, and it feels good for me just to hear that confidence-booster from Travis. He's definitely a guy that we need to bring that energy."
Who knows where the Chiefs would be had they not drafted Kelce in 2013. And who knows where Kelce would be. We don't have to worry about that hypothetical, though, because Andy Reid's one phone call (vulgar or not) has led to him and Travis Kelce going an all-time great run together in Kansas City.
Stats courtesy of Sports Reference and Pro Football Reference