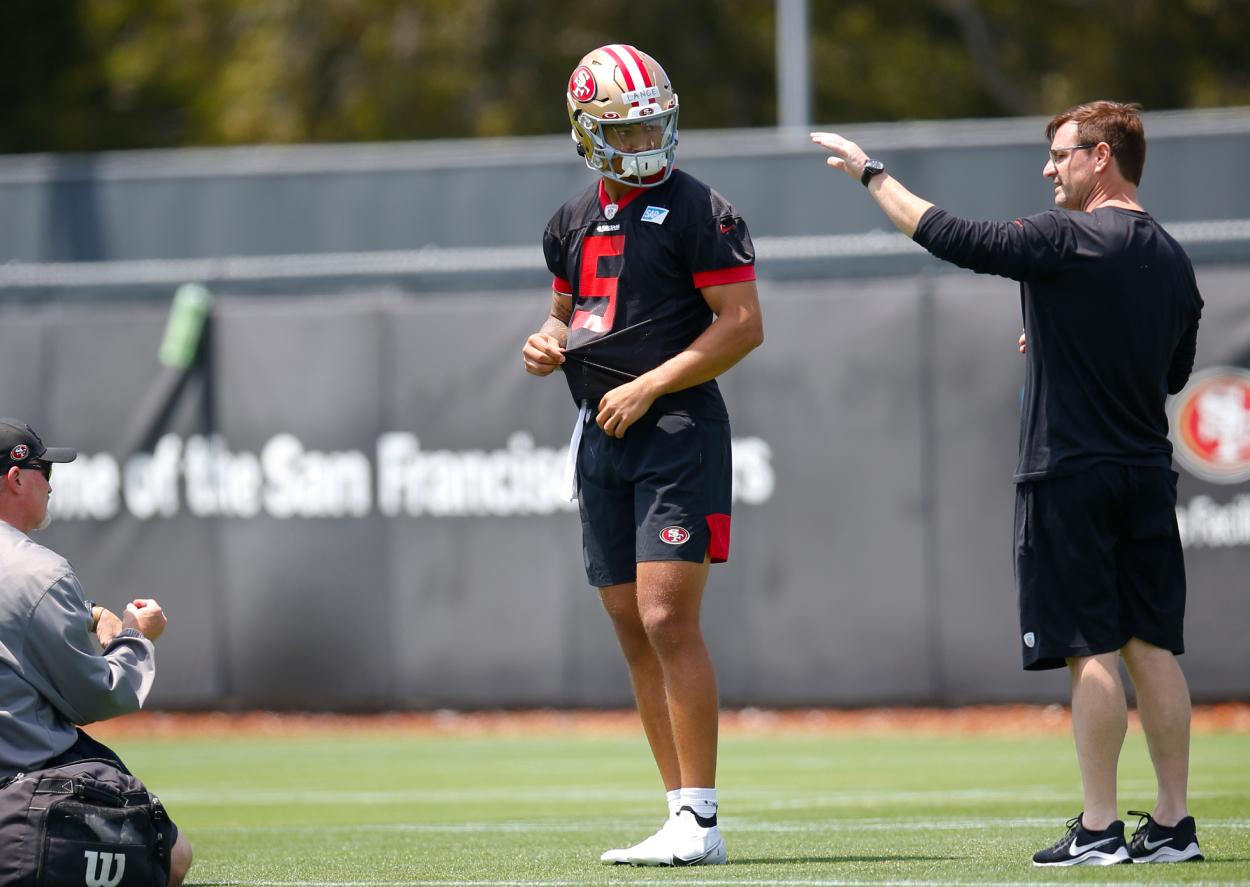 Trey Lance and the San Francisco 49ers Rookies Already Getting Harsh Dose of Reality
Trey Lance got a dose of reality before training camp even started.
Trey Lance has some serious expectations. The San Francisco 49ers rookie quarterback was the third overall pick in the 2021 NFL draft out of North Dakota State. The 49ers training camp hasn't even begun, yet Lance and all the other San Francisco rookies are already dealing with a harsh dose of reality.
The San Francisco 49ers took a gamble with Trey Lance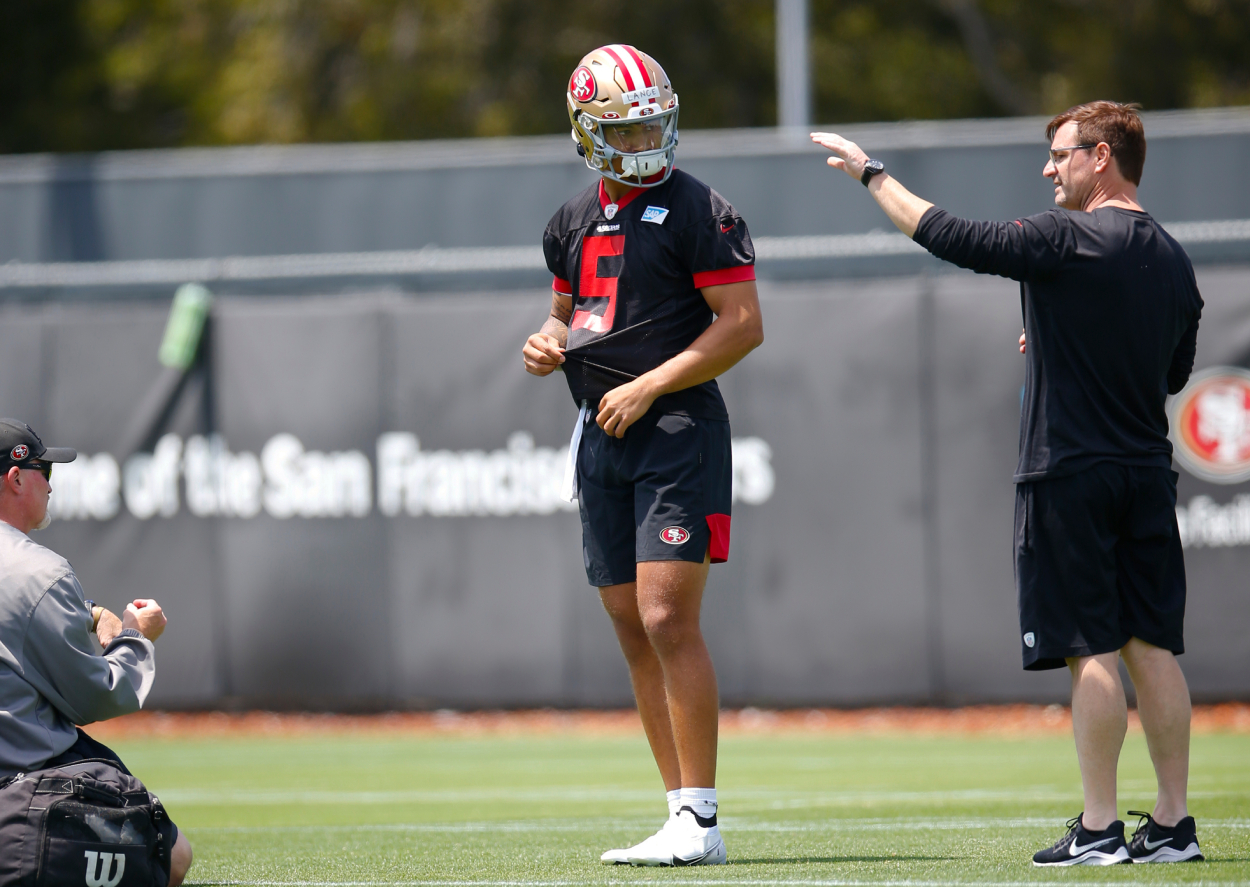 Lance has all the tools to become a top-notch quarterback in the NFL. He's 6-foot-4, 226 pounds, with a strong arm. He's athletically gifted and can use his legs to get himself out of trouble. Lance is the typical "potential" guy. What he doesn't have is experience.
Not only did Lance play at North Dakota State, but he hardly played. Since the 2019 season, he's appeared in one game. In 17 months, he played just once, defeating Central Arkansas. He struggled in that one, completing 15 of 30 passes for 149 yards with two touchdowns and an interception.
As a freshman, he attempted one pass. He made his mark in 2019 as a sophomore, leading the Bison to a national title. Lance racked up 2,786 passing yards and threw 28 touchdown passes. He also rushed for 1,100 yards and added 14 scores on the ground. COVID-19 limited him to that one game against Central Arkansas in 2020. He left after his junior year, declaring for the 2021 NFL draft, where he was quickly taken by the 49ers.
Trey Lance and the 49ers rookies are getting an early dose of reality
Like most rookies, Lance wasted no time in getting to the team facility. One day after he was drafted, he and his family sat in a meeting with 49ers head coach Kyle Shanahan. During the meeting, Shanahan issued a warning to Lance, and it had nothing to do with football. The topic was finding a place to live in the Bay Area, and it wasn't pretty.
"We were hanging out and they were going to look for houses and things like that," Shanahan said, according to ESPN. "I told him, 'Don't be too depressed. Everyone is very upset after the first couple of days and you realize you've got to change what you were looking for.' And they're like, 'No, everyone's told us.' I'm like, 'No, everyone told me, you'll see, it's real.'"
San Francisco is an expensive place to live. Many rookies and young players room together until they've proven themselves on the field. George Kittle was a fifth-round draft pick before making a name for himself as one of the game's best tight ends with the 49ers. His advice to rookies is to keep doing what got them there and the rest will take care of itself.
"The one thing that's really nice about playing football in Santa Clara is football's the No. 1 priority at all times," Kittle said. "I think it's a great place to be able to go play football and just focus on it every single day. So for rookies, you tried your entire life to get to this level. Just because you have a couple dollars in your pocket, there's no reason to change what you've been doing."
Rookie Ambry Thomas stunned by the house prices
Lance wasn't the only 49ers rookie made aware of the costly housing. Ambry Thomas, a cornerback out of Michigan drafted in the third round, already had those thoughts in mind when drafted. "Once I got the phone call, I was happy, excited, then I thought about everything and I'm like, 'California, tax, taxes' and I started thinking about all that and the cost of living," said Thomas.
"I'm like, 'Hey, it's kind of expensive, very expensive.' But I'm just grateful for the opportunity, honestly. Skip the cost of living and all that right now. I feel like my play will take care of my pockets."
Monica Thomas, a real-estate agent who works closely with the 49ers, said the average sales price of a single-family home (1,800 square feet) in Santa Clara County is $1.96 million, according to ESPN. To put that in perspective, in Lance's hometown of Marshall, Minnesota, the average price of a single-family home is (2,100 square feet) is $198,685.
Lance won't have to worry as much as his rookie teammates. He'll sign a four-year, $34.1 million contract with a $22.1 million signing bonus.