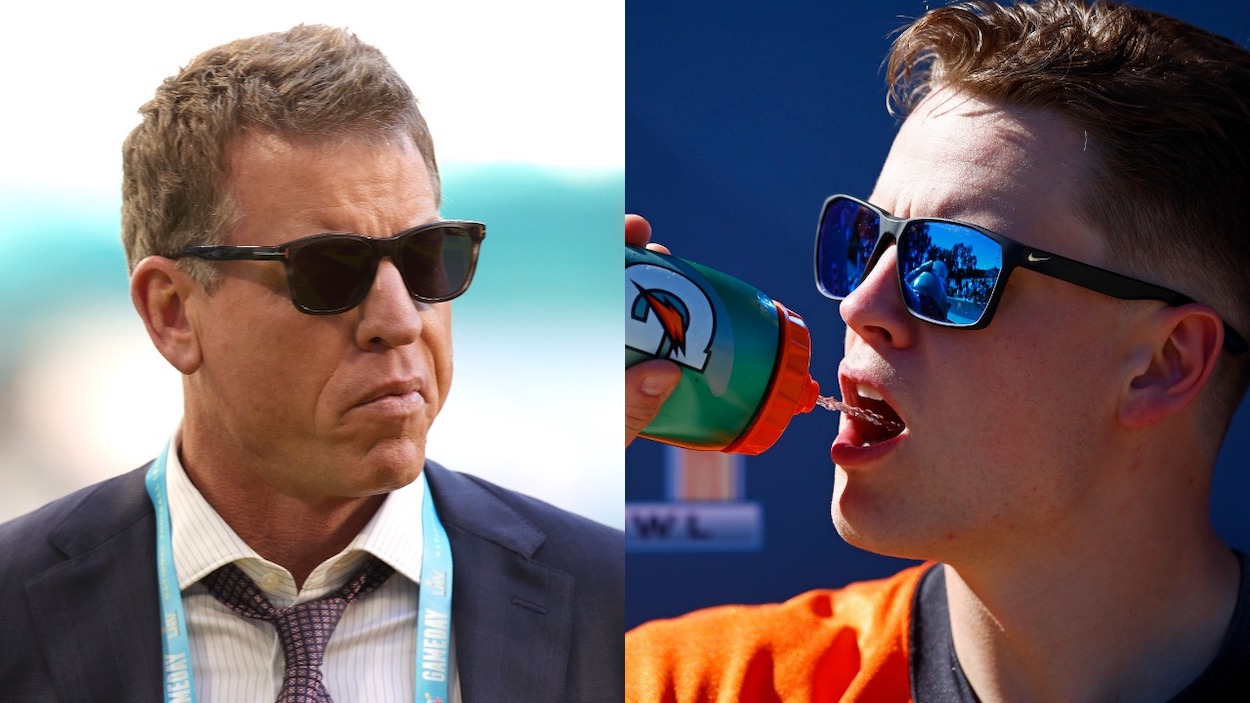 Troy Aikman Reveals Joe Burrow's Biggest Strengths: 'I Wish I Had as Much Swag as Him'
Hall of Fame QB Troy Aikman believes that Cincinnati Bengals signal-caller Joe Burrow is special, has something he never did, and can win the Super Bowl.
Like Troy Aikman, Joe Burrow reached a Super Bowl very early in his career. Despite this similarity, the former Dallas Cowboy quarterback says that the Cincinnati Bengals QB has something he never did. Now that the Burrow is about to play in his first Super Bowl, this trait that Aikman admires might make the difference vs. the Los Angeles Rams.
Troy Aikman and Joe Burrow share a similar football trajectory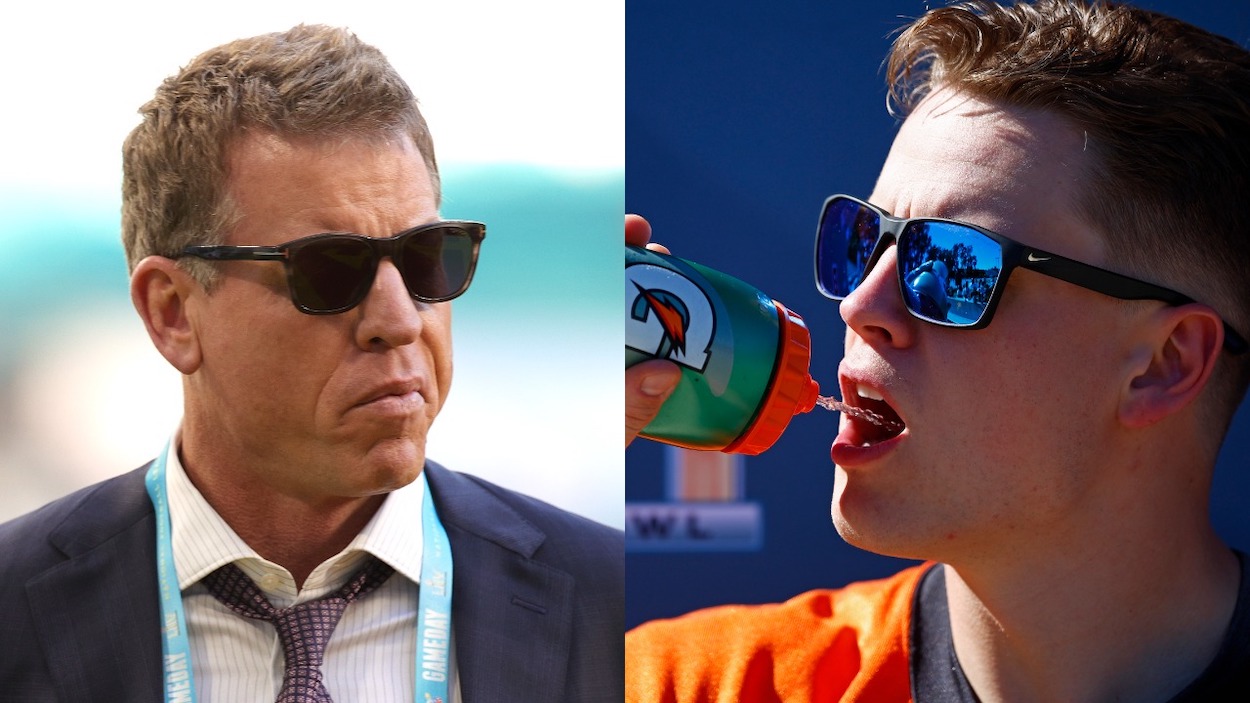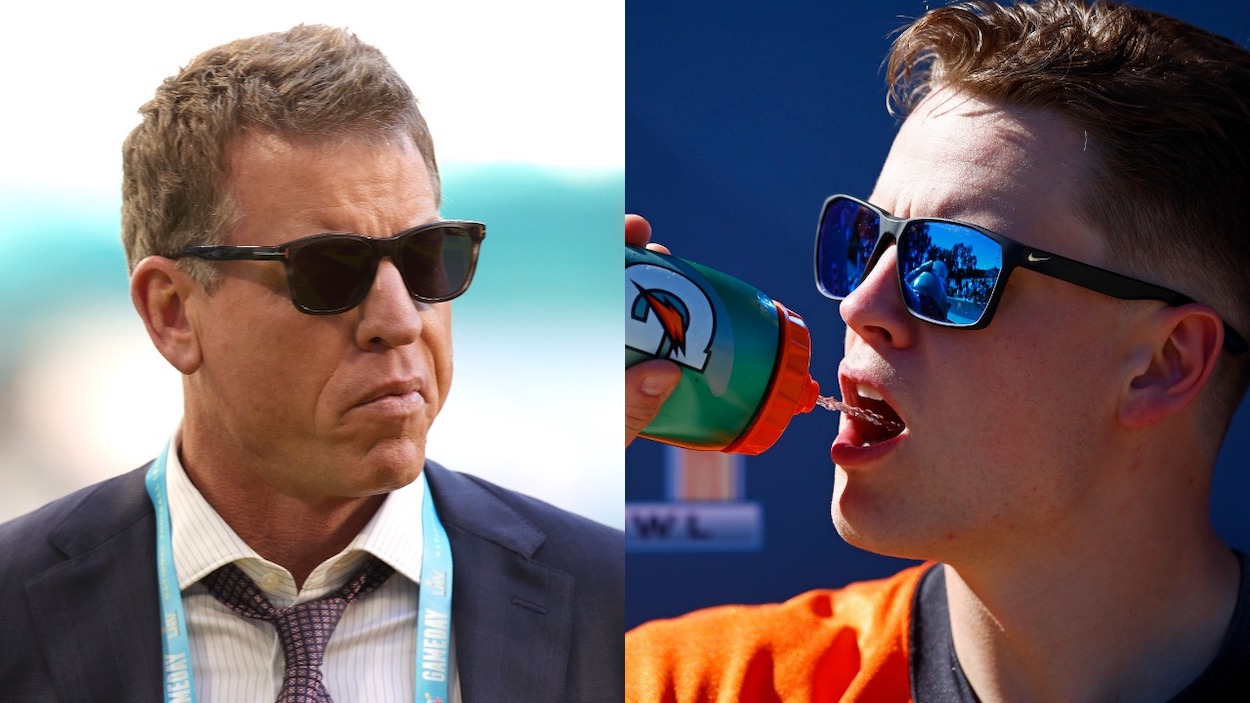 Troy Aikman played his high school football in Henryetta, Oklahoma, and decided to stay in his home state for college and play quarterback for the Oklahoma Sooners. After an injury cost Aikman his starting spot, the California-born QB transferred to UCLA.
Joe Burrow played his high school ball in Athens, Ohio. Like Aikman, he also chose to stay in-state for college and signed on with the Ohio State Buckeyes. After losing the starting job to Dwayne Haskins, Burrow transferred to LSU for the last two seasons.
Aikman put together a fantastic college career at UCLA. He won the 1988 Davey O'Brien Award for the country's best college quarterback and finished third in the 1998 Heisman Trophy voting behind USC QB Rodney Peete and the winner, Oklahoma State's Barry Sanders.
Burrow did the same (and even better) with the LSU Tigers. The Iowa-born signal-caller won the 2019 Heisman Trophy and led his Bayou Bengals to a national championship.
Both Aikman and Burrow went No. 1 in the NFL Draft. In his fourth season, Aikman led his Dallas Cowboys to a Super Bowl. Burrow also bested the older QB in that regard, leading the Bengals to the 2022 Super Bowl in just his second year in the NFL.
Aikman used his early-career Super Bowl appearance as a springboard for a Hall of Fame career. Time will tell if Burrow can match Aikman's HOF credentials and win three Super Bowls (or more) of his own. To hear Aikman tell it, though, Burrow has a good chance.
Aikman shared the traits Burrow has that the former Dallas Cowboys QB wishes he did 
Now an NFL broadcaster, Troy Aikman doesn't disguise his admiration for Joe Burrow. The Hall of Fame QB has repeatedly discussed how good he thinks Burrow is and all the things he likes about his game.
During the week leading up to Super Bowl 56, Aikman joined the Dan Patrick Show and spoke even more about the strengths that set the Cincinnati Bengals QB apart from others:
I love the way [Joe Burow] plays. I love the way he played in college. What I like about him most, however, and why I think he is a great player … I think it's the intangibles, and he clearly has it. So he's got an edge to him. … When he was coming out of college, you could just tell this guy's wired a little bit differently. Nothing's too big for him. He's confident. … Love the way he carries himself. I wish I had as much swag as he did in the locker room. The cigars are awesome, the whatever he's doing [with his fingers], the whole package is phenomenal.

Troy Aikman on Joe Burrow
Aikman is right, of course. As good as the Dallas Cowboys QB was, he never had Burrow's swagger. He played on teams with Michael Irvin, Emmitt Smith, Charles Haley, and Deion Sanders, coached by Jimmy Johnson. Those guys had swagger.
Even his peers such as Jim Kelly, Dan Marino, and John Elway played and conducted themselves with more of a confident, cocky, swag-filled air than Aikman.
That said, Aikman got it done when it mattered most, even more than the "swaggiest" QBs of his era. And more than anything, that's the area where Burrow needs to show he's got some Aikman in his game.
The Cincinnati Bengals will need their QB's swagger to beat the LA Rams
On paper, the LA Rams are a better team than the Cincinnati Bengals. The Rams finished 12-5, while the Bengals went 10-7. The teams tied for 7th in scoring offense, and the Rams boast the No. 15 scoring defense while the Bengals come in at No. 17.
The Rams' biggest stars — Matthew Stafford, Cooper Kupp, Odell Beckham Jr., Aaron Donald, Von Miller, and Jalen Ramsey — have 26 Pro Bowls between them. The Bengals' biggest names — Joe Burrow, Ja'Marr Chase, Joe Mixon, Trey Hendrickson, Logan Wilson, and Evan McPherson — have three total Pro Bowl nods.
Even the coaching matchup seems to favor LA. With six playoff wins and a previous Super Bowl appearance, Rams head coach Sean McVay seems to have the edge on his protégé in Cincinnati, Zac Taylor. McVay's former quarterbacks coach didn't make the postseason until this year when he won his first three playoff games.
What the Bengals have going for them more than anything is Burrow and, as Troy Aikman says, his swag.
Burrow led the Bengals to seven wins in one-score games this season, including three in the 2021 playoffs. His calmness under pressure and confidence in seemingly any situation is reminiscent of greats like Tom Brady and Joe Montana.
If the Bengals can keep it close into the fourth quarter, Burrow's swag will flip the script and give his team the advantage. The Rams might have the stars, but what Burrow's show late in games in just under full two seasons is more impressive than Matthew Stafford's big-game performances in his entire carrier.
And if Burrow gets his first Super Bowl in year two, Aikman's three, Montana's four, or even Brady's seven Lombardi Trophies aren't out of the question.
All stats courtesy of Pro Football Reference