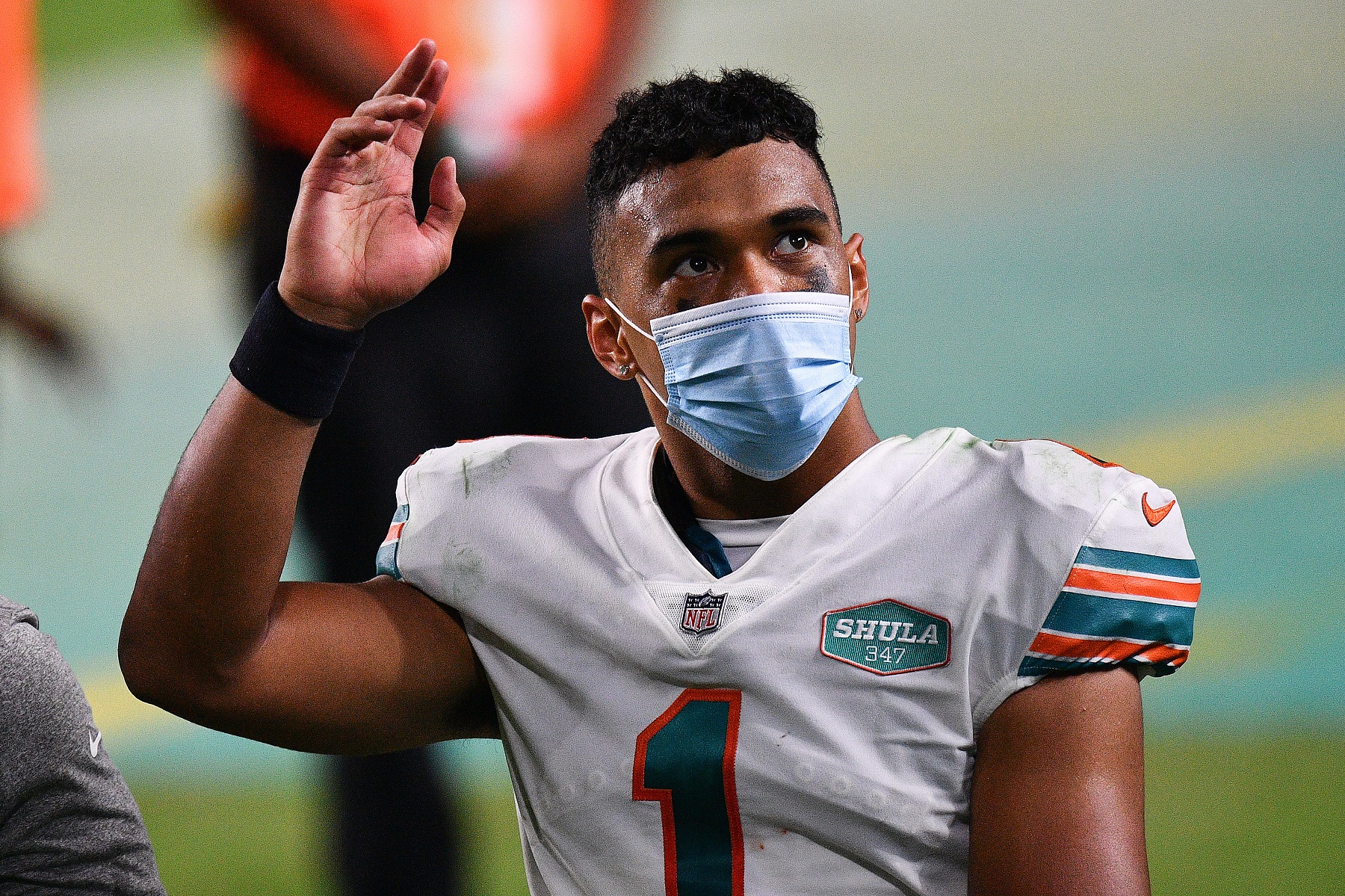 Tua Tagovailoa Is Getting Cocky 3 Starts Into His NFL Career
Tua Tagovailoa of the Miami Dolphins has done something that only one other rookie quarterback has accomplished in the Super Bowl era.
Contrary to what Patrick Mahomes makes us believe with his wizardry on the field, playing quarterback in the NFL is hard work. However, Tua Tagovailoa is the latest signal-caller from the rookie class to make the job look easier than it actually is.
Following another strong performance on the field, Tagovailoa went so far as to suggest that the learning curve in making the leap from the Alabama Crimson Tide to the Miami Dolphins hasn't been as arduous as anticipated.
Tua Tagovailoa is the latest rookie quarterback off to a fast start
NFL teams gobbled up three gifted quarterbacks in the first six picks of the 2020 draft. Their careers as starters of their respective teams got off to staggered starts, but each has roared out of the gate. They all show signs of being able to accomplish big things over the next decade or more.
The Cincinnati Bengals made Joe Burrow of LSU the No. 1 overall draft pick and immediately installed him as their starter. He is only 2-6-1, but Burrow is definitely not the problem in Cincinnati. Playing behind a sub-par offensive line, Burrow has completed 65.4% of his passes and thrown 12 touchdowns compared to just five interceptions. He's endured 32 sacks already but has posted a credible 89.8 passer rating.
The Los Angles Chargers drafted Justin Herbert out of Oregon at No. 6 and had to call on him as an emergency starter in Week 2. He responded by throwing for at least 264 yards in each of his first seven starts. Herbert has 19 TDs – he's the first NFL rookie ever with two scoring strikes in six straight games — and six interceptions, translating to a 102.8 passer rating.
The Miami Dolphins selected Tua Tagovailoa from Alabama one spot ahead of Herbert. With veteran Ryan Fitzpatrick returning, the Dolphins had the least urgency of the three teams as far as making the transition to their quarterback of the future. Tagovailoa has now made three starts, and he has made significant steps forward in each outing.
The Miami Dolphins like what they're seeing
Tua Tagovailoa threw for a modest 169 yards in the Miami Dolphins' 29-21 triumph against the Los Angeles Chargers in NFL Week 10 on Nov. 15, 2020, but he was an efficient 15 of 25 and continued to avoid mistakes. He is completing 63.6% of his attempts, resulting in five TD passes and zero interceptions.
According to NFL research, Tagovailoa and Carson Wentz of the 2016 Philadelphia Eagles are the only two rookie quarterbacks in the Super Bowl era to win their first three starts and throw zero interceptions in that span.
"He's the leader of our team whenever we're out there, said receiver Jakeem Grant, who caught one of Tagovailoa's two touchdown passes against the Chargers.
Tua Tagovailoa is getting cocky three starts into his career
Tua Tagovailoa has passed for more than 169 yards only once thus far, but the 3-0 start to his career sure has him sounding confident for a guy with 77 career throws under his belt.
"I expected it to be a lot harder," Tua told Pro Football Talk, after beating the Los Angeles Chargers, "not that it's not hard."
Tagovailoa can count on it getting more challenging. Opposing defensive coordinators don't have enough video of him in a Dolphins uniform just yet to identify tendencies and formulate game plans that will make the rookie's life more difficult. Give them a few more weeks and Tagovailoa might just suffer the same fate that Carson Wentz did in 2016.
Wentz was the first Super Bowl-era rookie QB to get off to a 3-0 start with no interceptions, but the success didn't last. After five TD passes in the first three weeks, Wentz logged just 11 more scoring strikes but 14 interceptions the rest of the way, and the Eagles dropped nine of their last 13 games.
All stats courtesy of Pro Football Reference.