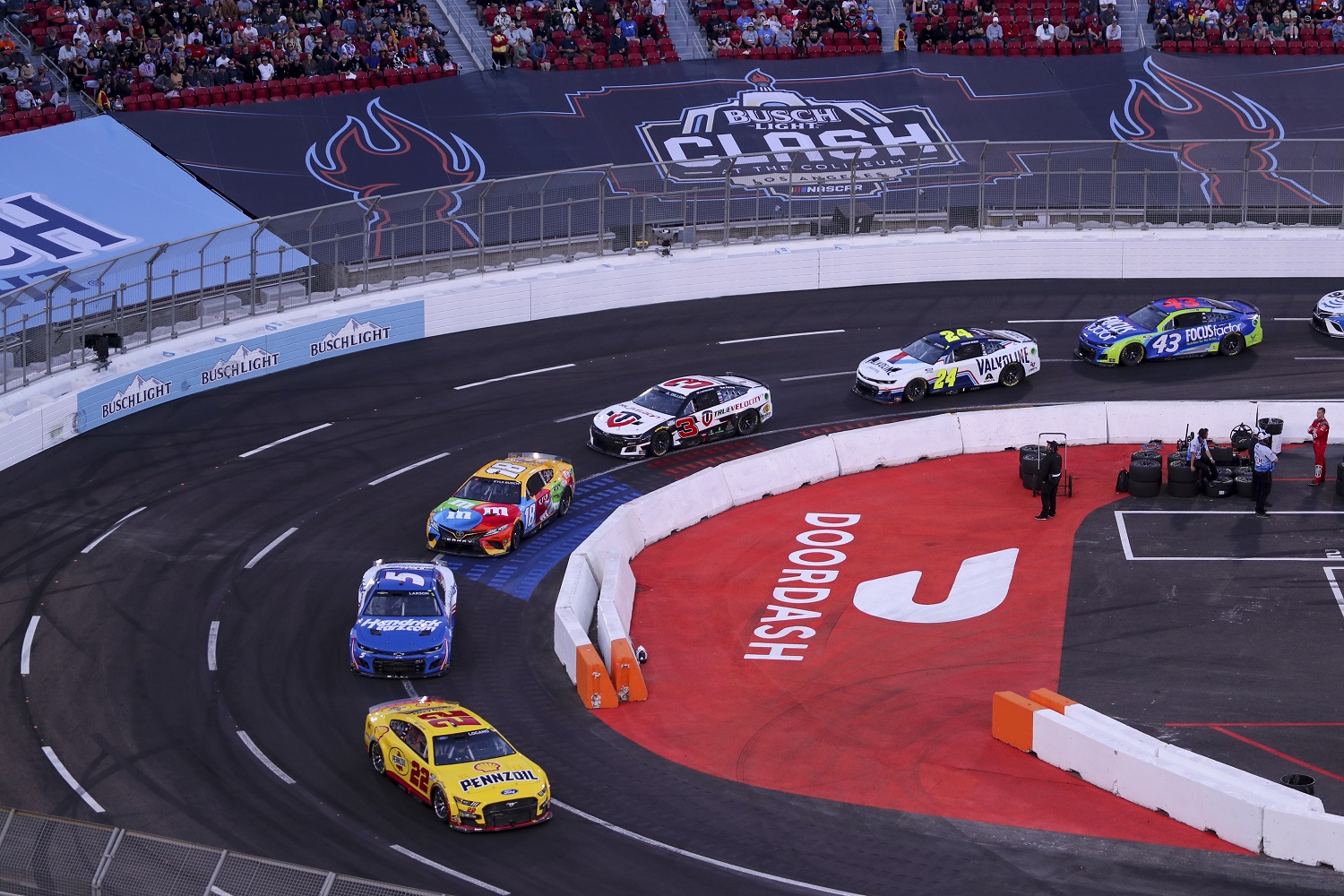 Ty Dillon and Joey Logano Have Given NASCAR 3 Reasons to Make the All-Star Race Look Like the Busch Light Clash
The success of the Busch Light Clash should inspire NASCAR to take a look at changes to its Cup Series All-Star Race at Texas Motor Speedway.
NASCAR has found a better way to start its season by reinventing the Busch Light Clash in a way that made less than 100 miles of racing over five hours fly by, leaving the fans eager for a bigger dose of Ty Dillon and Joey Logano.
The question now is whether the Cup Series can spruce up the middle or end of its schedule. The Clash has certainly given executives some options to ponder.
The Busch Light Clash borrowed from the Super Bowl playbook
It's the game that pulls in the audience, but the bells and whistles surrounding it turn the game into an event. That's long been true of the Super Bowl, which is must-see TV for tens of millions who otherwise care little about football. Super Bowl Sunday has always been about two teams. But it's also about the pregame build-up, the commercials, and the halftime show.
The Busch Light Clash, a Daytona fixture since 1979, moved 3,000 miles to the Los Angeles Coliseum and took on a new look with music from Pitbull and Ice Cube, a format change incorporating elimination heats, and a quarter-mile track constructed for a stadium that has hosted Super Bowls, Olympics, and World Series games.
The makeover had the desired effect. Ty Dillon's all-out effort in a last-chance qualifier generated even more excitement than caution flags (and there were plenty of those). Joey Logano survived being stalked by Kyle Busch to score the victory.
With one exception, the NASCAR All-Star Race resided at Charlotte Motor Speedway from 1985-2019. It moved to Bristol in 2020 because of the pandemic and then last year to Texas Motor Speedway, where NASCAR rolled out a convoluted series of stages, complete with inverts, that made it impossible for casual fans to follow.
The 2022 All-Star Race is May 22 on the 1.5-mile oval in Fort Worth, no more special than any other track. If executives learned anything this past weekend, it is that the All-Star Race needs:
Simplified heats and last-chance qualifiers.
Halftime-style entertainment during the intermission.
An unconventional or historic venue.
Is it time to move NASCAR's Championship 4 weekend?
The racing is the star of Championship 4 weekend as NASCAR stages its title-deciding races in the Cup, Xfinity, and trucks series, so adding concerts would arguably be a distraction rather than an enhancement.
In addition, the format is straightforward: The first of the four finalists to make it to the checkered flag is the series champion. Of the lessons learned by the Busch Light Class in Los Angeles, then, only changing the venue might be an option.
NASCAR anchored its Championship 4 weekend at Homestead-Miami Speedway, a 1.5-mile track, until moving to Phoenix's mile oval two years ago. If NASCAR wants to move again, weather limits the options. As it is, holding the next-to-last race at Martinsville in Virginia can be dicey.
NASCAR doesn't want to wrap up on a superspeedway, where the quality of racing can be spotter, and no one is clamoring for a road course.
All in all, staying in Phoenix might be the right call.
The Busch Light Clash now has endless possibilities
NASCAR hit a home run with the 2022 Busch Light Clash. Inviting all its charter teams was the right move to make, and the qualifier/heats/main format worked.
NASCAR holds an option to return to the Los Angeles Coliseum, but there has already been talk about moving the race around. However, part of what made this edition special was the way NASCAR plowed more than $1 million to convert a football stadium into a race track. Going to an existing track probably wouldn't have the same charm, and going to a mile track would also negate part of what made the past weekend a fun watch.
Though there's chatter about making the Dallas Cowboys' AT&T Stadium the next converted stadium, the NFL team could still be playing football there in mid-January, leaving too little time for set-up unless NASCAR moved the Busch Light Clash into early spring.
One other possibility: Historic Fairgrounds Speedway in Nashville could be ready to come back online as a Cup Series track by 2024. Some sort of rotation between California (Auto Club Speedway intends to remodel as a half-mile track), Nashville, and perhaps Dallas could keep NASCAR's sudden gem fresh.
Like Sportscasting on Facebook. Follow us on Twitter @sportscasting19.