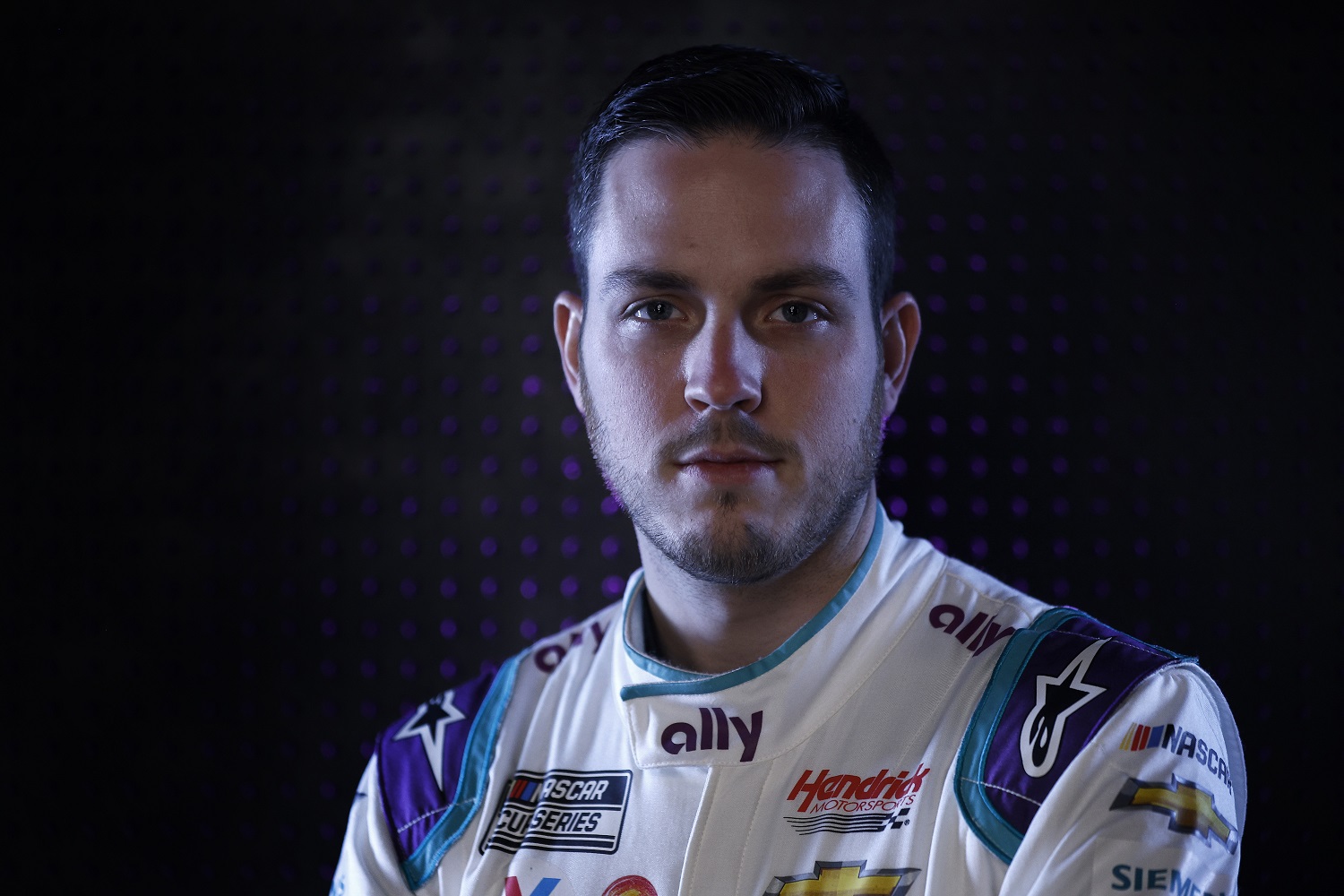 Alex Bowman Was Nearly Speechless Over the Busch Light Clash Carnage: 'What Ensued in the Last 15 Minutes, I Don't Know What You Call That'
Alex Bowman couldn't make it out of an incident-filled last-chance qualifier preceding NASCAR's Busch Light Clash.
Brad Keselowski's Ford didn't measure up. Kurt Busch's Toyota was only slightly better before he became the odd man out in a three-wide race to the corner. And Alex Bowman landed in the last-chance qualifier in which one guy mistook the short track for a Roller Derby rink.
Those were the three biggest names failing to qualify for the Busch Light Clash, NASCAR's grand experiment at the Los Angeles Coliseum.
Alex Bowman was nearly speechless over the Busch Light Clash carnage
Fifty laps sounds like a long race, but that isn't the case on a quarter-mile track, where 14- and 15-second laps are the norm. But it was more than enough time for Ty Dillon to hit everything except a home run in a last-chance qualifier that advanced three cars to the Busch Light Clash.
Midway through the race, Dillon got his Chevy into the back of Harrison Burton while battling for fourth place, bringing out a caution. Six laps later, officials penalized Dillon for jumping another restart and sent him to the back of the pack. On Lap 41, Dillon pushed Brad Keselowski, who subsequently sent Landon Cassill spinning.
Off the next start, it was Austin Cindric's turn to take a spin with an assist from Dillon. With three laps to go, Dillon got into Burton's back again, spinning him out of the lead. That looked to cost Burton a spot in the feature race, but he ended up advancing anyway after officials disqualified Dillon for jumping another restart.
In between it all, Alex Bowman found himself in too-close quarters multiple times. With under five laps to go, Bubba Wallace tapped Cindric into a spin that shoved Bowman into the SAFER Barrier and ended his day.
"What ensued in the last 15 minutes, I don't know what you call that," Bowman said in a Fox Sports interview, "but hopefully everybody at home is excited, and I see a lot of fans excited, which is what matters. That's why we're here."
Brad Keselowski might be wondering what he's gotten himself into
Alex Bowman crashing late in his last-chance qualifier meant that Hendrick Motorsports had to settle for "just" Kyle Larson, William Byron, and Chase Elliott advancing to the Busch Light Clash. When Brad Keselowski couldn't advance out of that same LCQ, it meant a lost weekend for the premiere of Roush Fenway Keselowski Racing.
Keselowski finished last in the second qualifying heat, then fourth in the LCQ in the No. 6 Ford. That left him one spot short of advancing to the main. Half an hour earlier, Chris Buescher's No. 17 Ford placed fifth in his LCQ, also missing the big race.
That came on the heels of Buescher and Keselowski qualifying 27th and 30th, respectively, in the 36-car field. Keselowski came onboard after spending last season as a co-owner of the former Roush Fenway Racing, and getting the team back to respectability might be a more daunting task than expected.
Kurt Busch had an underwhelming weekend in Los Angeles
If Brad Keselowski's move to Roush Fenway was Silly Season's biggest move, then Kurt Busch to 23XI Racing was a close second. But he tied the 2012 NASCAR Cup Series champion for the honor of most unsatisfying weekend.
Busch qualified 32nd in the No. 45 Toyota, placed seventh in his heat, and then got taken out by an accident in his LCQ.  All that came after it looked like he would have to carry 23XI for the weekend following teammate Bubba Watson's disastrous practice session Saturday morning.
But Wallace qualified 18th, just missed locking down an automatic qualifier spot in the heats, and then steered clear of most of the carnage in the LCQ that foiled Busch and Alex Bowman. He settled for 18th in the main.
Like Sportscasting on Facebook. Follow us on Twitter @sportscasting19.