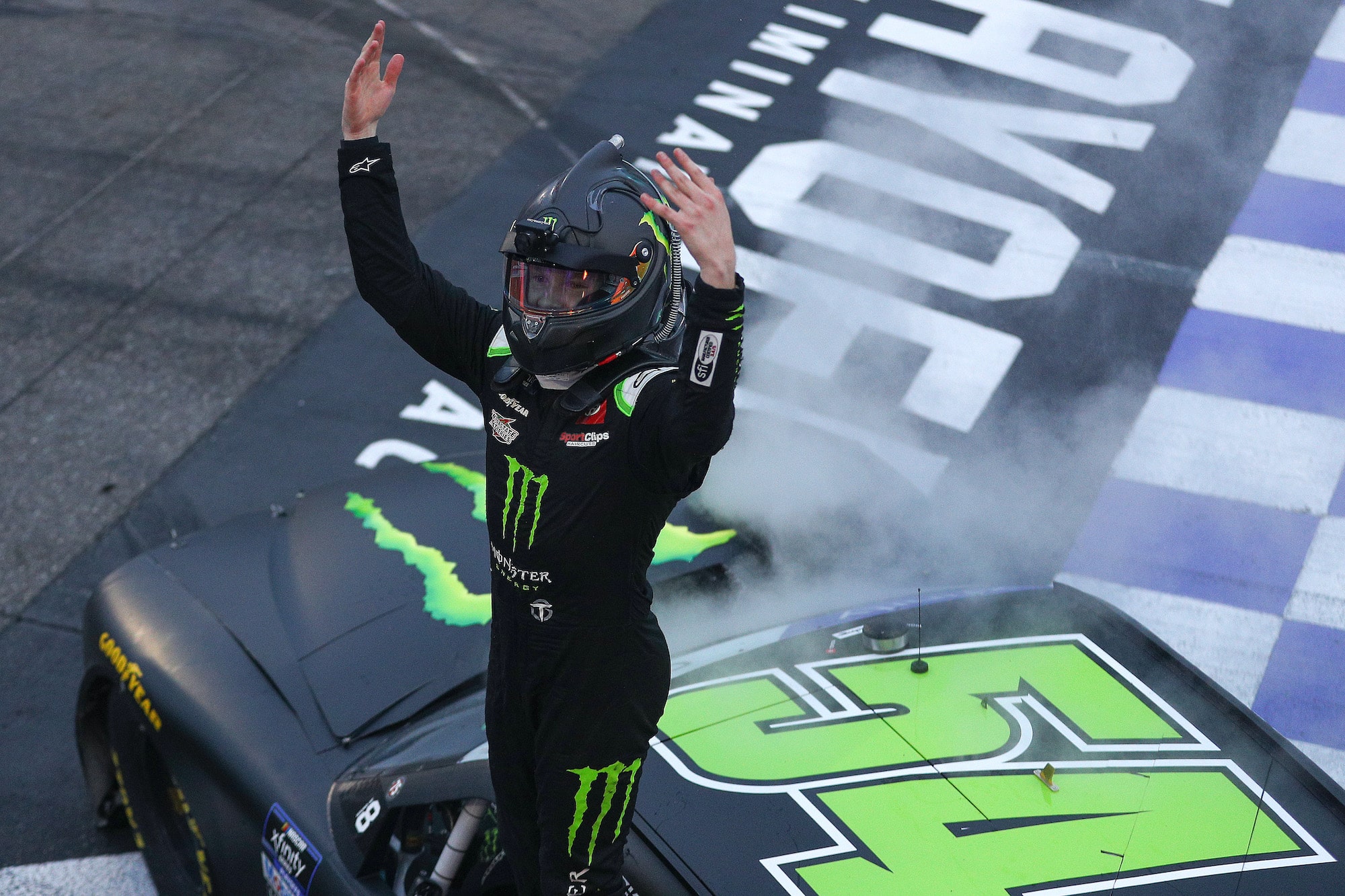 Ty Gibbs Ends His Dirty-Winning Weekend at Martinsville With Multiple Disastrous Interviews, Including 1 Where He Awkwardly Compared Himself to Jesus
Ty Gibbs won dirty at Martinsville and then afterward gave two bizarre interviews, including one where he made an awkward comparison with Jesus, and another where he sounded like a robot.
No one can deny that in his first full-time Xfinity Series season, Ty Gibbs has been a success based on his on-track performance. The numbers don't lie. Six trips to Victory Lane are impressive. But, it hasn't been all good.
There have been multiple behavioral issues for the 20-year-old grandson of Joe Gibbs. He's repeatedly shown immaturity in his aggressive actions on the track and his often lackluster responses to their consequences afterward. He's been a lightning rod for controversy and, most would say, deservedly so. 
This weekend at Martinsville Speedway, the JGR driver took his bad behavior game next level, starting with his last-lap move, where he inexplicably dumped his teammate Brandon Jones for the win. But then the youngster delivered a pair of memorable interviews, but not in a good way. 
Ty Gibbs aggressive driving created trouble all year
Threes were wild in March at Las Vegas in the third race of the 2022 Xfinity Series season on the third lap when Gibbs wrecked Ryan Sieg and his small family team. It was the first of numerous incidents.
A month later, Sam Mayer and Gibbs rekindled the rivalry from their ARCA days at Martinsville, getting heated on the track before the JGR driver rammed into the rear of the No. 1 JR Motorsports car a couple of times, then confronted the driver on pit road where he proceeded to throw the first punch and hit Mayer square, all while still wearing his own helmet. 
There have been conflicts with two of Mayer's JRM teammates, Noah Gragson at Portland and at Kansas with Justin Allgaier. After that latest incident, Gibbs apologized during a rain delay interview.
"Off of 4, I made contact with Justin," Gibbs said. "I felt like I hit the wall harder than I did, and I didn't. And I got mad, and I went down and hit him in the door. And the stupid part is it hurt my car more than it hurt his. I feel like his car is OK, they're going to have to put a door on when they get back to the shop. That's just inexcusable from me and I'm very disappointed in my actions. And I apologize to them."
Last month at Texas, Gibbs made a couple of hot-tempered moves in the Cup Series race, serving as a substitute for Kurt Busch in the 23XI Racing car, where he deliberately drove into the door of Ty Dillon and the Petty GMS car on pit road, which narrowly missed hitting several Roush Fenway Keselowski pit crew members and two NASCAR officials standing nearby.  
He also ran into the rear of Erik Jones under caution twice in that same race.
Gibbs punts JGR teammate Brandon Jones on final lap for win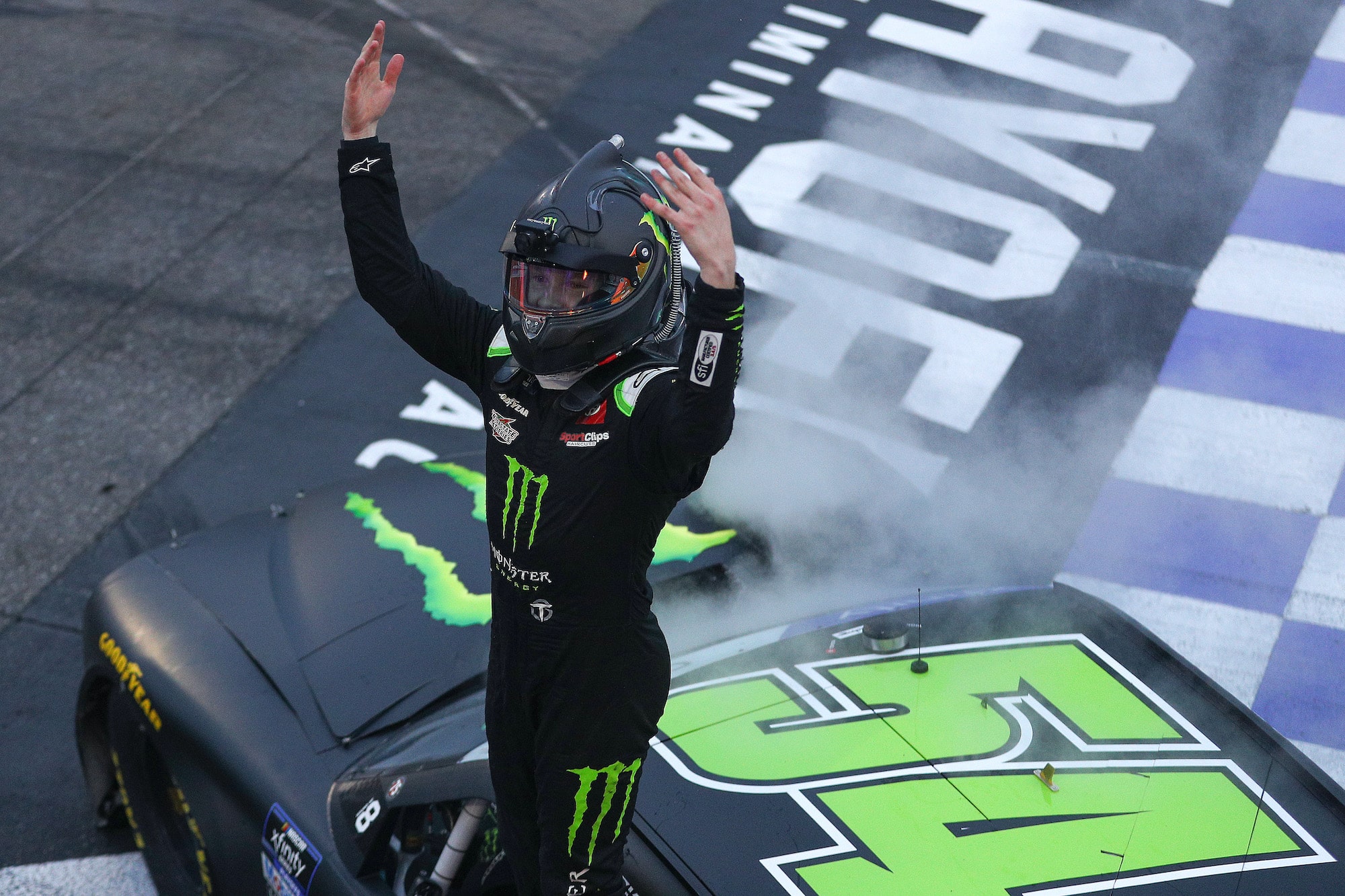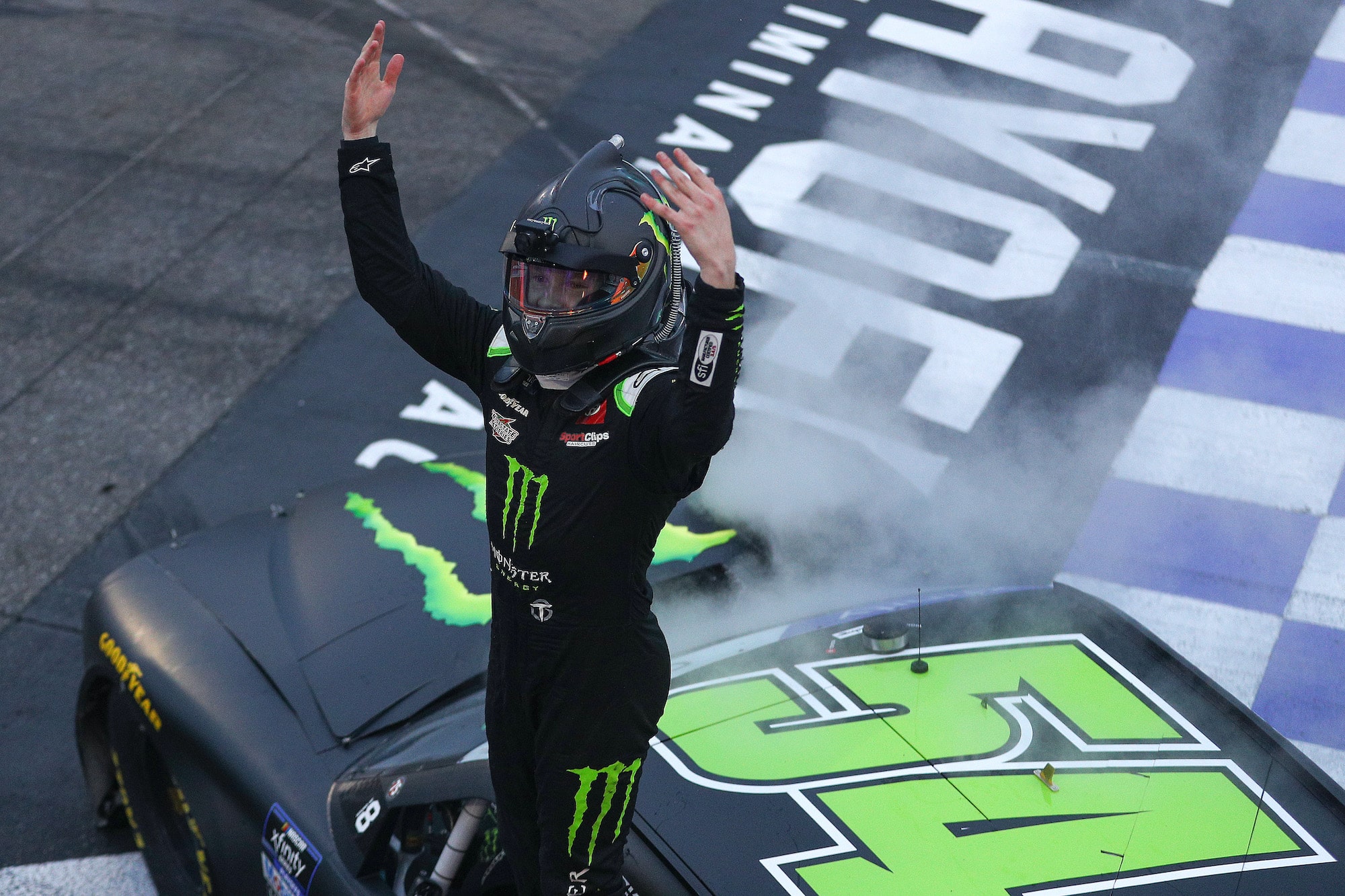 During this weekend's playoff cutoff race at Martinsville, where Gibbs is still remembered for throwing a punch with his helmet on, he didn't do anything to change the negative narrative but instead made it significantly worse. 
Battling against JGR teammate Brandon Jones near the waning laps of the race, the broadcast talked about how Jones had already announced he was going to JR Motorsports in 2023, and Gibbs might not be too concerned about his soon-to-be-former teammate. 
He confirmed it on the final overtime restart when Jones got a good launch and an even better push from Sheldon Creed, surged out in front, and took the white flag with Gibbs right behind him. Seconds later, Gibbs drove hard into the rear of the No. 19 and sent the JGR car up the track into the wall, which allowed him to pass and go onto the win. 
The NBC broadcast booth instantly criticized Gibbs for the move for being dirty and puzzling because it knocked out his teammate, who would have advanced to the championship in Phoenix with a win. 
Seconds after Gibbs ended a lengthy burnout and shut off his engine, fans rained down boos as he exited his car, stood triumphantly and defiantly on the door, and continued throughout his postrace interview. 
Makes bizarre statement in one interview and acts like a robot in another
After his network broadcast winner's interview, in which Gibbs was barely audible over the chorus of boos, he visited SiriusXM NASCAR Radio's Claire B. Lang, who talked to him about all the booing fans, and asked him how he felt about it. 
"I always go back to the same verse that Jesus was hated first among all the people. That's a part of it. I feel like silencing out the crowd that's what you have to do as a professional athlete. I feel like some of the best people are going to get booed and that's a part of life. You can't let other people's opinions and thoughts drive your actions and make you feel bad. It's just a part of life."
Several minutes later, Gibbs met with reporters in the media center and delivered one of the most robotic press conferences in sports history. Unsurprisingly, reporters wanted to talk about that final lap and peppered the driver with questions related to the incident. 
In total, there were 11 questions asked of Gibbs in the presser, including if he would talk to Jones and whether he felt bad about his move. Remarkably, he responded to 10 of those questions with the exact same answer over and over and over. Each time he mentioned how Jones first moved him, how he moved Jones back, and how he didn't mean to wreck him. 
It was robotic. And it was a bad look for Gibbs in a weekend of bad looks within a season of bad looks. 
Have thoughts on this topic? Keep the conversation rolling in our comments section below.