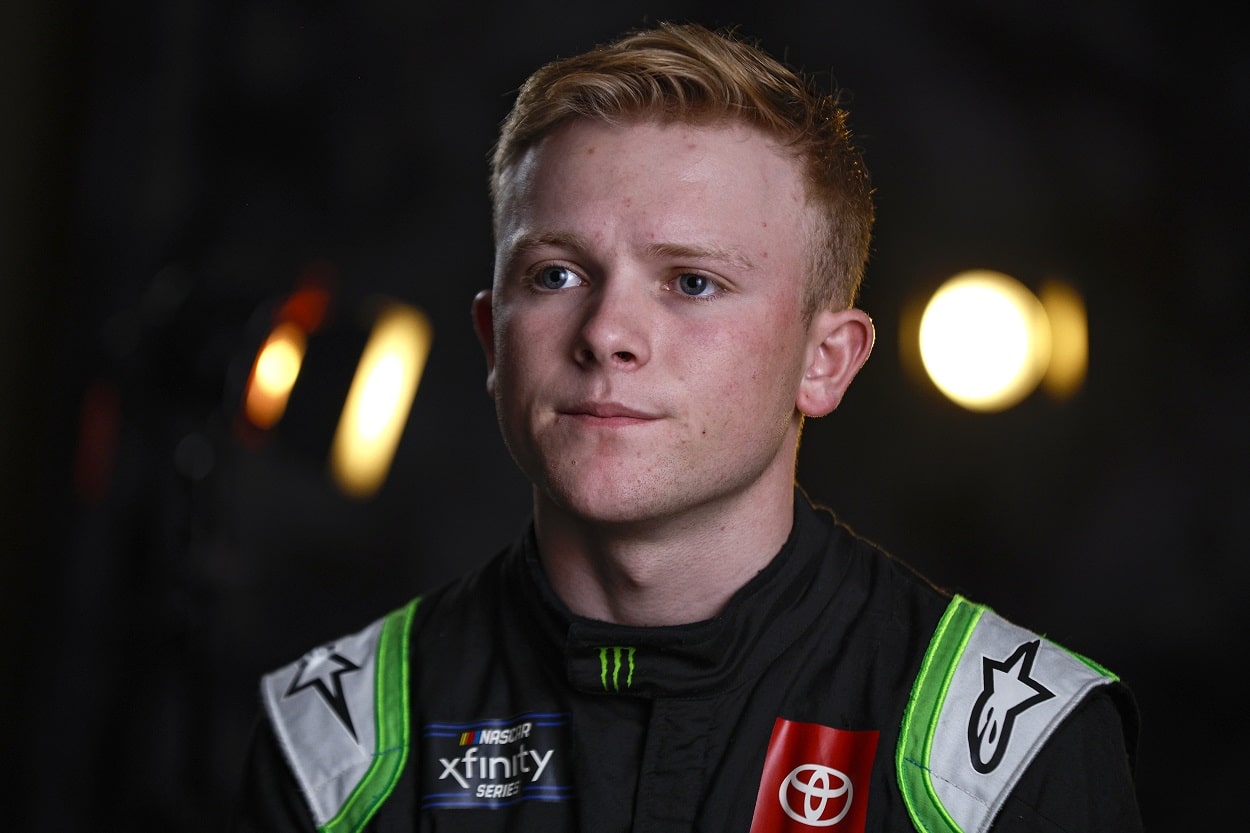 Ty Gibbs' Martinsville Maneuver Brought Back Memories of One of Dale Earnhardt's Worst Moments
Ty Gibbs looked a lot like Dale Earnhardt Sr. with his actions at Martinsville.
Ty Gibbs added another controversy to his short-but-eventful NASCAR career Saturday in the Xfinity Series race at Martinsville Speedway that resembled one of the sport's best drivers in one of his worst moments.
Ty Gibbs got physical with teammate Brandon Jones at the end of the Xfinity Series race at Martinsville
Gibbs lined up for the third overtime restart Saturday in the lead with championship rival Noah Gragson on his outside and Joe Gibbs Racing teammate Brandon Jones behind him in third. 
Gibbs and Gragson had already clinched spots in the Xfinity Series Championship 4 by that point in the race, but Jones needed to win the event to clinch his chance to race for a title the following weekend at Phoenix Raceway.
Jones, driving the No. 19 JGR car before he moves to JR Motorsports next season, nudged Gibbs into the first turn and got underneath Gibbs' No. 54 car to create a three-wide battle along with Gragson on the outside. Jones took the lead on the other side of the half-mile short track and still had it when the white flag dropped.
That's when the situation turned dirty.
Gibbs followed Jones into Turn 1 and punted him up the track and into the outside wall. Gibbs went on to win the race, while Jones was left with a wrecked race car and dashed championship hopes.
"Ty and I have always been friends, but I lost all respect today," Jones said after the race. "I know a lot of guys on pit road have lost respect for him too. I'm looking forward to getting first to Phoenix and trying to win that race, but then transitioning over to JRM next year. I think that Ty probably doesn't care that that wrecked us. That's his mentality. He's aggressive."
This is far from the first time Gibbs has been at the center of an on-track controversy. He has won 10 of his 50 career Xfinity Series starts but has been involved in incidents that have angered numerous competitors, including Gragson, Sam Mayer, Ryan Sieg, and John Hunter Nemechek, who was also the recipient of a late-race push from Gibbs while driving the JGR No. 18 car in April at Richmond Raceway.
Gibbs said he thought he lost the spring race at the same track because of a move Jones made on the final restart. Jones went on to win that race, and Gibbs picked a fight with Mayer on pit road after falling back to eighth.
Multiple controversies for Gibbs are similar to what Dale Earnhardt dealt with in his career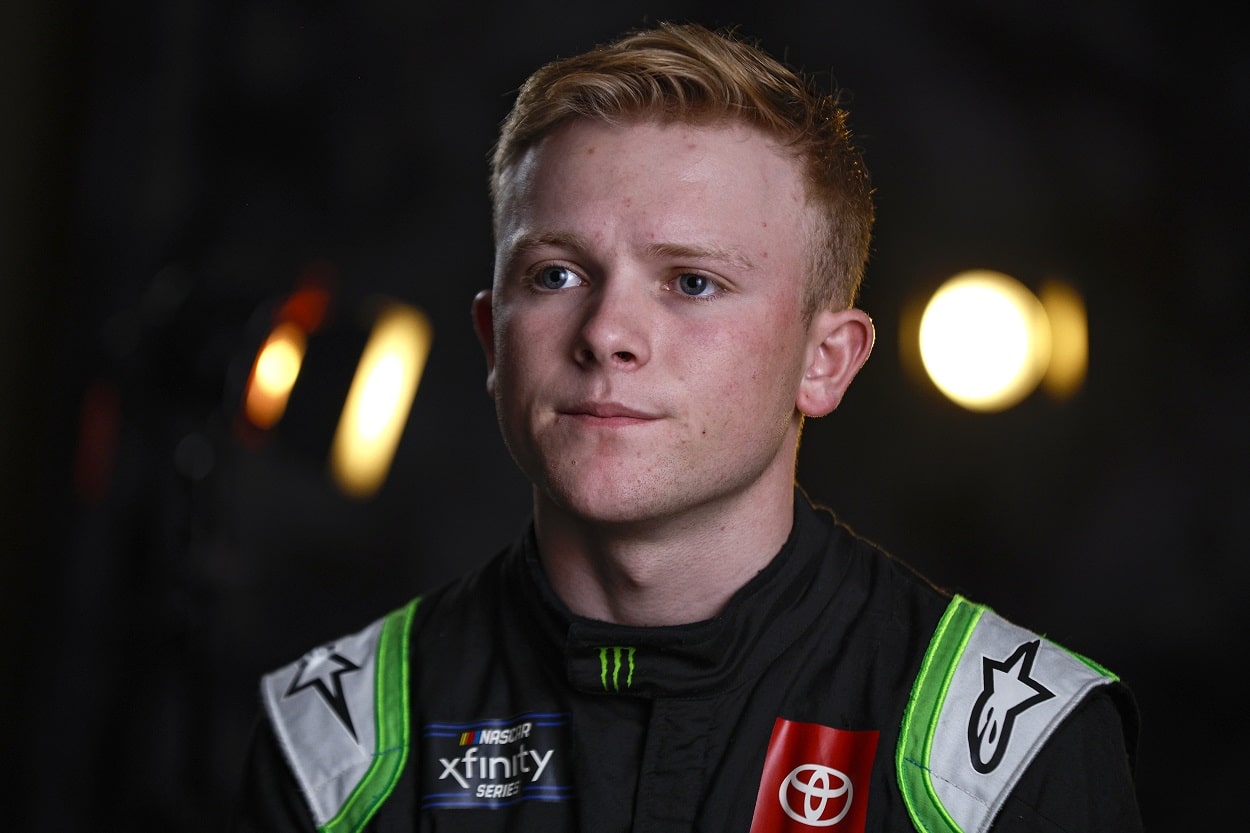 His intense approach has undoubtedly helped the 20-year-old Gibbs reach the heights he has so early in his career, much as it did Dale Earnhardt, who earned the nickname "The Intimidator" because of his hard-charging style.
Earnhardt won a record-tying seven Cup Series championships and 76 race victories, but he also went too far in his aggressiveness at times.
One of the most famous examples is the 1999 night race at Bristol Motor Speedway.
Terry Labonte had led 154 laps when a caution came out with 12 to go, and Darrell Waltrip spun him out. Labonte pitted for four tires and drove back to the lead on the ensuing restart, only to get turned by Earnhardt on the final lap, much like Gibbs did to Jones.
Earnhardt famously said after the race he "didn't really mean to turn him around — meant to rattle his cage, though.
That sounds familiar to what Gibbs said after he climbed from his car at Martinsville and egged on the crowd with his celebration.
"I definitely didn't want to wreck him, but I definitely wanted to move him out of the groove so I could go win," Gibbs said on the frontstretch during his postrace interview.
The difference, and potentially what makes this latest situation worse than what Earnhardt did, is Gibbs single-handedly eliminated Jones' chances to race for a championship, and he did so to a teammate no less.
At least Earnhardt and Labonte drove for rival organizations in Richard Childress Racing and Hendrick Motorsports. They had also entered that Bristol race seventh and ninth, respectively, in the points standings. The NASCAR Playoffs did not exist in 1999, so no championship implications were involved in their incidents.
Now, Earnhardt had built up quite a bit more equity in the sport by the time he wrecked Labonte. Earnhardt already had seven titles, 72 wins, and 25 years in the Cup Series before the incident with Labonte, and fans still rained down boos on him that night at Bristol.
Gibbs is in only his second Xfinity Series campaign and his first as a full-time driver. He now has a large segment of the sport and fans upset with him, which won't make his potential entry into the Cup Series next season as a full-time driver any easier.
NASCAR might have another driver on the horizon with the no-holds-barred style that consistently creates a buzz throughout the sport. He just might have to learn to choose his spots a little more carefully.
Have thoughts on this topic? Keep the conversation rolling in our comments section below.