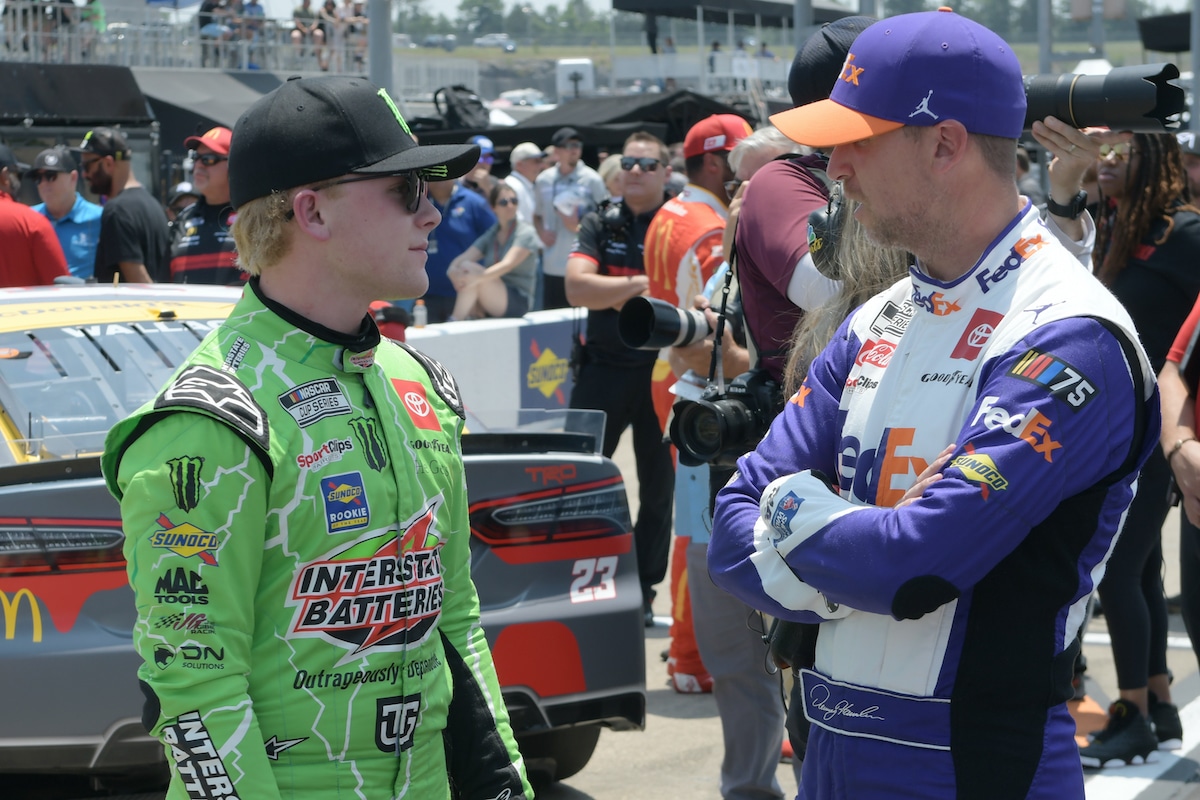 Ty Gibbs Praised by Denny Hamlin for Breaking Out of AI Mold and Directing 'Smart-Ass' Comment at Sam Mayer After Watkins Glen
Ty Gibbs received praise from Denny Hamlin this week for his "smart-ass" comment directed at Sam Mayer over the weekend at Watkins Glen.
Ty Gibbs and Sam Mayer have a history. They genuinely don't like each other. Things came to a head last year at Martinsville when the pair got into it after the Xfinity race and punches were thrown. 
On Saturday at Watkins Glen, no physical punches were thrown, but the Joe Gibbs Racing driver did deliver a sharp verbal jab in his post-race interview. A couple of days later, Denny Hamlin praised the 20-year-old for his "smart-ass" comment.  
Ty Gibbs throws shade at Sam Mayer after Watkins Glen
Ty Gibbs dominated the Xfinity Series race around the 2.45-mile road course. He started on the pole and led 70 of the 86 laps but didn't lead on the most important lap, and that was the direct result of a move by his longtime rival Sam Mayer, who got into the JGR car in Turn 1 of overtime, and sent it for a spin.
After the race, Gibbs, who finished 17th, took direct aim at the JR Motorsports driver and his career achievements.
"I don't really know how much of a conversation you can really have with him in that situation," Gibbs said. "Like I said, we kind of grew up racing around each other. I think he has more starts than I do and this is his second win. So congratulations to him on the second win, and definitely wish I could have got my 13th there." 
Denny Hamlin praises Gibbs for his 'smartass' comment
On Denny Hamlin's latest Actions Detrimental podcast, he talked about a variety of subjects, including the rumors swirling around his future at JGR. He also revisited the Xfinity race, what happened between Gibbs and Mayer at the end, and what his teammate had to say during his post-race interview.
"Ty says in a roundabout way, I mean, he just makes a dig," Hamlin said. "It was very Denny Hamlin of him. He says, 'You know we came into this thing together. We've raced together a long time. He's got a bunch of starts, and I know he was going for that second win, and I was really hoping to get my 13th.' Just a smart-ass comment.
"It was pretty good for Ty because he kind of had those comments early on. He gets into it with Ryan Sieg at Las Vegas and then from that point on AI pretty much does all Ty's interviews. You didn't see a whole lot of personality come out. But it came out again. I applaud that."
Hamlin's remarks should come as no surprise
Hamlin offering praise of Gibbs' remarks isn't a surprise because, as he said on the podcast, it reminds him of himself. The three-time Daytona 500 winner candidly admitted he likes making inflammatory comments just because of the reaction it produces.
"People know I love talking s***," Hamlin acknowledged. "I do it half the time, by the way, just to rile you up. I love it. I love talking s***. It doesn't matter if I'm competing with the guys on the basketball court, playing golf, whatever it is; I love banter back and forth. It's fun to me."
Joey "Ah, Short Track Racing" Logano and Alex "Hack" Bowman know all too well about Hamlin's aggressive remarks. And those drivers' fans do, too, and they are glad to remind him about it whenever they get a chance.  
To stay up to date on the latest happenings in NASCAR, including breaking stories you can't find anywhere else, follow Kyle on YouTube and Twitter.