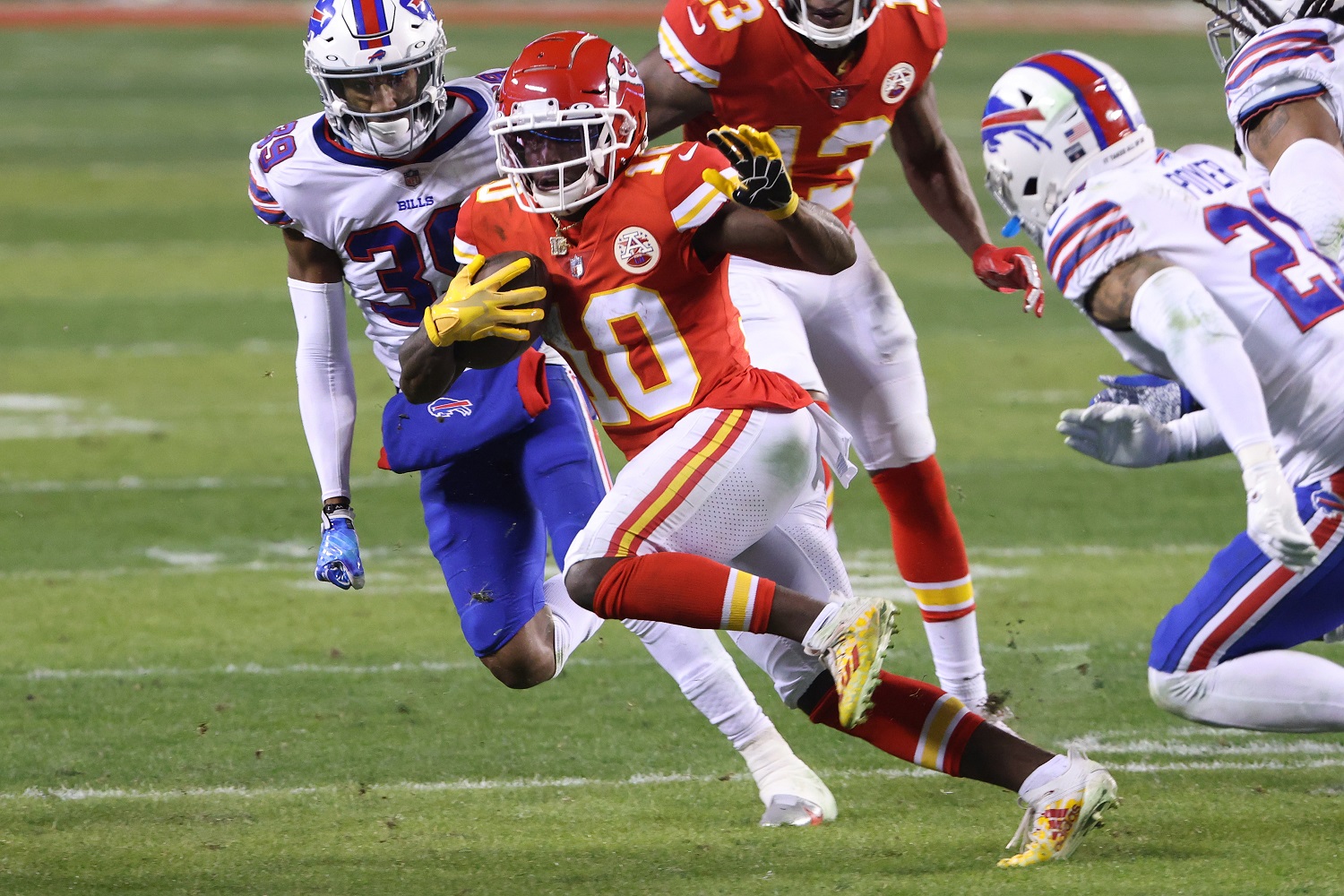 Tyreek Hill vs. Scotty Miller: Which Super Bowl 55 Receiver Is Faster?
Receivers Tyreek Hill of the Kansas City Chiefs and Scotty Miller of the Tampa Bay Buccaneers head to Super Bowl 55 as two of the fastest players in the NFL.
As controversies go in the build-up to Super Bowl 55, the battle of wide receivers isn't going to last long. Give it 4.4 seconds at the most as Tyreek Hill of The Kansas City Chiefs and Scotty Miller of the Tampa Bay Buccaneers hash out who's the speedier wide receiver.
Tampa Bay Buccaneers WR Scotty Miller is in the Super Bowl 55 spotlight
Scotty Miller is finishing up his second season with the Tampa Bay Buccaneers. After making just 13 catches as a rookie poached in the sixth round out of Bowling Green, Miller followed up with 33 receptions for 501 yards and three touchdowns in the 2020 season. He added a modest four catches in three postseason games as the Buccaneers swept through the NFC playoffs to arrive at Super Bowl 55.
It was one catch in particular, however, that brought Miller to the attention of NFL fans who had yet to take notice of the 5-foot-11, 174-pound receiver who logged 208 catches and 23 TDs in the final three seasons at Bowling Green.
With eight seconds left in the first half of the NFC championship game, Tampa Bay should have been angling for a quick completion to set up a field-goal attempt for Ryan Succop. Instead, Tom Brady threw deep to the left for Miller, who blew past single coverage from cornerback Kevin King for a 39-yard touchdown. Succop's extra point gave the Bucs a 21-10 lead.
Tampa Bay held on for a 31-26 victory.
Tyreek Hill is a favorite Patrick Mahomes weapon
Tyreek Hill is the Kansas City's Chiefs' enormously successful fifth-year receiver out of West Alabama. A fifth-round pick in the 2016 NFL draft, Hill has made the most of his speed and elusiveness to earn first-team All-Pro honors three times, including in the 2020 regular season. He made 61 catches and scored six touchdowns as a rookie despite starting only one game.
The Chiefs began taking advantage of his stretch-the-field ability in 2017, when Hill averaged 15.8 yards a catch. The rise of quarterback Patrick Mahomes in 2018 has coincided with Hill's own ascension. Hill has averaged 77 catches a year the past three seasons at 15.6 yards a pop, and he has scored 34 times. Chiefs coach Andy Reid has also thrown Hill into the mix in the ground game, where he's averaged 7.4 yards per rush in his career.
How the Tampa Bay Buccaneers fare in containing Hill will be a major factor in who wins Super Bowl 55.
Tyreek Hill vs. Scotty Miller: Which Super Bowl 55 receiver is faster?
Tyreek Hill is significantly more accomplished than Scotty Miller at this juncture, but they have two things in common. Each has a highly talented quarterback – Patrick Mahomes and Tom Brady – capable of getting the ball into their hands in a way in which they can do maximum damage. And each has ridiculous speed.
Which of the two is faster is a matter of some debate, and Miller raised eyebrows recently by staking a claim to the title of Super Bowl 55's fastest man.
"I'm taking me, every day of the week," Miller told Dan Patrick this week, as transcribed by BroBible.com. "I'll take me over anybody.
"Tyreek is unbelievable, super quick, unbelievable talent. But if we're talking about a race, I've got all the confidence in myself going up against anybody."
Short of the two putting on running spikes and settling the issue mano a mano at the local high school track,football fans may never know who is faster. Hill has been credited with running the 40-yard dash in 4.29 seconds at his college pro day. Miller was said to have clocked 4.39 seconds at his pro day, though Bucs GM Jason Licht swears it was a 4.30.
The problem is that no two running surfaces are the same, and weather conditions three years and hundreds of miles apart could be wildly different. Throw in the fact that hand timing of sprinters is notoriously unreliable, and there is just no way of knowing for sure. All things considered, one-tenth of one second over 40 yards has to be considered within the margin for error.
All stats courtesy of Pro Football Reference.