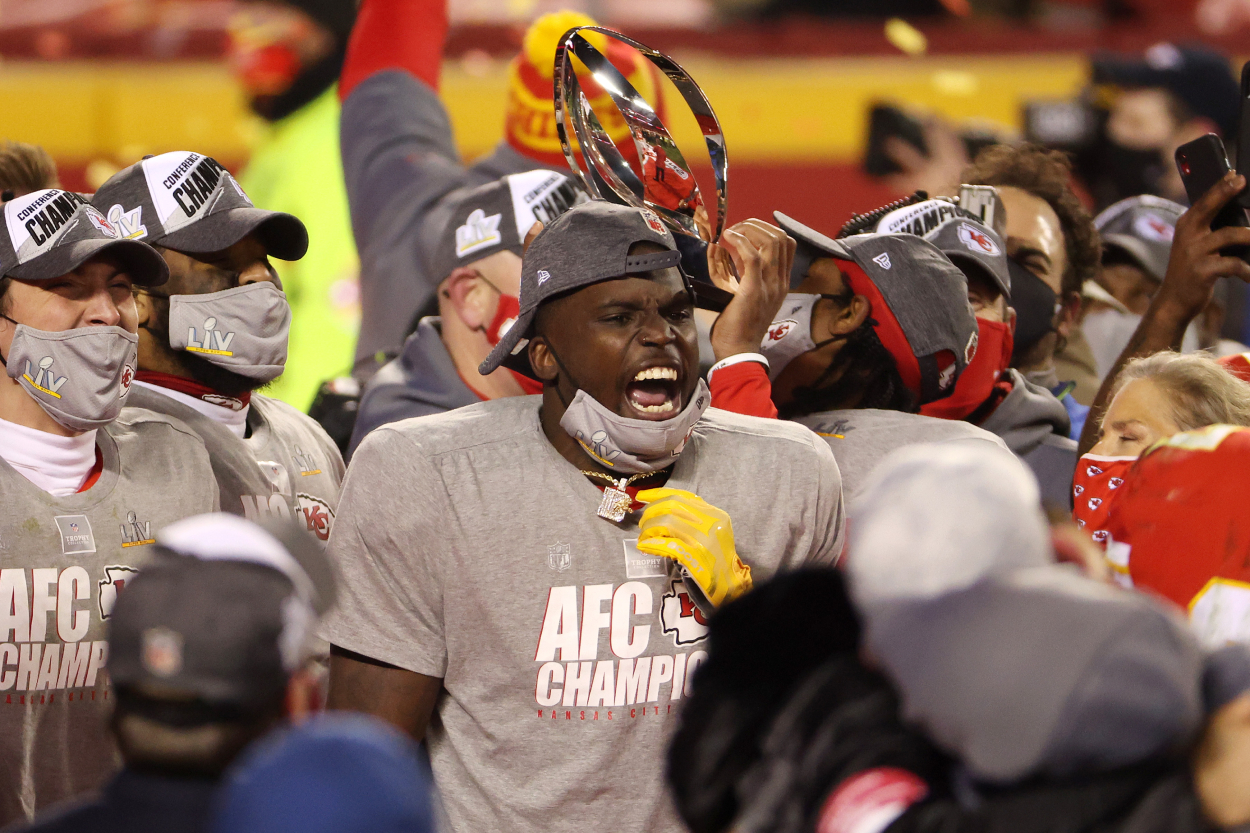 Tyreek Hill's Message to the Buccaneers Is Loud and Clear
Kansas City Chiefs wide receiver Tyreek Hill, a five-time Pro Bowler, has a message for the Buccaneers and it's loud and clear.
Like the Tampa Bay Buccaneers did in the NFC title game, they'll face a familiar opponent in Super Bowl 55 on Feb. 7. After the Bucs swept the Green Bay Packers and advanced to the Super Bowl, they now look to get even against a Kansas City Chiefs team that came into Tampa in Week 12 and left with a 27-24 victory. While there hasn't been a whole lot of talking going on so far, Chiefs wide receiver Tyreek Hill has a message that's loud and clear.
The Kansas City Chiefs are primed for a repeat
The Kansas City Chiefs keep rolling. The high-powered offense, led by quarterback Patrick Mahomes, got a big boost from its defense Sunday. After a slow start, the Chiefs collected themselves and put it all together in a 38-24 victory over the Buffalo Bills. Mahomes and the Chiefs are ready to defend their Super Bowl title.
Kansas City Chiefs fans held their collective breath last week in a victory over the Cleveland Browns. Mahomes suffered a toe injury and then was forced into concussion protocol after a hit that forced backup quarterback Chad Henne into action. Henne held down the fort and Mahomes was able to play against the Bills.
Mahomes never missed a beat. He completed 29 of 38 passes for 325 yards and three touchdowns. He's followed up his Super Bowl season with another year that has him in the running for his second MVP. He threw for 4,740 yards and 38 touchdown passes this year despite sitting out the final meaningless game of the regular season. He was intercepted six times.
Tom Brady looking to add to his ring collection
Tom Brady will be starting his 10th Super Bowl when the Tampa Bay Buccaneers host – yes, host – the Kansas City Chiefs in Super Bowl 55. To put that in perspective, no other quarterback has started more than five Super Bowls. Super Bowl 55 will be played at Raymond James Stadium in Tampa.
Brady is the winner of six of those 10 Super Bowl starts. He left the New England Patriots after 20 seasons and has guided the Buccaneers to a Super Bowl berth in his first season with the team.
Tom Brady has the most decorated resume in NFL history. He's second to none in the record books. Brady has done nothing but win during his illustrious career and now he's looking to add another Super Bowl ring to his collection.
Tyreek Hill's message to the Buccaneers
Tyreek Hill has proven he's more than just a fast guy. Hill has become more of a complete wide receiver in his fifth year in the NFL. He's made the Pro Bowl in each of his five seasons, the first two coming strictly as a return specialist. This season, he had a career-high 15 touchdown receptions and had the third 1,000-yard receiving season of his career.
Although he didn't say anything, Hill had a very clear message for the Tampa Bay Buccaneers. In Week 12, Hill did all his talking on the field and put together the greatest game of his NFL career. The message was clear: he's now a top-notch wide receiver. Hill had 13 catches for 269 yards and three touchdowns. Hill had seven catches and 203 yards in the opening quarter.
All stats courtesy of Pro Football Reference.