Tyronn Lue Admitted Allen Iverson's Stepover Is the Best Thing That Ever Happened to Him: 'Without Iverson, There Probably Wouldn't Be Me'
Tyronn Lue might not be where he is today if Allen Iverson never stepped over him in the 2001 NBA Finals.
Allen Iverson's iconic stepover on Tyronn Lue is one of the most replayed moments in NBA history today. The disrespectful gesture has been recreated by fans countless times over, and it's even become a popular meme among NBA Twitter.
One might think Lue would look back at the play with sheer embarrassment, but it's actually the complete opposite. The Los Angeles Clippers head coach once admitted Iverson's stepover is the best thing that ever happened to him on a basketball court. Lue might not even be where he is today if the move never happened.
Allen Iverson's stepover on Tyronn Lue is an iconic play in NBA history
Every NBA fan — young and old — has seen the play.
It was Game 1 of the 2001 NBA Finals. Philadelphia 76ers against the LA Lakers. The Sixers were huge underdogs in the matchup, as Kobe Bryant and Shaquille O'Neal had led the Lakers through the Western Conference playoff bracket without losing a single game.
Iverson and the Sixers kept the game close throughout and eventually forced overtime. With under a minute left in OT and the Sixers leading by two, Iverson drove baseline on Lue, stepped back, and drained a long two-pointer to put his team up four. After sinking the shot, A.I. looked down at the defeated Lakers guard and stepped right over his lifeless body before jogging back down the court.
The 76ers won the game in OT, but they went on to lose the series in five games. Even so, the most memorable part of that NBA Finals will always be Iverson's iconic stepover.
Lue admitted Iverson's stepover is the best thing that ever happened to him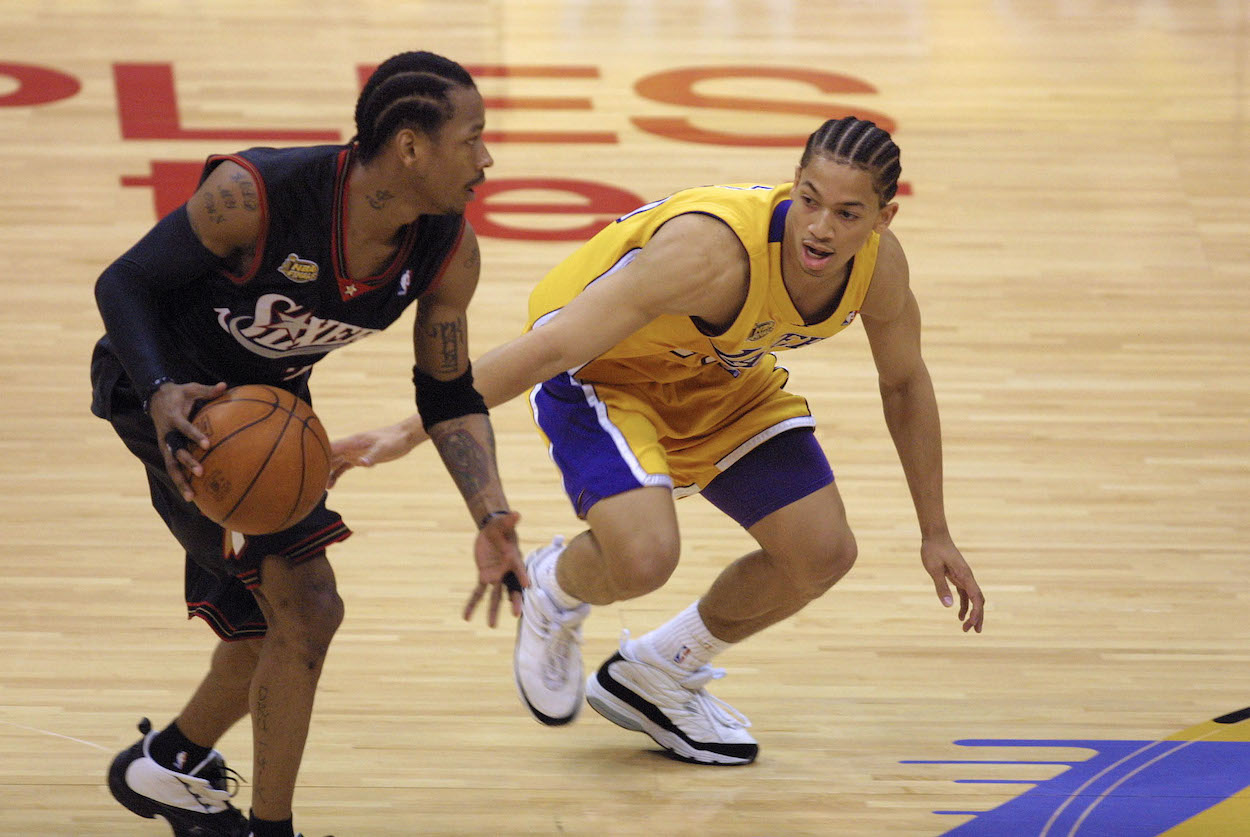 It's been 20 years since Iverson stepped over Lue on that fateful day, but the former Laker still hears jokes about the incident today. Despite having a successful, 11-year career in the NBA, Lue will always be remembered for getting embarrassed by an NBA Hall of Famer on the biggest stage in basketball.
But he's totally fine with that.
"Iverson making it to the Finals really saved my career," Lue told Howard Beck of Bleacher Report back in 2016. "Without Iverson, there probably wouldn't be me."
Wait, what? Let him explain.
"If Milwaukee would have beat Philly [in the 2001 Eastern Conference Finals], I wouldn't have played [in the NBA Finals]," Lue continued. "So that could have possibly been my last year in the NBA. People don't understand that."
You see, the 2000-01 NBA season was just Lue's third as a pro. If he didn't play a single minute in the Finals that year because of a stylistic matchup with the Bucks, he might've never gotten signed by another team. Instead, he played 14.2 minutes per game against the Sixers, contained Iverson on defense as much as anyone could back then, and knocked down shots when he was called upon.
Oh, and he won a ring, too.
The next year, Lue signed with the Washington Wizards and went on to play eight more seasons in the NBA.
All because of Iverson.
The Stepover made Lue who he is today
Following the famous stepover, Lue went on to play out a lengthy NBA career, which he later parlayed into a head coaching gig with the Cleveland Cavaliers. In three full seasons as the head coach of the Cavs, he made the NBA Finals all three times and won a title in 2016.
He has a chance to make it 4-for-4 Finals appearances if he can lead the Clippers to a comeback series victory over the Phoenix Suns.
Again — all because of Iverson.
"The Stepover definitely made me famous," Lue told Beck in 2016. "The thing with Allen Iverson is, he made me."