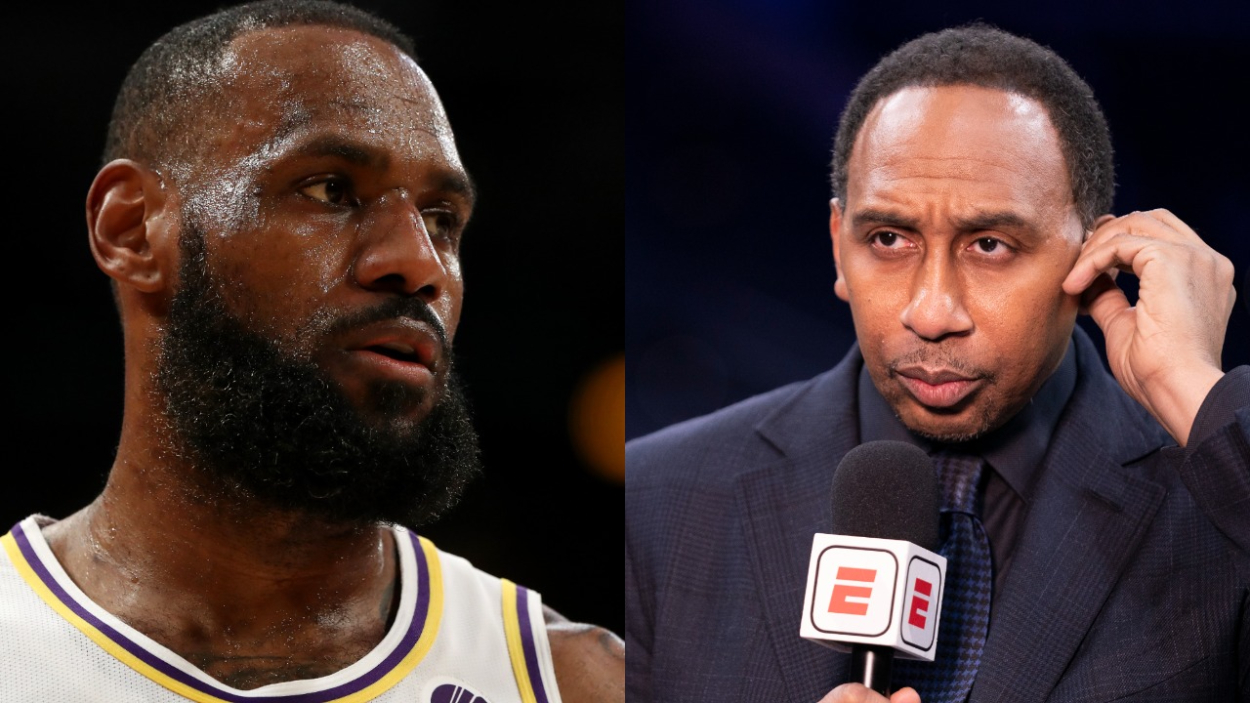 'Ultrasensitive' LeBron James Blasted by Stephen A. Smith: 'You Create a Narrative'
LeBron James rarely hears his name when people debate the greatest scorers in NBA history, and he says that pisses him off. Stephen A. Smith, though, didn't appreciate his comments.
When talking heads — or even random fans in bars — discuss the greatest scorers in NBA history, they typically mention Michael Jordan, Kevin Durant, Kobe Bryant, or Stephen Curry. However, given how great LeBron James is in various other areas of his game, his name doesn't always receive the attention it deserves.
So, how does James feel about that? He recently admitted that it pisses him off, especially considering how he could soon become the league's all-time leading scorer.
But ESPN's Stephen A. Smith — one of those aforementioned talking heads — took exception to LeBron feeling pissed. He even said the Los Angeles Lakers star is being "ultrasensitive."
So, who's right?
LeBron James is pissed that others don't think he's an all-time great scorer
At some point next season, there's a good chance LeBron James could pass Kareem Abdul-Jabbar for first on the NBA's all-time scoring list. As of March 8, 2022, he has 36,720 total career points, which ranks third. Karl Malone is No. 2 with 36,928, and Abdul-Jabbar is No. 1 with 38,387.
However, James is rarely considered one of the league's greatest scorers, and that pisses him off.
"When they talk about the best scorers of all time, they never mention my name," he said on the March 4 episode of The Shop that also featured Lamar Jackson. "… Yeah, it pisses me off."
So, are James' feelings justified? Stephen A. Smith doesn't think so.
Stephen A. Smith called LeBron 'ultrasensitive'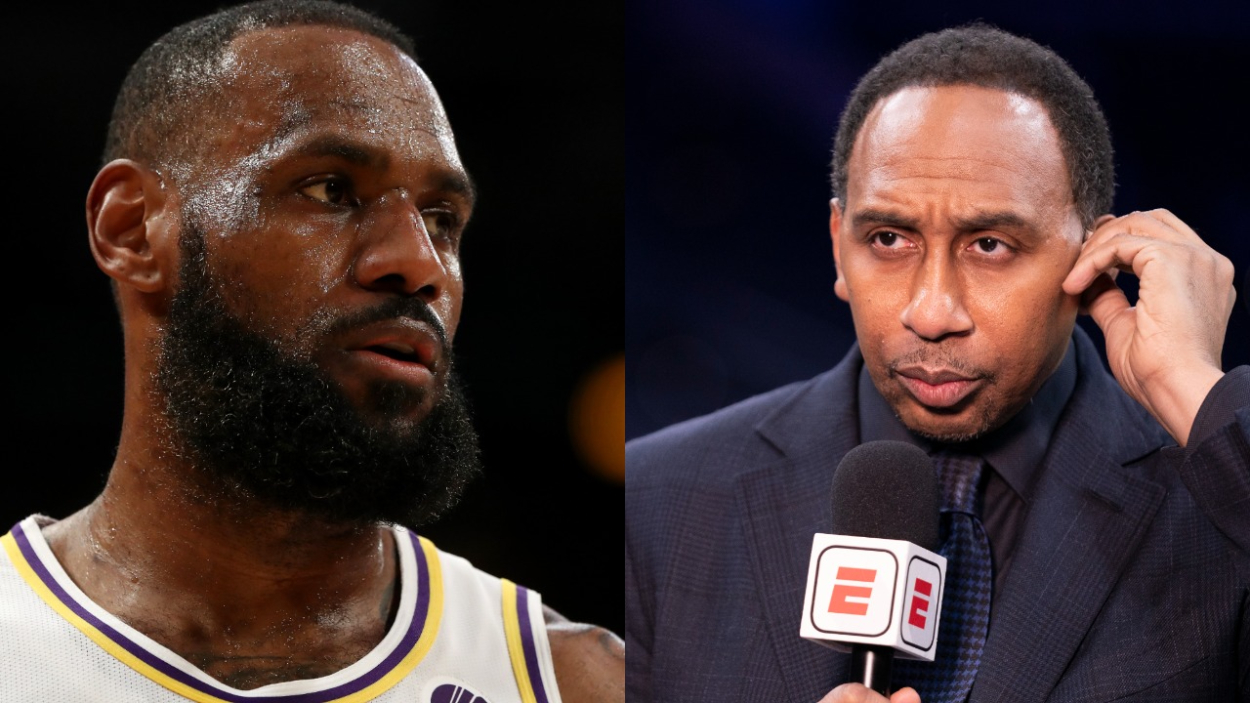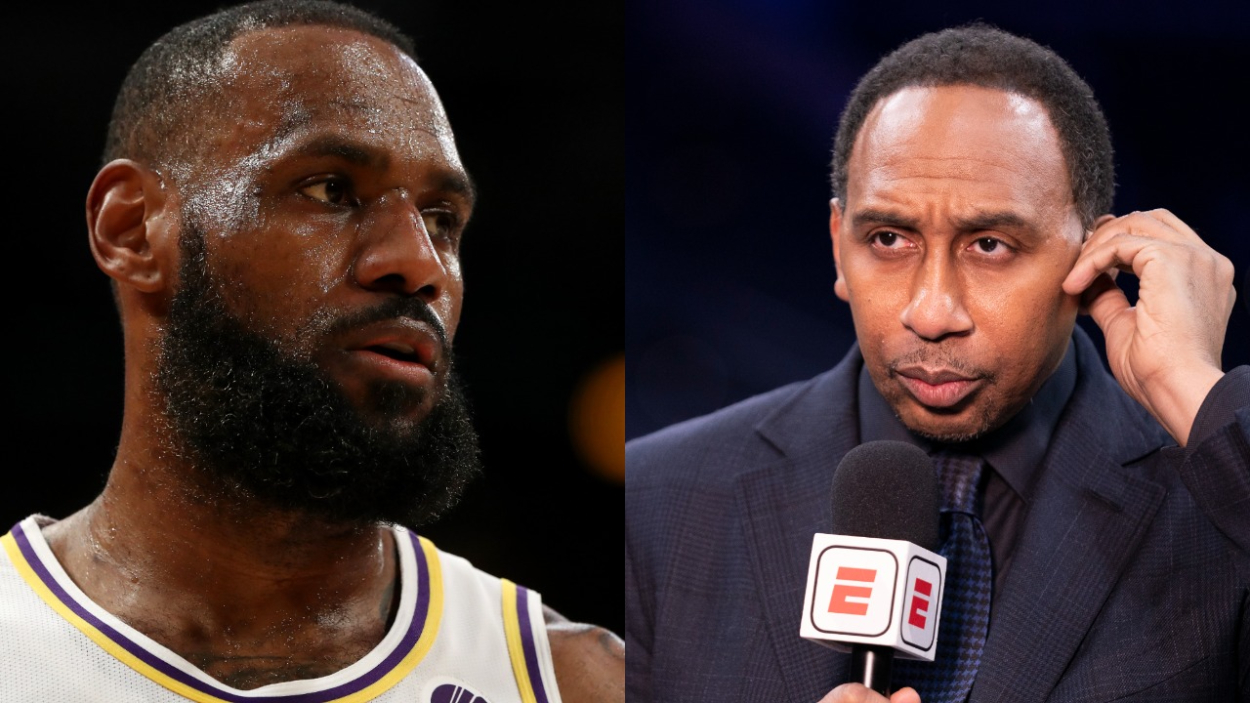 Stephen A. Smith recently addressed LeBron James' comments on ESPN's First Take, and he wasn't too thrilled with what he had to say.
"I think he's being ultrasensitive in that regard," Smith said on the March 7 episode. "We all know that LeBron James is an elite scorer. He's a career 27.0-point-per-game scorer. How the hell do we not know he's a scorer? But anything that we look at him as, as it pertains to deferring from the scoring, is LeBron's fault. LeBron wanted to be seen as the guy who makes the right play. He wanted to be seen as the guy who puts winning ahead of his own numbers. He wanted to be seen as the guy who didn't mind being deferential. And ultimately it became his detriment."
Smith continued later on in the segment: "You create a narrative; we grasp it. And then you mad at us because we grasp that narrative that you wanted us to grab. … We said, 'OK, we see your game. We got it.' And then when we do it: 'Well, dammit, it pisses me off that I'm not seen as a scorer.' This is the kind of stuff that he does."
To be fair to LeBron, he admitted he's not a natural scorer before complaining about others not calling him an all-time great scorer. It's possible not to be a score-first player but still make buckets at an elite level.
Does that mean James' feelings are justified?
LeBron James is right to feel irked
Here's some context into the "greatest scorer ever" argument.
James is No. 3 in total points behind Kareem Abdul-Jabbar and Karl Malone, but he ranks higher than both of them in career points-per-game average. He's fifth with a 27.08 average behind Michael Jordan, Wilt Chamberlain, Elgin Baylor, and Kevin Durant.
However, James is a more efficient scorer than three of those four. He has a better career shooting percentage (50.5%) than Jordan (49.7%), Baylor (43.1%), and Durant (49.6%).
So, LeBron has more career points than Jordan and Durant, and he shoots a higher percentage from the field than they did/do, but he still often gets overlooked in favor of them for the greatest scorer ever.
Yeah, his feelings are probably justified.
No, James isn't a natural scorer. He loves getting his teammates involved, which is why he ranks No. 7 all-time in total assists. But can't we consider him both an all-time great scorer and passer? He has proven he deserves that much.
No matter how you feel about the debate, James could soon own the league's all-time scoring record. That should be enough for him to receive the respect he deserves among the NBA's all-time great bucket-makers.
Stats courtesy of Basketball Reference