The Utah Jazz are Piling Up Wins, and It's Triggered Cries of Racism
The Utah Jazz are sizzling. Winners of five straight, the Jazz have racked up the most wins of any NBA team this season. All those victories are providing some soon-to-be college students gain a free education. The team's scholarship program is in full swing, and many believe it's one heck of an idea started under new Jazz owner Ryan Smith. Others are claiming racism.
The Utah Jazz are no fluke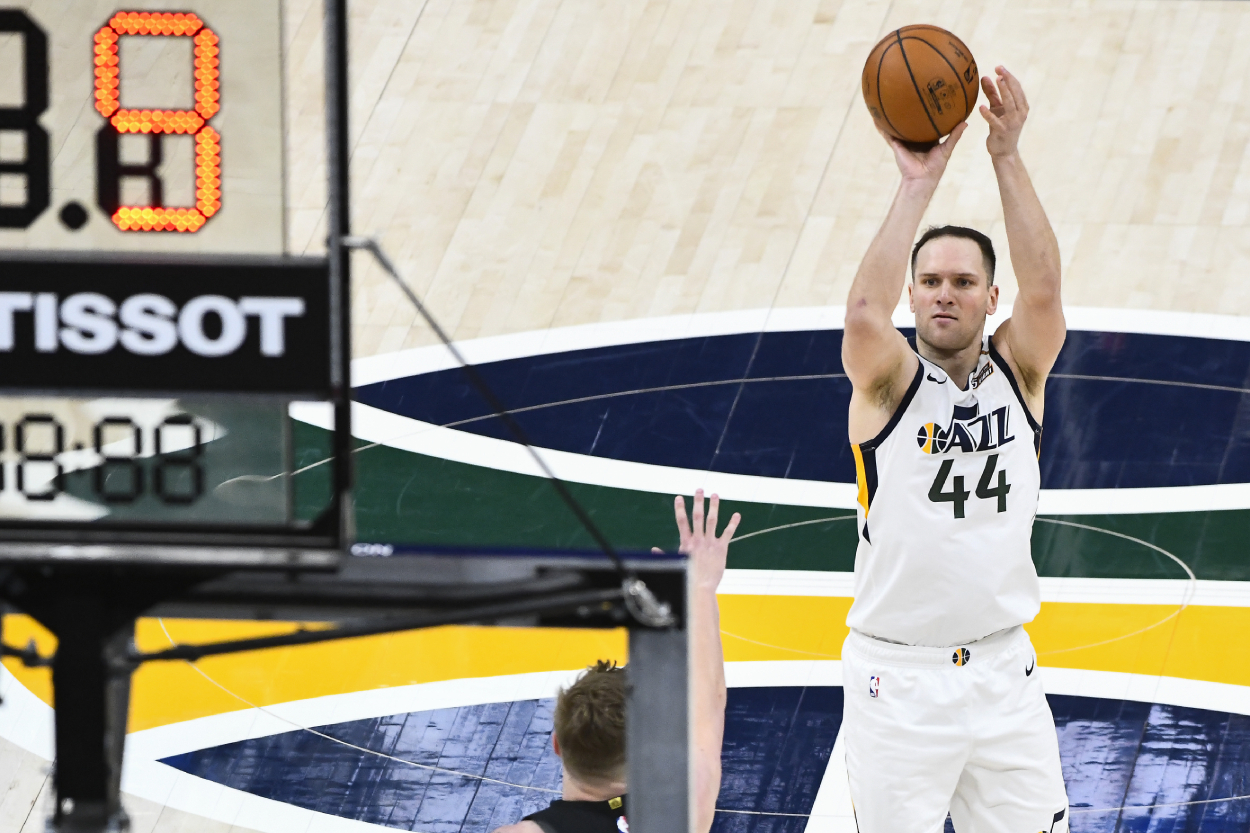 RELATED: Shaquille O'Neal and TNT Crew Put Donovan Mitchell on Blast and All-Star Guard Responds in Extremely Uncomfortable Interview
After going 4-4 in their first eight games, the Jazz caught fire. They've never looked back. The Jazz boast the best record in the NBA at 50-18 and it's no fluke. An 11-0 streak has set the tone for what could be a magical season in Utah.
The talk of the team is no longer just young gun Donovan Mitchell. Mitchell, the two-time NBA All-Star has been nursing a sore ankle and Utah hasn't missed a beat. The Jazz, also playing without point guard Mike Conley (hamstring), have strung together five straight wins. The team is proving it's much more than a one-man show.
With Mitchell and Conley sidelined, Bojan Bogdanovic has taken over the scoring. Veteran Joe Ingles has become the playmaker. Bogdanovic has led the team in scoring in five of the last seven games, while Ingles has been team-high in assists during their five-game win streak. Rudy Gobert has continued to be a rebounding machine and a strong defensive presence. The Jazz have never lost more than two straight games this year.
Utah Jazz owner Ryan Smith starts scholarship program
Give Smith a lot of credit. Not only is the owner trying to change the culture of the Jazz, but he is also trying to "make the world a more equitable place." Smith said that for every win the Jazz put up this year, he would offer a four-year scholarship to an underrepresented or minority student.
According to Fox13 in Salt Lake City, Utah, Smith first brought up the scholarship program on Adrian Wojnarowski's The Woj Pod podcast in January. "We have equity problems across pay, across race within our communities. And, I just want to look back and say 'Hey, I did everything I possibly could to make the world a more equitable place'," Smith told Wojnarowski.
"Our group plans on using the Jazz, in this platform, to be able to drive proper changes that, frankly, should've been done a long time ago, but to help better our communities. One of the things that we're doing is, for every Jazz win this year, we're offering a four-year scholarship to an underrepresented or minority kid who can now go to college. For every single win. And that is a great use of this platform to drive change."
Some have cried racism regarding Smith's plan
Spencer Cox, the governor of Utah, doubled down on his decision to support Smith's plan despite some backlash from people calling the scholarship program racist. Last month, Cox was asked again about his stance when a caller called a radio talk show and asked what the governor would do to stop the team from acting "in this racist manner?"
According to NBA.com, Cox told the caller he didn't believe the scholarship program was racist. He then followed it up with a tweet, writing, "if you're outraged by a private individual trying to help disadvantaged minority kids go to college, then I'm definitely not your guy." The unidentified caller wasn't the only one calling the program racist.
Fox News host Tucker Carlson also called it racist and accused Cox of "tribalism." "It should be illegal, but Spencer Cox, the Republican governor of Utah, is totally fine with it," Carlson said. "What is shocking and really dispiriting is when you see it from Republicans."