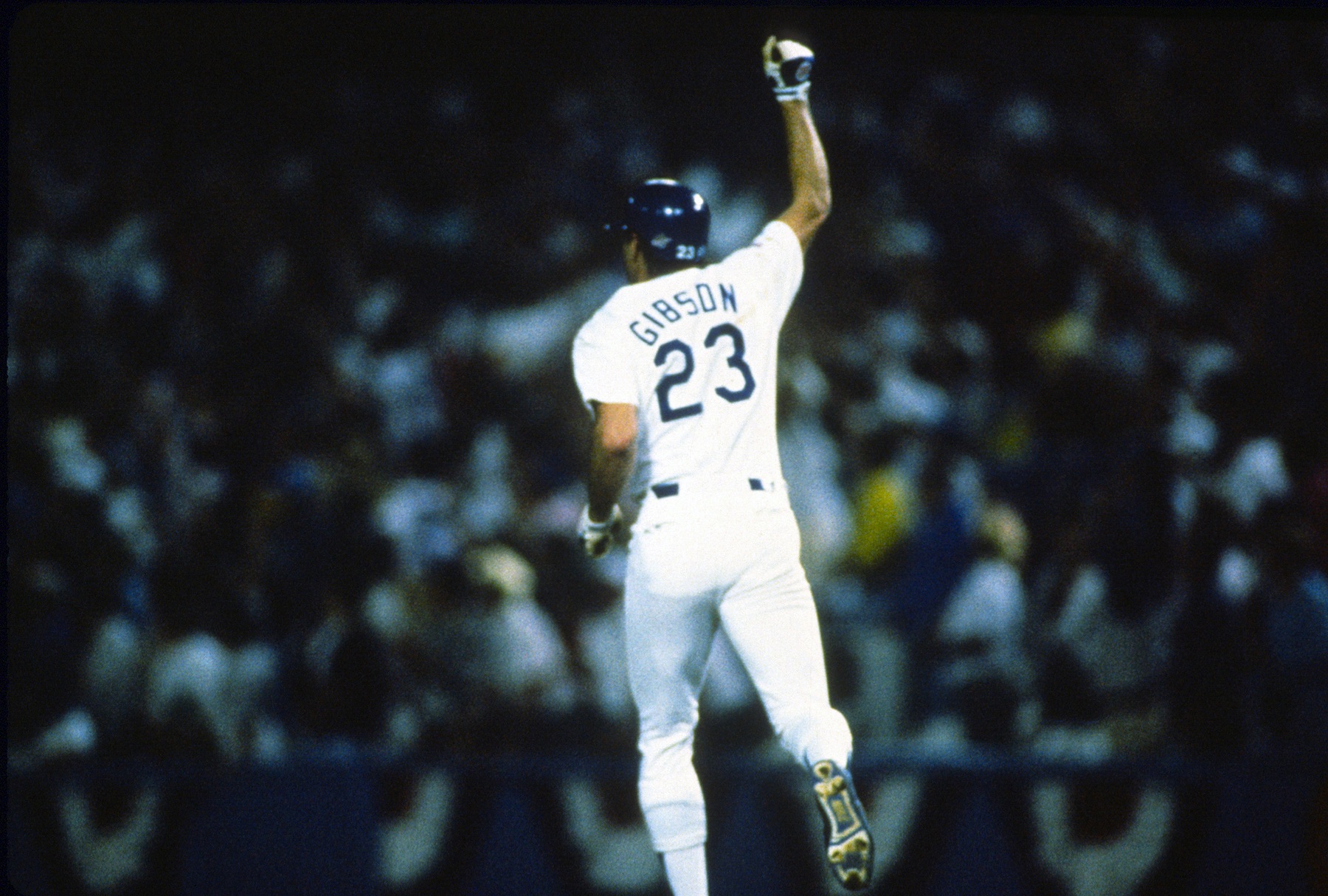 Vin Scully Goaded Kirk Gibson Into the Greatest Moment of His Baseball Career
Vin Scully tells a little-known story about how he inspired Kirk Gibson of the Los Angeles Dodgers to hit his famous home run in the 1988 World Series.
Vin Scully watched a lot of baseball and saw plenty of memorable moments as a play-by-play announcer. Retired from his radio and TV duties but always a fan of the game, Scully now shares memories on social media. His story about Kirk Gibson's 1988 World Series home run off Oakland A's reliever Dennis Eckersley is a revelation that every baseball fan should hear.
The 1988 Los Angeles Dodgers were World Series underdogs
A 1995 poll voted Kirk Gibson's home run in Game 1 of the 1988 World Series the greatest moment in Los Angeles sports history. It's possible that more recent feats by the Los Angeles Lakers – including six NBA titles – would now rate higher. But any re-vote should be done only after hearing Vin Scully's story about the greatest moment of Kirk Gibson's baseball career.
First, the background:
The 1988 Los Angeles Dodgers won the National League West with a 94-67 record, holding down first place for most of the season behind a pitching staff that threw 24 shutouts. They then went on to win the NL Championship Series in seven games over the New York Mets. However, the Dodgers entered the World Series as underdogs to the Oakland A's, who won 104 regular-season games.
One of the obstacles for the Dodgers was that Gibson, their leader with 25 homers and second in RBIs, was hobbled by injuries to both legs. His status for the World Series was uncertain.
A hobbled Kirk Gibson hit a walk-off homer
With injuries to both legs, Kirk Gibson did not start Game 1 of the 1988 World Series on Oct. 15, 1988, at Dodger Stadium. But with manager Tommy Lasorda's Los Angeles Dodgers trailing, 4-3, and two outs in the bottom of the ninth, the league MVP was called upon. He went to the plate as a pinch-hitter against Oakland A's reliever Dennis Eckersley.
Gibson came through with a dramatic, two-run homer for the walk-off victory. He rounded the bases while pumping a fist in the air, and the blast started the Dodgers on their way to a five-game victory in the series.
The heroic moment turned out to be Gibson's only plate appearance of the series. He never played again in the postseason. Gibson retired in 1995 with 255 homers and a .268 career average.
Vin Scully tells the rest of the story about Kirk Gibson
In a clip posted to his Twitter account this week, all-time great play-by-play announcer Vin Scully revealed that he inadvertently goaded Kirk Gibson into the signature moment of his 17-year MLB career.
Coming out of a commercial to call the bottom of the ninth inning for NBC as a camera panned the dugout, Scully made a point of noting that Gibson wasn't on the Los Angeles Dodgers' bench and apparently wasn't available for manager Tommy Lasorda.
"Little did I know exactly what was going on inside of Gibson's head, as well as his heart. He was sitting in the trainer's room, all alone, two big bags of ice, one on each leg, looking at the television set and listening to me say, 'And so it's obvious that Kirk Gibson will not play tonight.'

"Typical reaction from Gibson: 'Fertilizer.' Or a reasonable facsimile. And then he said to the clubhouse man, 'Tell Tommy I'll be right down.'

Vin Scully
The rest, as they say, is history. It made for years of interesting conversations between Scully and Gibson.
"I've always kidded Kirk," Scully said. "I've always told him if I hadn't said that and stimulated him, made him angry to swear at the television …
"That might be my greatest contribution to that night and that World Series."