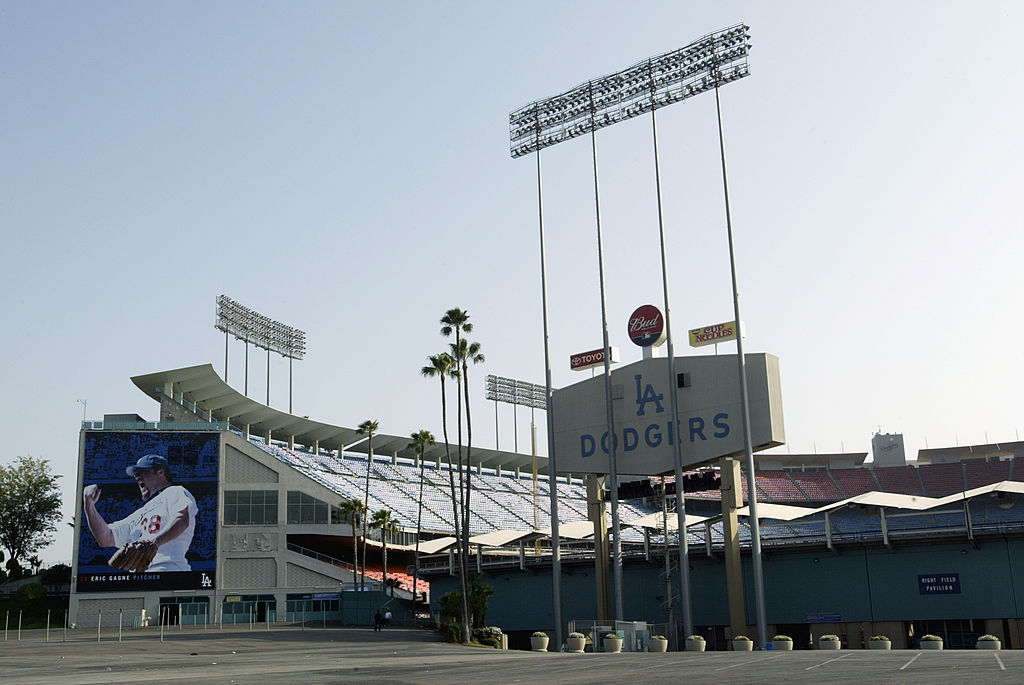 The Biggest Sports Icon in Los Angeles Isn't Even an Athlete
According to the readers of the Los Angeles Times, the biggest sports icon in Los Angeles isn't even an athlete.
Los Angeles certainly has had its share of beloved athletes. From Magic Johnson to Kareem Abdul-Jabbar to Wayne Gretzky to Mike Trout, LA has been loaded with athletes in a wide array of sports. The Los Angeles Times recently had its readers voice their opinion on the biggest sports icon in LA history and the winner wasn't even an athlete.
Los Angeles' list of sports icons
The Los Angeles Times had 128 sports icons included in its poll. The poll was broken down into four categories of 32 people (baseball, football, basketball, and wild card). The format was bracket-style, similar to that of March Madness.
Magic Johnson, Kobe Bryant, and Kareem Abdul-Jabbar headed the basketball list, along with legendary Lakers announcer Chick Hearn. Jerry Buss, Shaquille O'Neal, Wilt Chamberlain, Pat Riley, and Jerry West were also included. Football players involved were Marcus Allen, Eric Dickerson, The Fearsome Foursome, Tom Flores, and Jim Plunkett.
It got even tougher when baseball icons such as Mike Trout, Jackie Robinson, Vin Scully, Don Drysdale, Tommy Lasorda, Clayton Kershaw, and Orel Hershiser were added to the mix. Sprinkle in Wayne Gretzky, Arthur Ashe, John Wooden, Bill Walton, Reggie Bush, Serena Williams, and many others and it becomes very difficult to select just one.
And the winner is…
The LA Times held its poll for a month. It generated more than 45,000 votes. In the Final Four, Vin Scully faced off against the LA Rams Fearsome Foursome of Merlin Olsen, Rosy Grier, Lamar Lundy, and Deacon Jones. On the other side was Magic Johnson up against Jackie Robinson.
Robinson was placed in the wild card category, not baseball. Robinson attended UCLA, and when he played professional baseball it was for the Dodgers, who were playing in Brooklyn at the time. Scully, who cruised through the baseball category, defeated the Fearsome Foursome, while Johnson knocked on Jackson.
Scully, the longtime voice of the Los Angeles Dodgers, squared off against Johnson, arguably the greatest point guard of all time. Not only did Johnson play for the Lakers, but he also is a part-owner of the Los Angeles Dodgers. In the finals, Scully soundly defeated Johnson, winning by a margin of 62.1%-37.9%.
Vin Scully anxious for baseball to begin
Vin Scully is a legend in the broadcast booth. He is 92 years old and is home recuperating after spending time in the hospital due to a fall at his house. "I know where I am now after five days in the hospital and I'm so grateful to be home," Scully said in a video on the Dodgers' Twitter account. "And I'd also like to thank all of you for your good wishes and prayers after I had my headfirst sliding accident. In case you care, I was called out."
After joking that he would not be doing anymore headfirst sliding, Scully turned serious. He said he's looking forward to seeing baseball played again. He said he understands the sides are doing their best to make it work, but feels baseball will be played soon.
"I just feel very sad," Scully told Sports Illustrated earlier this week. "I'm not angry. I know people are trying to solve this issue. I think of baseball right now as a national thermometer. People are hoping for baseball because if baseball comes back it's the first true sign that we are on the comeback trail. It's our national thermometer."