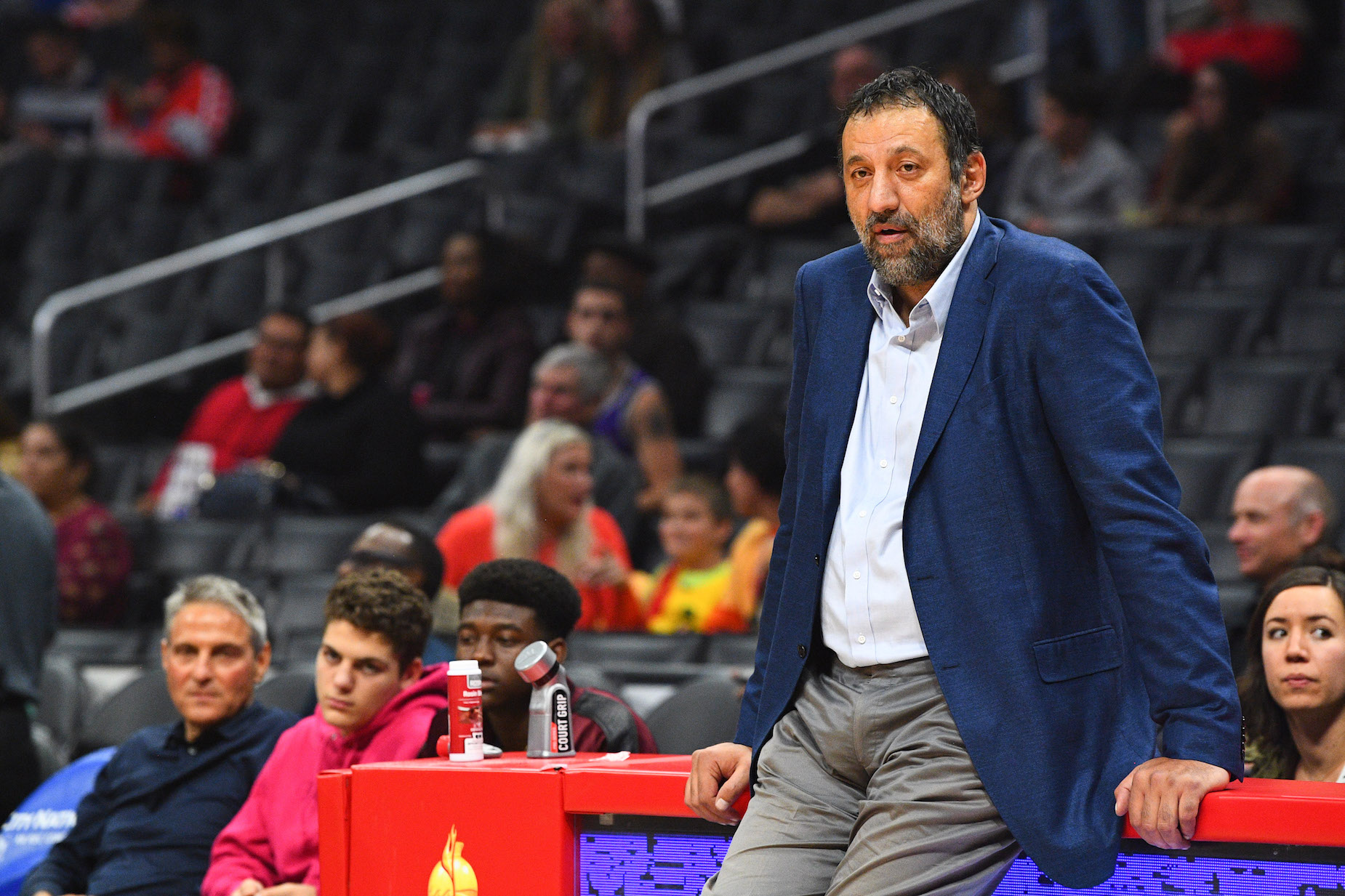 Vlade Divac's Playing Career Was Much More Successful Than His Time as the Kings General Manager
While Vlade Divac struggled as the Sacramento Kings general manager, that reality shouldn't overshadow his fine playing career.
Sports fans are never shy about asking, "What have you done for me lately?" While that's perfectly understandable, it also can taint the legacy of some pretty talented players. Just look at Vlade Divac, who recently left his job as the general manager of the Sacrament Kings.
If you looked solely at his most recent gig, you probably wouldn't have the most favorable impression of Divac; that perspective, however, would be overlooking a key part of his career. Long before he ever stepped into the front office, the former Lakers and Kings big man was a pretty talented basketball player.
Vlade Divac's impressive basketball career
When you think of an NBA player's road to the pros, you probably imagine progressing through high school and college before entering the draft. Vlade Divac, however, did things a bit differently.
Divac hails from Serbia, which, at the time, was part of Yugoslavia. After making a name for himself at smaller clubs, he joined KK Partizan in 1968; the team went on to dominate Europe, and the big man became an even bigger star.
In 1989, Divac decided he was ready to take the next step and entered that year's NBA draft. He landed with the Los Angeles Lakers and, after spending one season coming off the bench, took over as the team's starting center.
Divac spent seven seasons in Hollywood before the Lakers dealt him to Charlotte; that deal brought Kobe Bryant to LA, changing the course of basketball history. The big man wouldn't spend long in North Carolina, though, and signed with the Sacramento Kings after hitting free agency.
After six campaigns with the Kings, Divac returned to the Lakers for one final encore. Age and injuries, however, limited his effectiveness and the big man finally retired after 16 seasons in the association.
An unsuccessful stint in the front office
While Vlade Divac's playing career ended after the 2004-05 season, the big man wasn't ready to leave basketball behind. Instead, he simply traded his uniform for a dress shirt and slacks.
Immediately after retiring, Divac took a job as a European scout for the Lakers organization; he spent a year in the job before leaving to dabble in other ventures, working for Real Madrid basketball team and the Serbian government. In 2015, however, he returned to the NBA scene and rejoined the Sacramento Kings.
While Divac arrived as the vice president of basketball and franchise operations, he eventually took over as the club's general manager. Unfortunately for the Kings, though, his success as a player didn't translate to the front office.
Although the former center inherited a tough situation and did draft De'Aaron Fox, he didn't cover himself in glory. His tenure will be defined by passing up on Luka Doncic to draft Marvin Bagley III; as laid out by Leo Tochterman at A Royal Pain, Divac's free agency didn't look much better.
Just how good was Vlade Divac as a player?
While things can often look better in hindsight, it's safe to assume that Sacramento Kings fans won't remember Vlade Divac's time as their general manager too fondly. That reality, however, shouldn't overshadow the big man's playing career.
Although detractors will remember Divac's flopping, the big man posted solid numbers during his time in the association. During 16 seasons in Northern American basketball, he averaged 11.8 points, 8.2 rebounds, and 3.1 assists per outing; while those numbers aren't eye-popping, they don't tell the whole story. Vlade was a skilled, all-around center and eventually earned a spot in the Basketball Hall of Fame, thanks to the totality of his career.
As Benedict Tagle explained for Kings.com, Divac "is one of seven players in NBA history to record at least 13,000 points, 9,000 rebounds, 3,000 assists, and 1,500 blocked shots." He also made a major impact on the international stage, claiming the 1989 Mister Europa Player of the Year title and plenty of team medals with the Yugoslavian national squad.
At the end of the day, Vlade Divac simply didn't do enough to keep his job as the general manager of the Sacramento Kings. That reality, though, shouldn't overshadow his playing career, both in the NBA and abroad.
Stats courtesy of Basketball-Reference