Walter Szczerbiak, the Father of NCAA Tournament Analyst Wally Szczerbiak, Was a Great Player in His Own Right
While current CBS Sports college basketball analyst and former NBA All-Star Wally Szczerbiak may be a household name to most basketball fans, his father, Walter Szczerbiak, probably isn't…at least not here in the United States.
Across the pond, however, the elder Szczerbiak is recognized as one of the greatest players in EuroLeague history and certainly has the resume to back that up. He was drafted into the NBA following his college career at George Washington but when things didn't pan out there, he spent a short time in the ABA before taking his talents overseas.
Walter Szczerbiak averaged 15.7 points per game in three seasons at George Washington
As freshmen weren't allowed to play varsity basketball until 1972, Walter Szczerbiak didn't play his first official game at George Washington until his sophomore year in 1968-1969. The 6'5″ forward averaged just 4.8 points and 3.3 rebounds coming off the bench for the Colonials that year but moved into the starting lineup as a junior and made the most of that opportunity, averaging 17.2 points and 11.7 boards per game.
As a senior, Szczerbiak improved even more as he averaged 22.8 points, shooting an incredible 59.4% from the floor, and 13 rebounds per game, stats that likely would have earned him Southern Conference Player of the Year honors had GW not become an independent team ahead of the 1970-1971 college basketball season.
He was taken in both the NBA and ABA drafts in 1971
In 1971, Walter Szczerbiak was taken in the fourth round of the NBA draft with the 65th overall pick by the Phoenix Suns and was also taken in the third round of the ABA draft with the 28th overall pick by the Dallas Chaparrals, who a few years later would become the San Antonio Spurs.
Unfortunately for Szczerbiak, things didn't work out with either of those teams but he did find a home in 1971-1972 with the ABA's Pittsburgh Condors, with whom he averaged 6.3 points and 2.8 rebounds in 53 games.
However, he found himself out of a job when the franchise was shut down following the season and was ready to quit basketball before he latched on with the Wilkes-Barre Barons of the Eastern League (which later became the CBA), with whom he played one season and won a championship before heading overseas.
Walter Szczerbiak was once named one of the 50 most influential players in EuroLeague history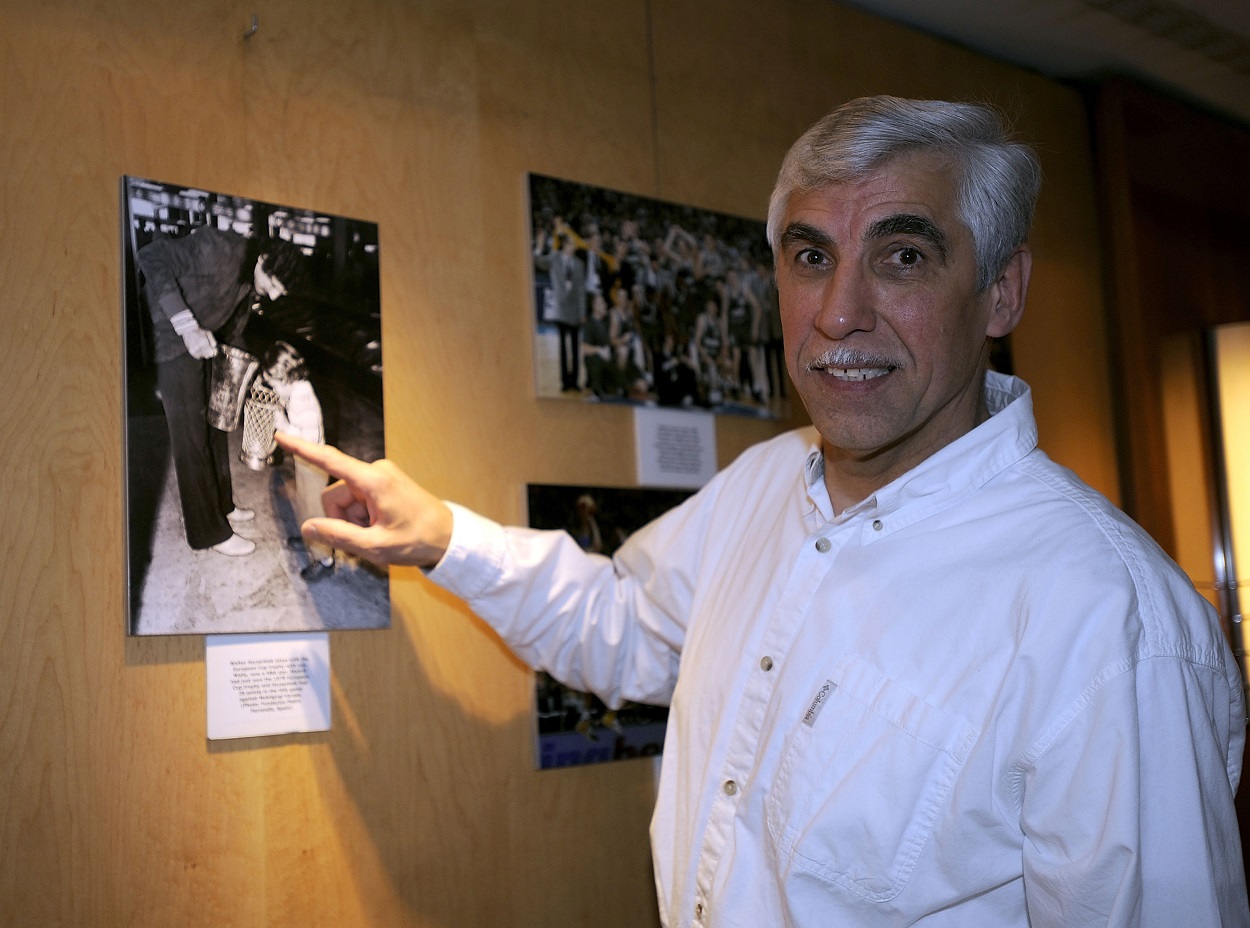 In 1973, Walter Szczerbiak began his EuroLeague career with Real Madrid Baloncesto and went on to become one of the all-time greats.
He played for Real Madrid from 1973 to 1980 and in that time won three FIBA Intercontinental Cup titles (he was named MVP in 1977), three EuroLeague titles (he was the EuroLeague Finals Top Scorer in 1978), four Spanish league titles (he was the league's leading scorer in 1975-1976 averaging 30.9 points per game), and a Spanish Cup.
He then played for A.P.U. Udine in Italy from 1980 to 1982 before closing out his professional career with Cofisa Canarias back in Spain, for whom he averaged 23.6 points in 1983-1984.
In 2008, the year in which the FIBA European Champions Cup celebrated its 50th anniversary, Walter Szczerbiak was named one of the 50 Greatest EuroLeague Contributors of FIBA European Champions Cup and EuroLeague history, a list that included 35 players, 10 coaches, and five referees.
Just to give you an idea of how big of an honor that was, some of the other players included on that list were Toni Kukoc, Vlade Divac, Mike D'Antoni, Drazen Petrovic, Arvydas Sabonis, and Manu Ginobli.
Stats courtesy of Sports Reference