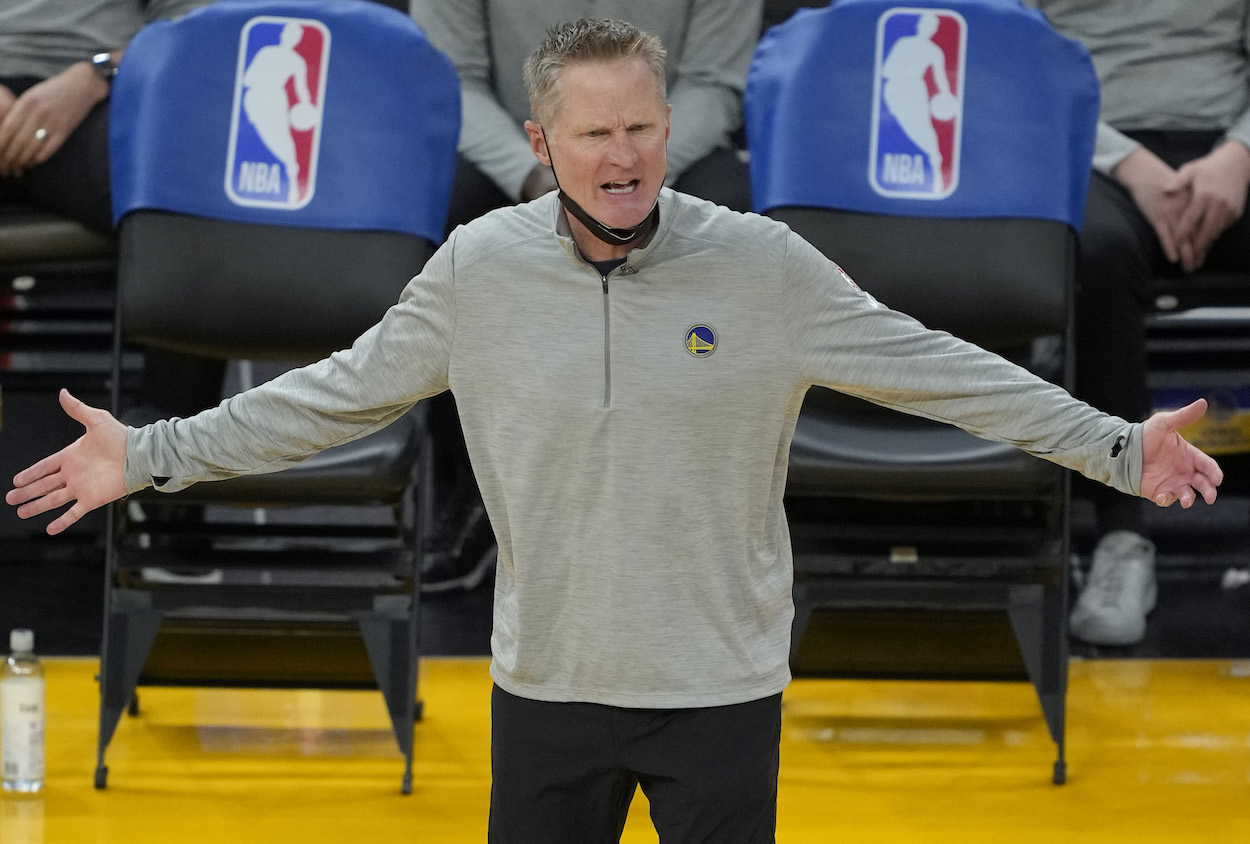 Warriors Head Coach Steve Kerr Reveals His Biggest Pet Peeve About the NBA Today: 'It's a Disease'
Steve Kerr has watched the NBA change drastically over the last 30 years, and there's one part of today's game that he can't stand.
Golden State Warriors head coach Steve Kerr has seen the NBA change dramatically over the last 30 years. When he played in the pros throughout the 1990s, the NBA was a physical league with a heavy focus on defense and rebounding. Now, the NBA is basically a 3-point shooting contest. Defense and rebounding have taken a back seat for most players today, and Kerr is sick of it.
Steve Kerr wasn't happy after the Warriors' latest embarrassing loss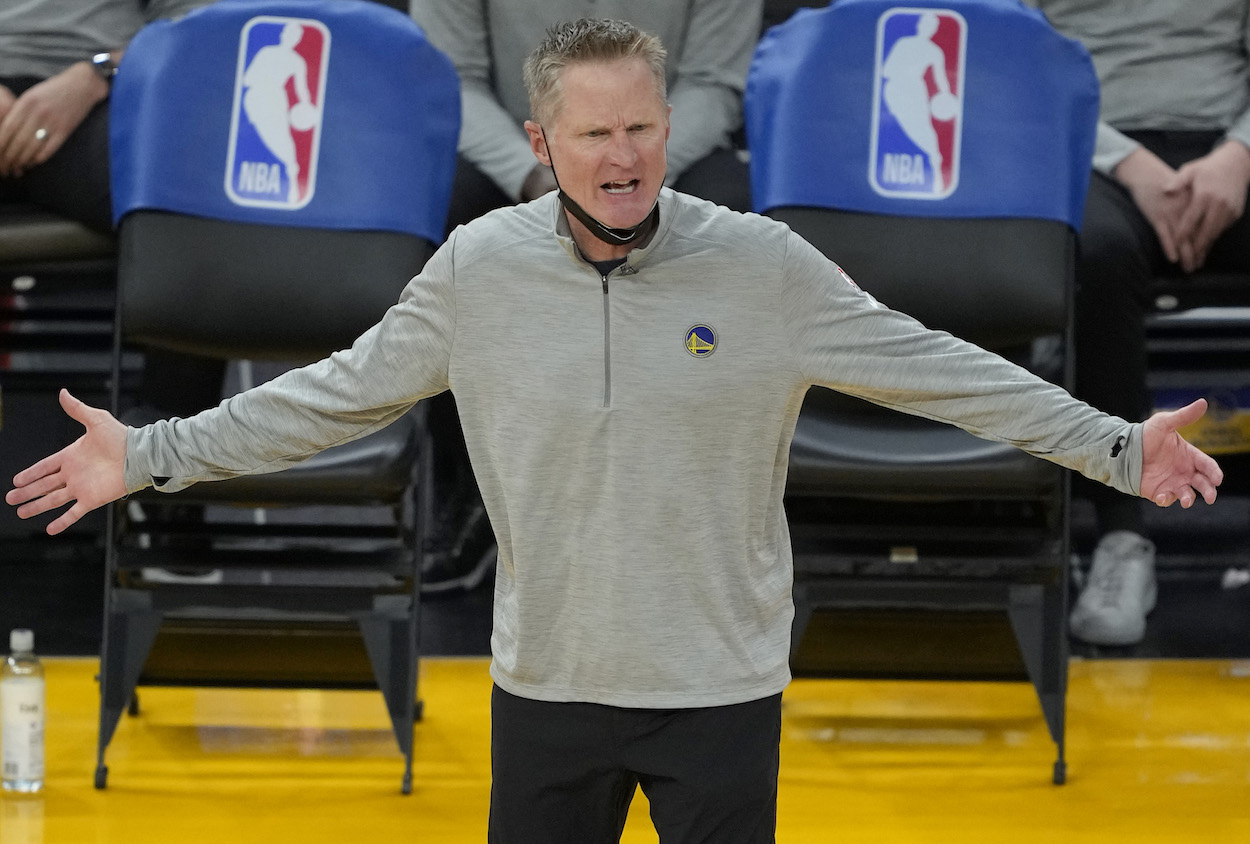 The Warriors are clinging to the final play-in spot in the Western Conference with just a few weeks left in the regular season. Golden State can't afford to fall asleep at the wheel with the Sacramento Kings in hot pursuit, but it's played two of its worst games of the year this past week.
After the Warriors' 126-114 loss to the Minnesota Timberwolves on Thursday night, Kerr aired out his frustrations to the media. He explained that he loves the progress NBA players have made since he retired, but that they're missing the fire players in the '90s possessed.
"Players have never had more skill than they have today in my mind," Kerr said after the game. "I'm amazed by the skill level. But the little things, getting back in transition — every night on TV, I see teams let a guy run past them in transition for a layup. We do it; every team does it. If you did that 25 years ago, your coach would take you out and he wouldn't play you again. Now everybody does it, and as a coach, you can't take everybody out. So there are certain parts of the game that are just different; players aren't as locked in on those things. I think just because it's a different time."
Kerr reveals his biggest pet peeve about today's NBA
During Golden State's loss to Minnesota, the Warriors were out-rebounded 57-34 in the contest. The embarrassing display on the glass prompted Kerr to reveal his biggest pet peeve about today's NBA.
No one boxes out any more.
"It signals to me a modern team," Kerr said. "This is the modern NBA; guys don't box out. It's just the way it is. Every night on League Pass, I see the same thing. Players let guys come in from the weak side, and they think, 'I'll just get the rebound.' It's a disease that's rampant in the NBA. The problem is, if you're a real small team like us, then it's going to hurt you more than it will hurt other teams."
Kerr thought his team played soft on Thursday night, and he believes players need to re-learn how to properly box out and keep their opponents off the boards.
"It's not even like a college box out or a high school box out," Kerr said. "In the NBA, it's more about locating the guy and just putting your hand or your forearm in his chest, letting somebody else go chase the ball. So we were staring up at butterflies, up in the air just looking up and guys were coming right by us. That doesn't matter what kind of possession it is, what kind of shot it is, it's just the awareness to go hit somebody."
Stephen Curry weighs in
After the same game, Stephen Curry was asked if players today aren't taught the fundamentals of basketball growing up like they used to. He didn't completely agree.
"I don't know. Everybody has a different upbringing in the game," Curry said. "When I was at Davidson, we literally drilled that before, during, and after every practice. It's part of just learning the fundamentals of the game — at this level, maybe it's taken for granted, I guess that everybody has a certain understanding, angles, and physicality and whatnot, but you have to be able to do it."
Curry also echoed Kerr's thoughts about needing to rebound better.
"I'm not saying everybody's going to average whatever type of rebounds, but you know how to do it as a team. I think early in the season this was a big talking point; we figured it out a little bit and now it's coming back to bite us a little bit now that we're small again so — it is glaring. 57-34. That's nuts. So we got to figure that out."