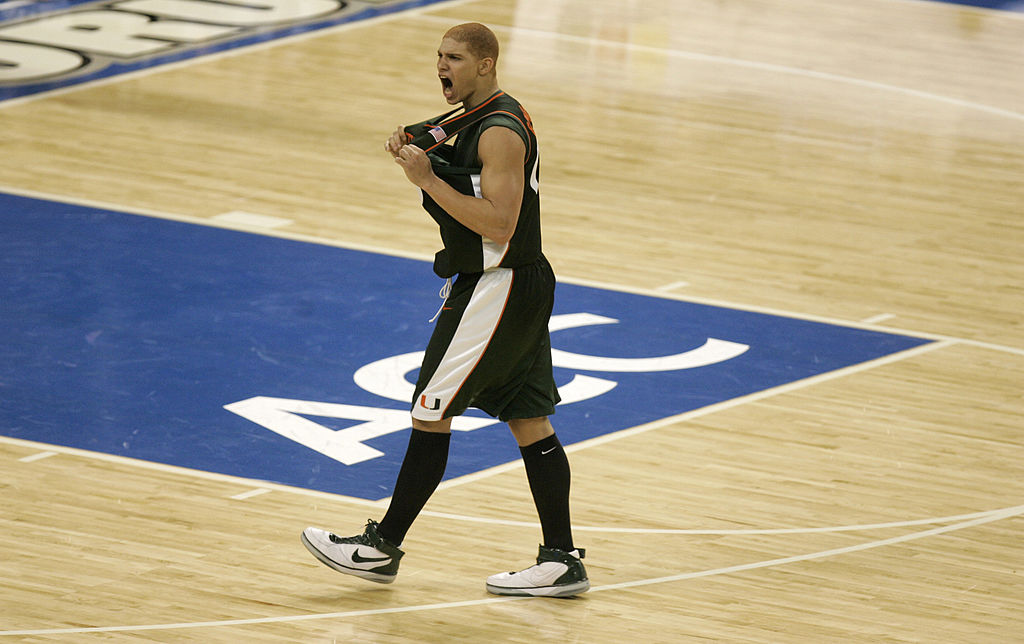 Was Jimmy Graham Any Good at Basketball When He Played in College?
Before Jimmy Graham was catching touchdown passes in the NFL, he was catching alley-oops at the University of Miami.
Most sports fans know Jimmy Graham from his Pro Bowl days with the New Orleans Saints and Seattle Seahawks, but the stud tight end actually caught both touchdown passes and alley-oops in his college days at the University of Miami. Graham played basketball all four years at Miami, but he only played football in 2009 after he graduated. Following that season, Graham was drafted by the Saints in the third round of the 2010 draft.
Making it to the NFL wasn't even on Graham's radar entering college. He went to Miami originally just to play basketball, but his decision to switch back to football turned out to be the right choice.
Jimmy Graham was a highly rated basketball recruit out of high school
Jimmy Graham played both football and basketball in high school, but he chose to pursue his dream of playing in the NBA after graduation. Graham was a four-star basketball recruit in 2005 out of Charis Prep in Wilson, N.C. He was the 60th-ranked prospect in the country and the 16th-ranked power forward by Rivals.com
Graham was a dominant force down low during his high school days. He was a powerful big man at 6-foot-8 and 235 pounds at just 18 years of age. Graham averaged 19.4 points, 14.4 rebounds, and 6.3 blocks per game over his junior and senior seasons at Charis Prep. He was even an Honorable Mention All-American in his senior year.
Miami was the first school to offer him a scholarship to play basketball, and Graham accepted.
Graham was a good, not great, college basketball player
Graham didn't exactly pan out on the basketball court the way Miami hoped. He came in as a top-60 recruit with dreams of becoming a star, but he turned out to be mostly a bench player.
Over four seasons with the Hurricanes, Graham started just 40 of the 120 games he played. He averaged only 4.2 points per game in his college career, but he was more of a defensive stopper than a scoring option. Graham pulled in 5.9 rebounds per game and blocked 1.2 shots per game for Miami in his senior season. His role was mostly as an energy-producing big man who could clean up the glass and alter shots at the rim.
Graham was clearly a one-of-a-kind athlete on the court. He was always one of the tallest players on the floor, but he could jump as high as the guards. His biggest strengths were dunking and blocking shots, and his game was similar to that of Orlando Magic forward Aaron Gordon's. It was evident at Miami that Graham had professional athlete talent, but it just turned out it was in a different sport.
Choosing football after college was clearly the right choice for Graham
After it set in that Graham wouldn't be drafted to the NBA, he decided to go back to school after graduation and give football another shot. Graham was a star receiver and defensive lineman in high school.
Graham returned to Miami as a graduate student so that he could play football in the Fall of 2009. He played tight end for the Hurricanes and recorded 17 catches in 13 games. Although the volume wasn't there, Graham was an efficient red-zone target for Miami. Graham caught five touchdowns in 2009.
The Saints saw enough in Graham's lone season at Miami to make him a third-round pick in the 2010 draft. It was somewhat of a risk, but it couldn't have worked out better for New Orleans. Graham immediately became one of Drew Brees' favorite targets. The two connected for 51 touchdowns in Graham's five-year stint with the Saints. He made the Pro Bowl three times in New Orleans and quickly became one of the most dominant tight ends in the NFL.
Graham's basketball career fell short of expectations, but he found his calling in football just in time.