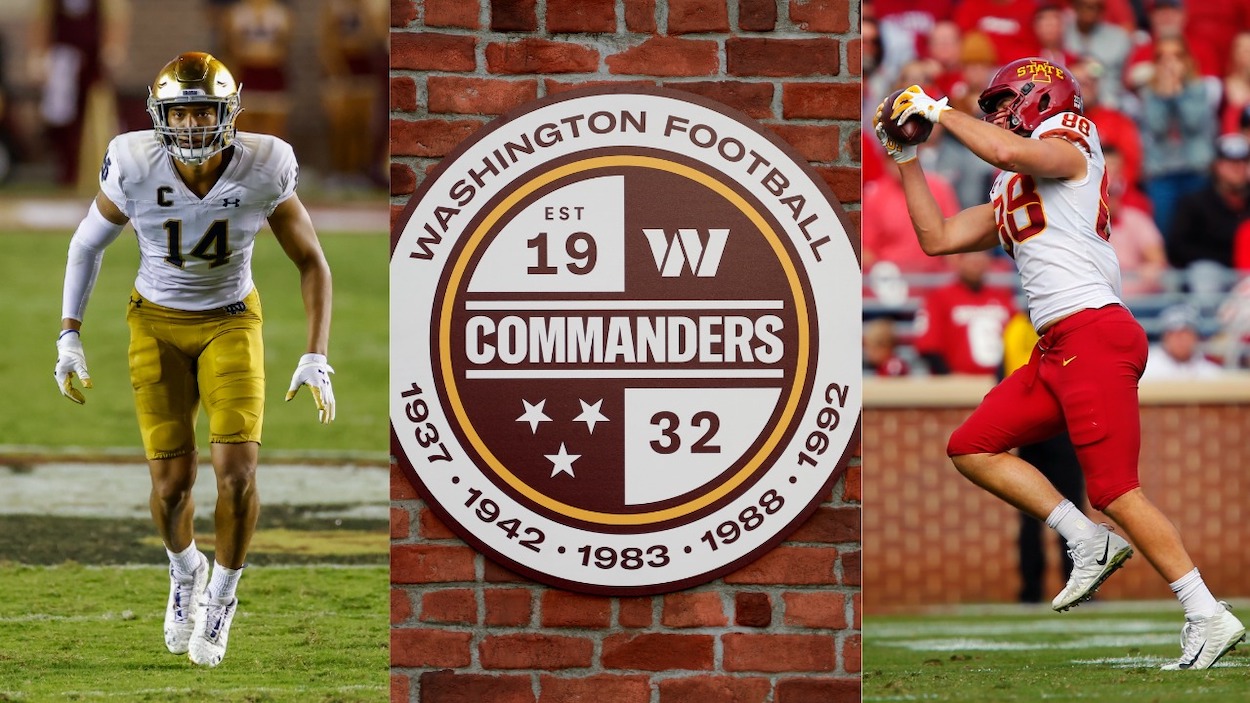 Washington Commanders 4-Round Mock Draft 2.0
In this four-round Washington Commanders mock draft, the team goes best available in Round 1 before helping Carson Wentz in Rounds 3 and 4.
The Washington Commanders franchise is in chaos with the United States Congress investigating owner Daniel Snyder and his operation. However, the NFL calendar stops for no one, meaning the NFL draft will be here in less than two weeks, whether the franchise is ready or not. That means it's time for the four-round Washington Commanders mock draft 2.0. 
Washington Commanders Mock Draft 1.0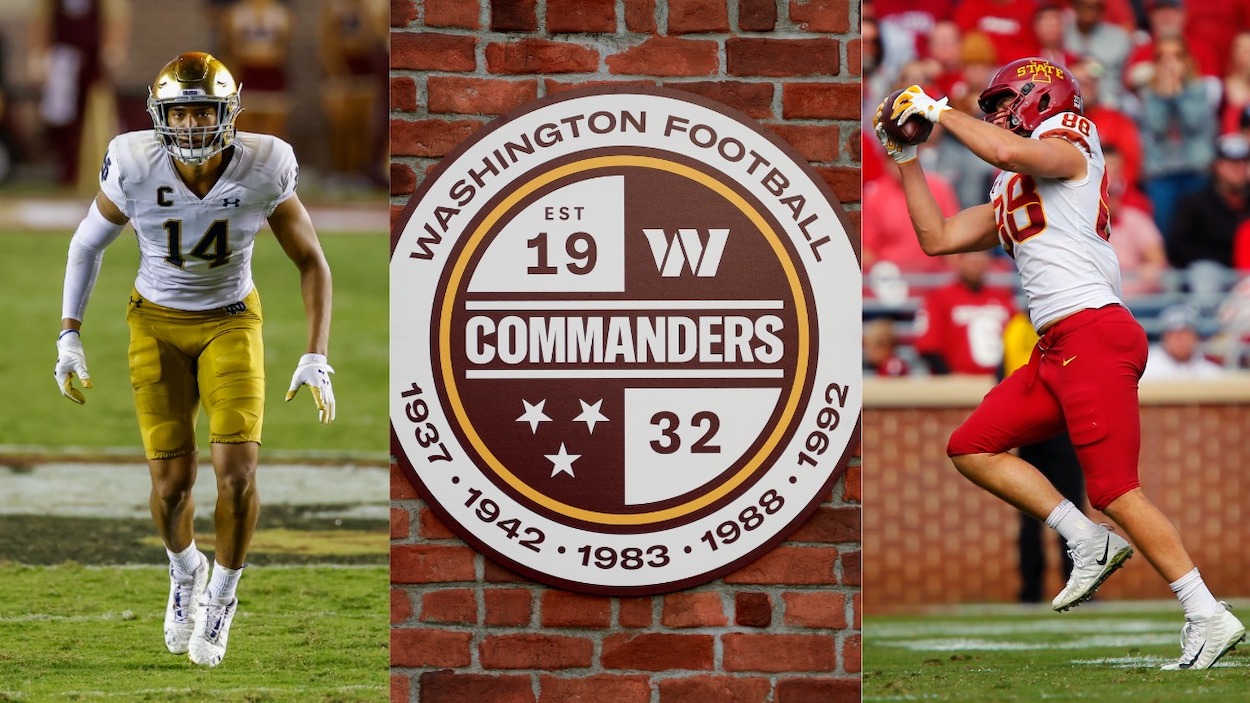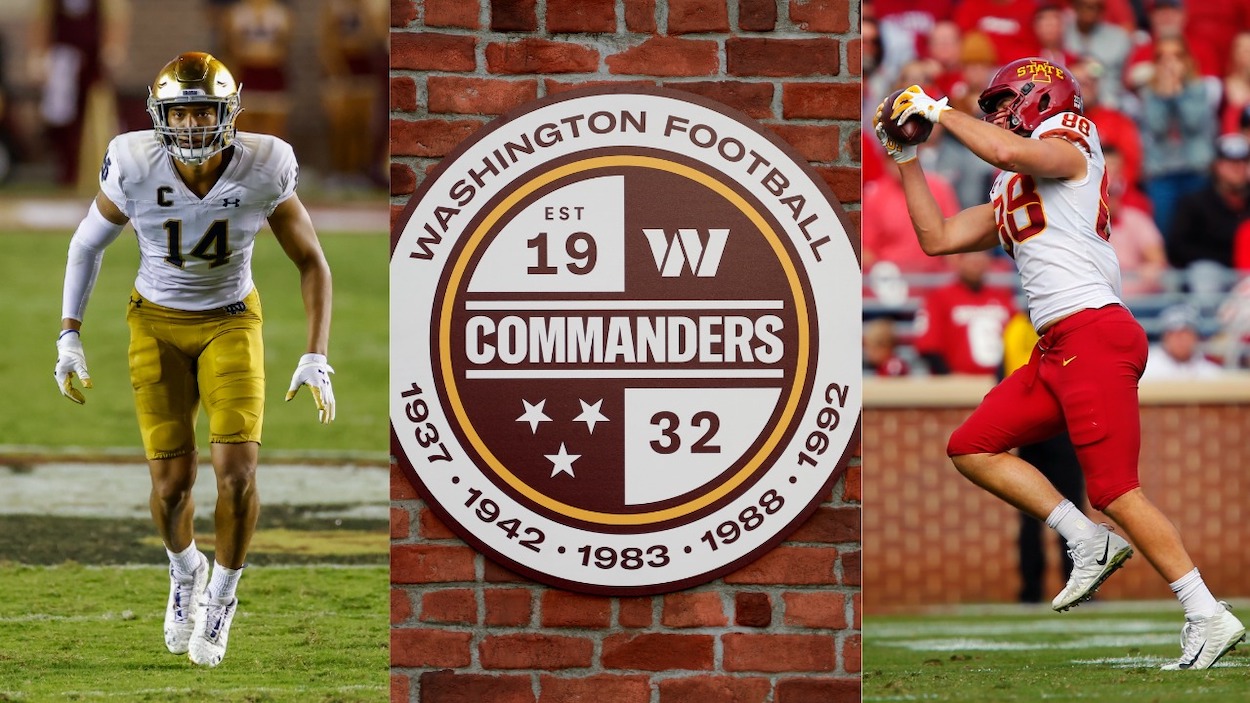 In the last Sportscasting.com four-round Washington Commanders mock draft, the team took a wide receiver, cornerback, and safety with the first three picks. The selections looked like this: 
Round 1, No. 11 overall: Jameson Williams, WR, Alabama
Round 2, No. 47 overall: Kyler Gordon, CB, Washington 
Round 4, No. 113 overall: Sterling Weatherford, S, Miami (OH)
Now that free agency and trades have mostly run their course, the Commanders are looking at a new draft board with new opportunities and challenges. With Carson Wentz as the team's new great hope, the team will focus on offense for most of the draft, although, at pick No. 11, there will be a defensive prospect too good to pass up. 
Round 1, No. 11 overall: Kyle Hamilton, S, Notre Dame
Taking a safety in the top 10 of the NFL draft doesn't make sense historically — with Washington picking Sean Taylor No. 5 in 2004 being one of the few exceptions — but at No. 11, that's a different story. 
The Commanders could easily go WR here, but Notre Dame safety Kyle Hamilton is quite possibly, the most can't-miss prospect in the 2022 draft. The 6-foot-4, 220-pound defensive back is everything a team could want in a modern safety. He can walk up and stuff the run, punish receivers coming over the middle, and cover athletic tight ends. 
With Landon Collins out, the team needs a safety, and getting the best one in the Class of 2022 will be tempting, despite the squad's offensive needs. In this Washington Commanders mock draft, Hamilton is the best prospect available at No. 11, and that means the team makes him the pick. 
Round 2, No. 47 overall: George Pickens, WR, Georgia
With Carson Wentz at the wheel now, the Commanders need to put as much talent as possible around him to make up for the QBs well-documented shortcomings. Step one in that plan is to get a true No. 2 WR opposite Terry McLaurin. 
Georgia wideout George Pickens is 6-foot-3, 200-pounds, and ran a 4.47-second 40-yard dash at the combine. He tore his ACL in the spring of 2021 but made it back to play four games at the end of the 2021 season. 
Pickens needs to get stronger and more polished to become a go-to guy in the NFL, but he's definitely worth a second-round pick in this Washington Commanders mock draft for what he is already. AT worst, with his lanky frame and huge catch radius, he could be a solid red-zone target at worst. At best, he could develop into a similar-looking Bulldogs WR, A.J. Green. 
Round 4, No. 113 overall: Charlie Kolar, TE, Iowa State
The Indianapolis Colts now own the Commanders' third-round pick, so we'll jump to the fourth round in this Washington Commanders mock draft. With that pick, Ron Rivera and his franchise should keep the Carson Wentz support going and pick another offensive weapon. 
Logan Thomas is an excellent tight end. However, with his age (31) and injury history (he played just six games in 2021), he's not a long-term answer. Neither are Washington TEs John Bates, Sammis Reyes, or Tyrone Swoopes. This trio has a combined 22 NFL catches, and 20 of those belong to Bates. 
Iowa State TE Charlie Kolar caught 168 balls for 2,181 yards with 23 touchdowns in his four-year college career. He is 6-foot-6, 260-pounds, and, as the son of two professors from Oklahoma, is smart and has a great work ethic, per NFL.com. A player like that could go a long way to making Wentz more comfortable with his new offense. 
All stats courtesy of Sports Reference