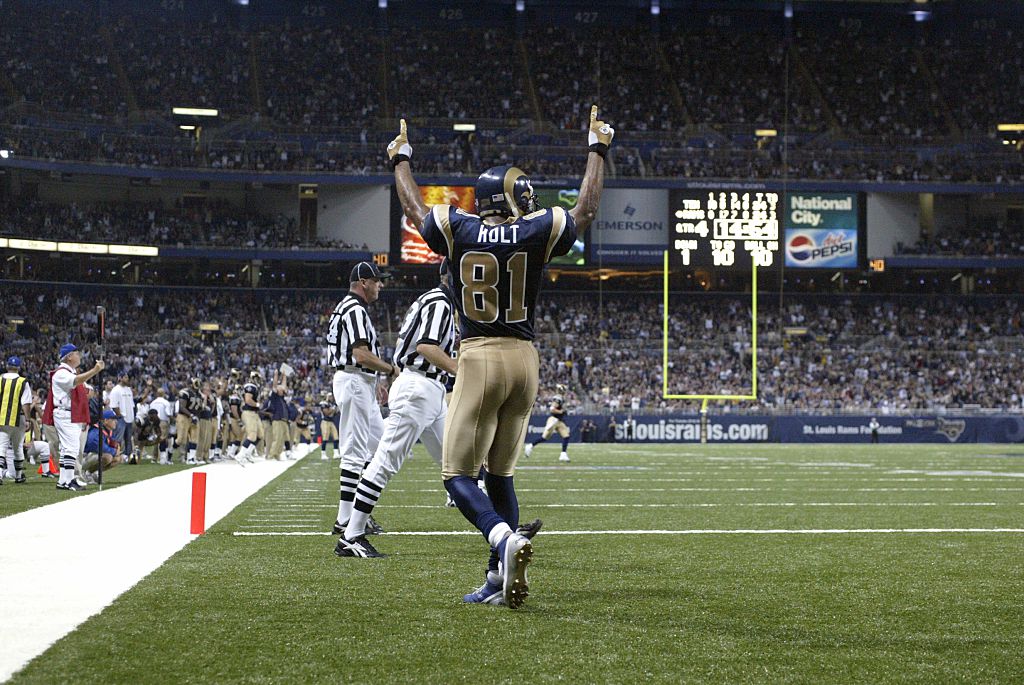 What Happened to St. Louis Rams Receiver Torry Holt?
During his time with the Rams, Torry Holt was part of the Greatest Show on Turf. What happened to the wide receiver in retirement?
In the world of pro sports, certain units take on a life of their own. Babe Ruth and Lou Gehrig, for example, were a part of Murders' Row. In Seattle, the Seahawks built their defense around the Legion of Boom. Around the year 2000, though, no one could compete with St. Louis Rams and "the Greatest Show on Turf." With guys like Kurt Warner, Marshall Faulk, Isaac Bruce, and Torry Holt, the unit was simply unstoppable.
It's been nearly two decades, however, since that offense last played together. While Warner, Bruce, and Faulk have made it into the Pro Football Hall of Fame, what happened to Torry Holt?
Torry Holt's road to the NFL
During high school, Torry Holt showed plenty of talent on the gridiron but struggled in the classroom. That reality led him to enroll at Hargrave Military Academy, where he worked to improve academically; after a year, he was ready to head to North Carolina State.
During his first two seasons with the Wolfpack, Holt didn't blow anyone away. As a junior, though, the wide receiver burst onto the scene. He pulled in 62 receptions for 1,099 yards and 16 touchdowns. His senior campaign, however, would be even better.
In his fourth year on campus, Holt posted even bigger numbers. He racked up 88 catches, which was good for 1,604 receiving yards and 11 touchdowns. The receiver finished his collegiate career with his name all over N.C. State's all-time record book; the program retired his number shortly after Holt's graduation.
Joining the St. Louis Rams and the Greatest Show on Turf
Prior to the Senior Bowl, Torry Holt injured his knee. While that could have scared away some teams, the St. Louis Rams weren't deterred. They selected the receiver with the sixth-overall pick of the 1999 NFL draft. That move would immediately pay dividends.
That season, everything came together for the Rams. After Trent Green went down injured, Kurt Warner stepped under center; at that moment, everything changed. The new quarterback orchestrated the stacked St. Louis offense perfectly; with Marshall Faulk in the backfield and both Isaac Bruce and Torry Holt pulling in passes, the team rolled to a Super Bowl title.
While the Rams didn't develop into a dynasty, Holt evolved into an incredibly consistent producer. He spent 10 seasons with the Rams, breaking the 1000-yard plateau eight times; during the 2000s, he was one of the league's top receivers.
Holt would eventually leave St. Louis and spend one season with the Jaguars, but injuries brought an end to his career. In 2012, he signed a one-day contract to retire as a Ram; of his 13,382 receiving yards, 12,660 of them—not to mention all 74 of his touchdowns—came in St. Louis.
Where is Torry Holt today?
While some players feel lost without the regimented grind of professional sports, Torry Holt hasn't fallen into that trap. If anything, the former wideout is taking advantage of his free time.
"I am vice president of Holt Brothers, Inc. I also work with Sirius XM Radio and help with the Heritage High School football team," Holt told the Rams' official website in 2017. "At Holt Brothers, Inc., we have a number of businesses, but the leading one is Holt Brothers Construction, where we specialize in commercial, education, health care, retail, and municipal construction."
Holt's other activities are grounded in his past. "We also have the Holt Brothers Foundation, which we help support kids with a parent or guardian battling cancer after we lost our mother to Lymphoma in 1996," Torry continued. "Also, we have Holt Brothers Football, where we hold football camps yearly and teach football and life skills at those camps."
While those roles are quite a bit different than playing wide receiver, it's safe to say Torry Holt is still making quite an impact.