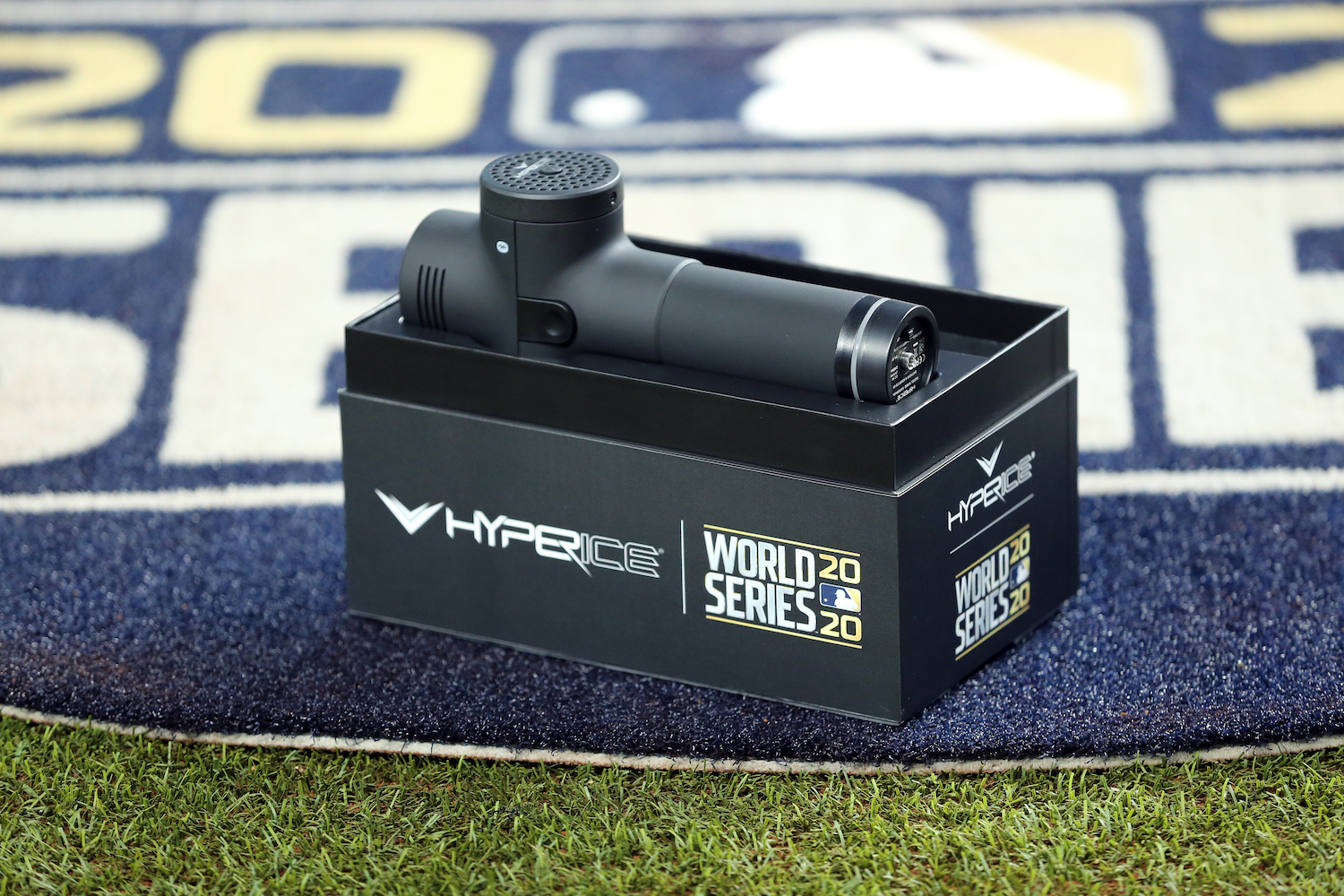 What Is Hyperice and Why Are so Many Teams Using It?
If you've watched any sports recently, you've likely seen Hyperice products being used on the sidelines during the game. What is Hyperice and how does it work?
In sports, athletes are always trying to find an extra advantage. In the past, that's typically been achieved through training or using the latest equipment. In recent years, however, athletes in the NBA, NFL, and MLB, have shifted their focus to recovery. Leading the way in this new industry is a company called Hyperice that produces equipment designed to help muscles recover. Here's a look at Hyperice, how it works, who is involved, and how it's helping change the world of sports one athlete at a time.   
How Hyperice started
In 2012, a year after Anthony Katz first met Mark Sanchez and showed him a new postworkout recovery aid he had been working on, the New York Jets quarterback invested in the fledgling company called Hyperice. It was the first of many doors in the sports world to open. 
Over the next five years, Katz convinced one big-name athlete after another that his product would provide them with an advantage in recovery, that up until that point, they didn't even realize they needed it.
A wide cross-section of athletes signed on with Hyperice, including Houston Texans defensive star J.J. Watt, Olympic skier Lindsey Vonn, and two of the biggest names in the NBA, LeBron James and Kobe Bryant. With each top athlete partnering with the company, others always followed.
More recently, Kansas City Chiefs quarterback Patrick Mahomes, Washington Wizards' Russell Westbrook, and tennis star Naomi Osaka have all become partners. 
How does Hyperice work?
The company was named after its first product, Hyperice, which was a portable ice compression device designed for NBA players to ice their knees for recovery and injury prevention. That initial product paved the way for other products that have come along. 
Today's updated version of the first-ever product is now a line of products called Ice Compression Therapy. These products use cryotherapy and are now tailored specifically for the knee, back, and shoulder areas.
One of the company's best sellers is the Vyper 2.0, which is a vibrating fitness roller that includes three different speeds of vibration. Athletes use vibration therapy to enhance muscle performance, improve range of motion and flexibility, and reduce muscle soreness and stiffness.
Another athlete favorite is the Hypervolt product line, which is a handheld device that uses percussion therapy and jolts target areas of the body with gentle pulses of pressure. This softens muscle tissue in stiff areas. This device was often seen on the sidelines during the NBA games in the Orlando bubble.
Partnering with various leagues
Although Hyperice is less than 10 years old, it's now used in most of the major sports in the United States (MLB and NBA) as well as other leagues around the world. In November, the company partnered with the NFL. The new partnership will allow the company to provide in-game recovery devices to teams and players and have a presence at the league's annual scouting combine in Indianapolis.
"We're thrilled to welcome Hyperice to the NFL family as an Official Recovery Technology Partner," Renie Anderson, NFL chief revenue officer and executive vice president of partnerships, said in a statement. "With this partnership in place, Hyperice products will be available across all 32 Club facilities providing our players access to the very best recovery technology to help them perform at the highest level."
With the growth in popularity of Hyperice and its acceptance across all major sports, you can expect the trickle-down effect and its adoption in gyms and training facilities across the nation. And for the average Joe who works out at home, it would make a good gift for the holidays.