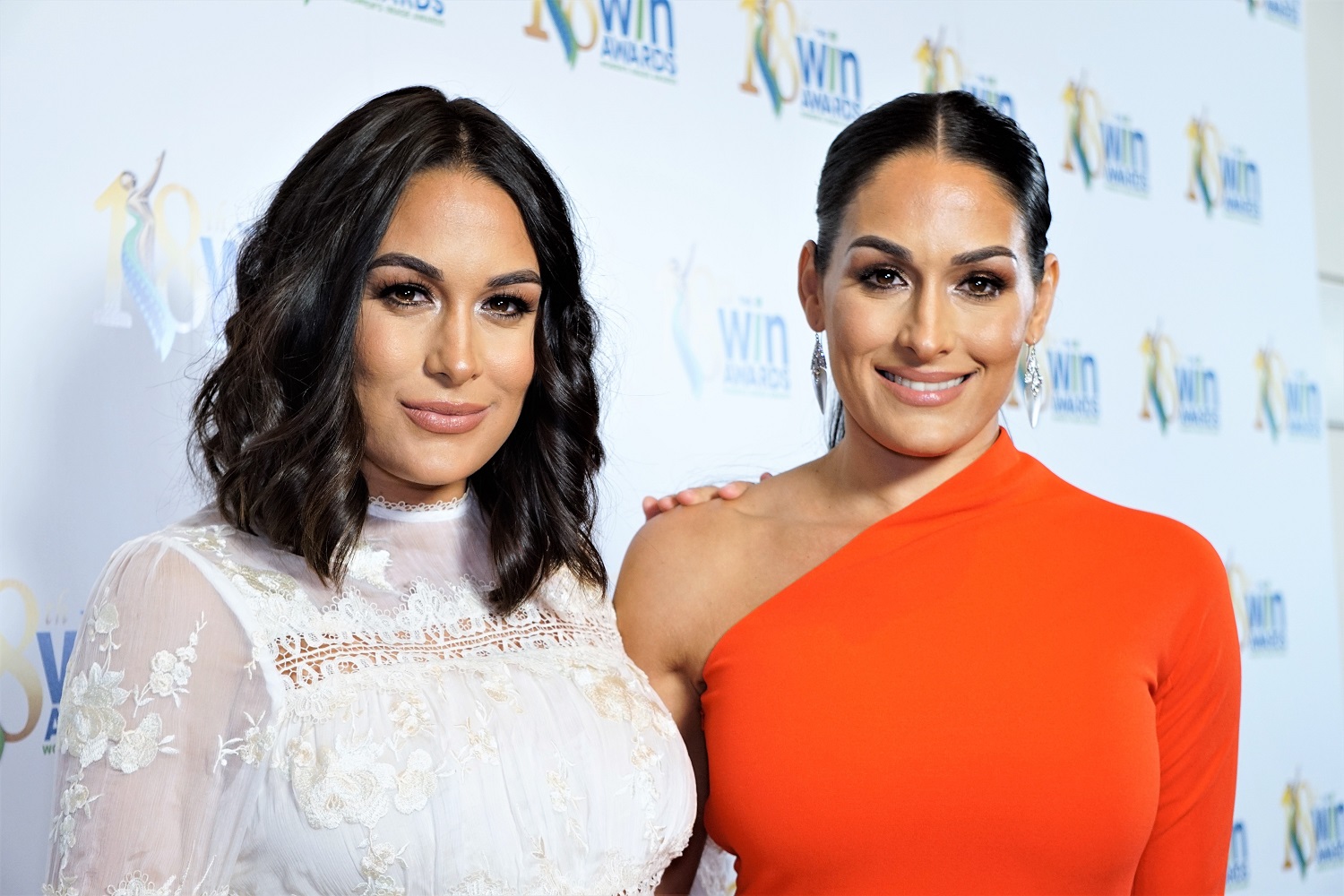 What Is the Bella Twins' Connection to NFL Star Michael Strahan?
The Bella Twins, who both gave birth over the weekend, have signed a deal with Michael Strahan's production company.
The Bella Twins left an indelible mark by reviving interest in women's professional wrestling. Brie Bella and Nikki Bella retired in March 2019, but not before branching out into television in a way that even the greatest male wrestlers must envy, an endeavor that Michael Strahan envisions taking to the next level.
The Bella Twins give birth a day apart
Pro wrestling twins Brie and Nikki Bella have done so much together, so it hardly surprises that they would have delivered babies a day apart this weekend.
Brie Bella revealed Saturday, Aug. 1, that she gave birth to her second child, a boy. She is married to professional wrestler Daniel Bryan, with whom she has a 3-year-old daughter.
Bella and Bryan had kept the sex of their latest child secret throughout her pregnancy, according to USA Today. "We are overwhelmed with joy and everyone is healthy!" she wrote on Instagram.
Hours later, it was Nikki Bella's turn to break big news. She posted that she had given birth to a boy a day earlier. Nikki Bella is engaged to dancer Artem Chigvintsev, and the baby is their first.
"Our baby boy is here and we couldn't be happier and more in love," she said in her announcement.
Twin sisters giving birth a day apart sounds suspiciously like a publicity stunt, but it's not as though the Bella Twins need to cook up ways to attract attention. They have successful careers that figure to get even better now that they have aligned with Michael Strahan, who has perfected the concept of moving from sports star to television star.
The Bella Twins branch out from wrestling
The Bella Twins plus Michael Strahan figure to be a formidable combination given what the sisters have to offer. Brie Bella and Nikki Bella are both former Diva Champions and were selected for induction this year into the WWE Hall of Fame.
The identical twins were signed to a developmental contract with the WWE in 2007 and placed in Florida Championship Wrestling to hone their skills. They competed first individually and then as a tag team. Part of the early gimmick was to have Brie Bella take a beating during a 1-on-1 match, retreat under the ring, and have Nikki Bella emerge as her replacement to beat the unsuspecting opponent.
Once the scheme was exposed, the Bella Twins officially became a tag team. They would occasionally feud with each other as parts of rival wrestling factions, but the twins steadily grew a following on Smackdown and Raw and in live events.
Brie and Nikki Bella would go on to reign as individual Diva champions, setting the stage both for multiple storylines in wrestling and the launch of their reality television series. Total Bellas premiered on E! in October 2016 as a spinoff of Total Divas and was recently renewed for a sixth season. The 45 episodes have consistently drawn more than half a million viewers.
A deal with Michael Strahan's production company
Pro Football Hall of Fame defensive end Michael Strahan of the New York Giants has been enormously successful in his second career. Besides appearing on Fox on NFL Sundays, he has become a fixture on daytime television talk shows and as a game show host. He has branched out further with the SMAC Entertainment management company co-founded with Constance Schwartz-Morini.
Last month, the Bella Twins announced that that have signed with SMAC Entertainment, which recently added social media management and digital consulting to its list of services.
Brie and Nikki Bella, whose other projects include the Birdiebee clothing line, will be working under the same management structure that represents Erin Andrews, Curt Menefee, Deion Sanders, and Wiz Khalifa.