What Is Thom Brennaman's Net Worth?
Thom Brennaman has been a long-time voice in the broadcast booth for Fox Sports covering MLB and NFL for more than two decades. He's called baseball games on radio and television for 33 years. During his many years on the air, Brennaman has earned a nice living. What is Thom Brennaman's net worth?
Thom Brennaman's work
Thom Brennaman got the announcing gene from his father Marty, the play-by-play radio voice of the Cincinnati Reds for decades. And he followed closely in his father's footsteps working early in his career as the television play-by-play voice for the Reds. 
Since that time with the Reds, he's also served in play-by-play roles for the Arizona Diamondbacks and Chicago Cubs. In 1994, Brennaman joined on with Fox Sports as a football play-by-play announcer. He's been with the network since covering NFL, MLB, as well as college football.
In 2019, Thom Brennaman returned as the voice of the Cincinnati Reds on Fox Sports Ohio.
Brennaman's controversy
Marty Brennaman was no stranger to controversial remarks. Like father, like son. Thom Brennaman found himself in the midst of a self-inflicted controversy during the pandemic-shortened 2020 MLB season. While teams are traveling, their respective broadcast crews remain back home. In the case of the Cincinnati Reds, when the team faced the Royals in Kansas City, Brennaman and company remained back in Ohio broadcasting from the Great American Ball Park. 
During the Fox Sports Ohio broadcast of the game, the broadcast returned from a commercial break, and Brennaman was unaware he was live on the air when he made a random homophobic slur. 
"One of the f-g capitals of the world," Brennaman said out of the blue. In the second game of the double-header, Brennaman left during the middle of the broadcast but before leaving, he delivered an impassioned plea asking for forgiveness from his audience.
"I made a comment earlier tonight that I guess went out over the air that I am deeply ashamed of. If I have hurt anyone out there, I can't tell you how much I say from the bottom of my heart I'm so very, very sorry. I pride myself and think of myself as a man of faith.
"I don't know if I'm going to be putting on this headset again. I don't know if it's going to be for the Reds. I don't know if it's going to be for my bosses at Fox. I will apologize to the people who sign my paycheck, for the Reds, for Fox Sports Ohio, for the people I work with, for anybody that I've offended here tonight."
What is Thom Brennaman's net worth?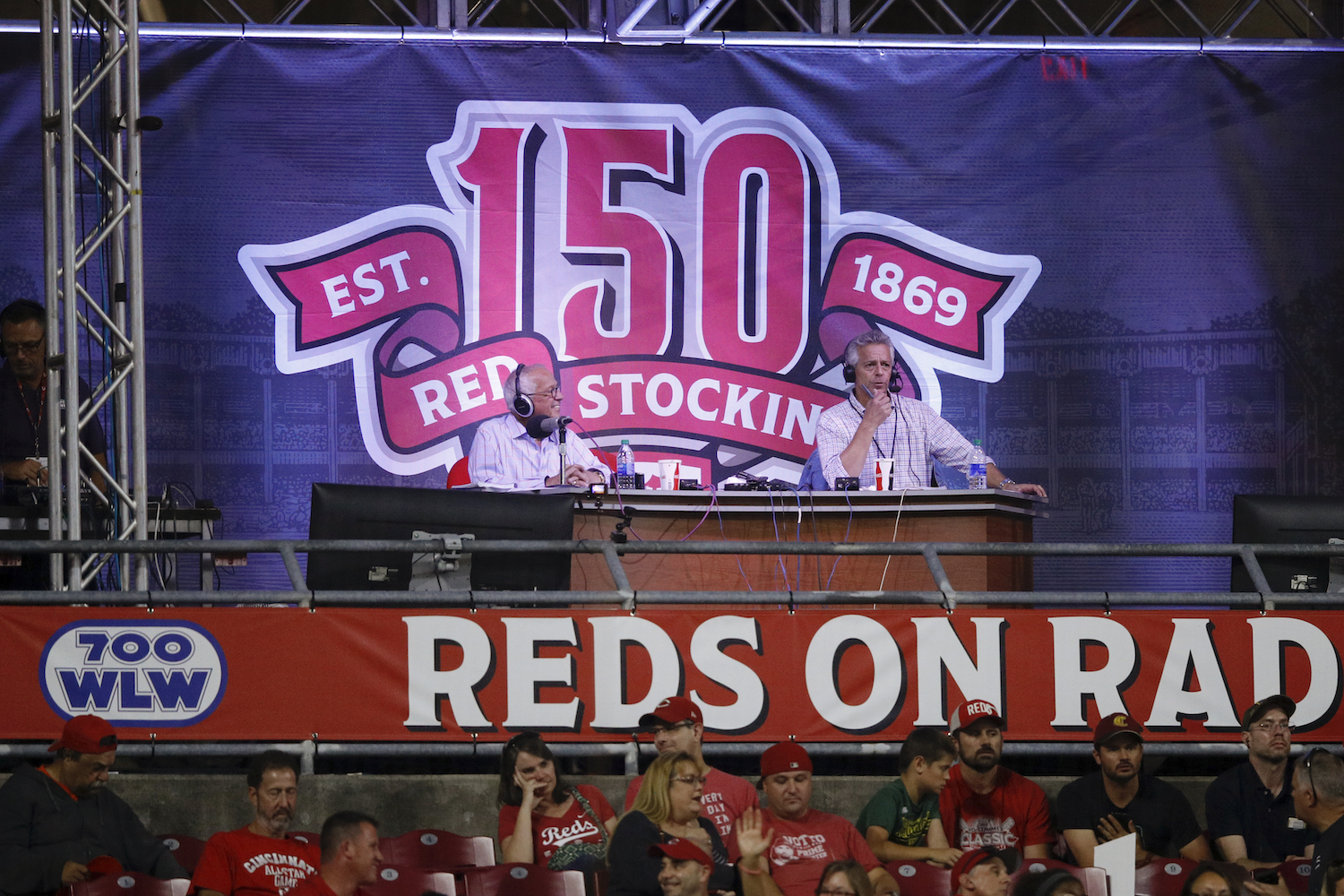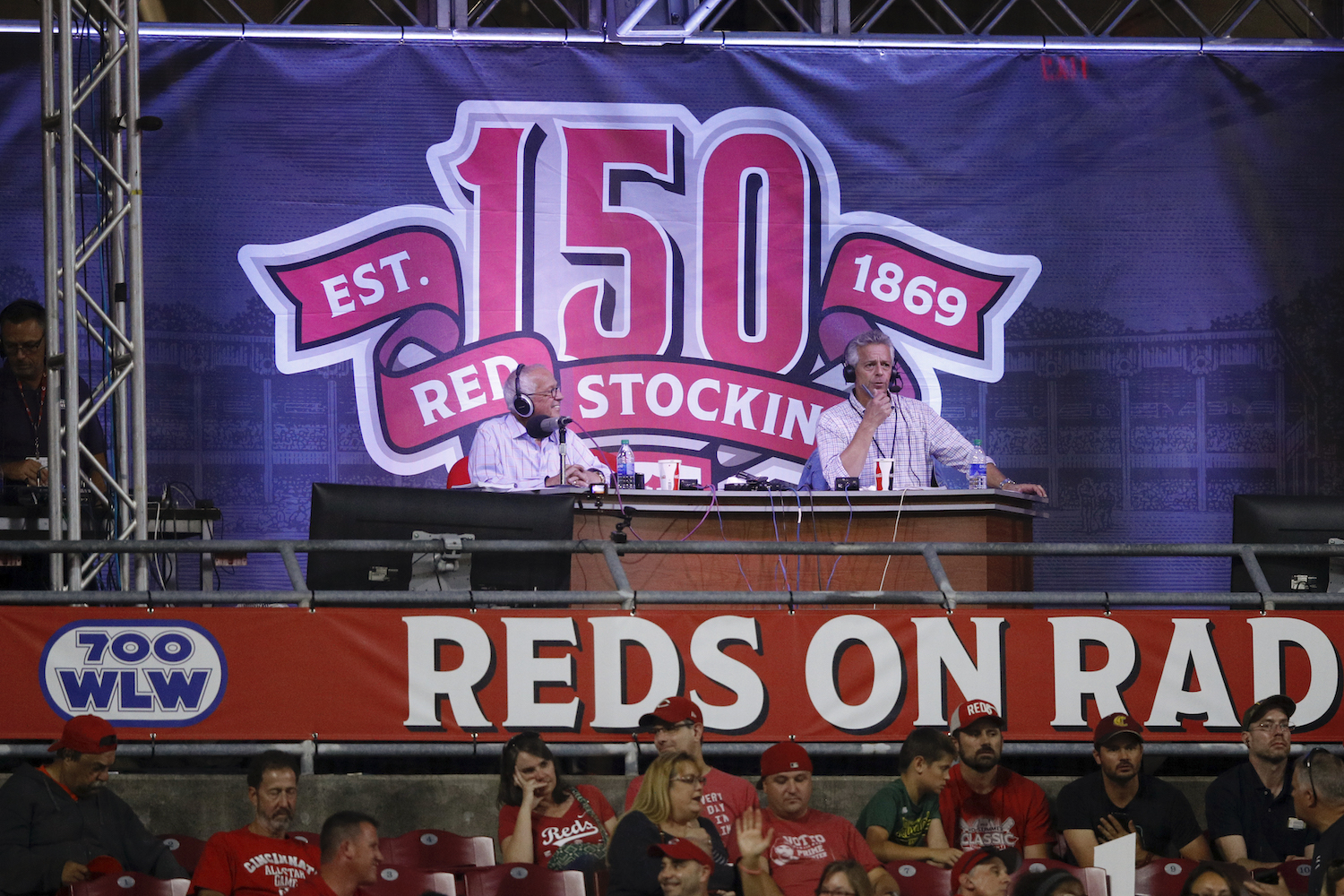 At 57, Thom Brennaman has spent more than half his life in a broadcast booth covering numerous teams in different sports. Working with Fox Sports, Brennaman has made the most money in his career, where he reportedly earns between $300,000 to $400,000 per year.
His recognizable sound has afforded him opportunities to perform voice work for a variety of other brands and industries. He's the spokesman for a Cincinnati Bell telephone company. He has done video game voice over work for All-Star Baseball 2002, 2003-05 for GameCube, PlayStation 2, and Xbox.
All of his broadcast work and side hustles combined, according to Celebrity Net Worth, Thom Brennaman has a net worth of $2 million.