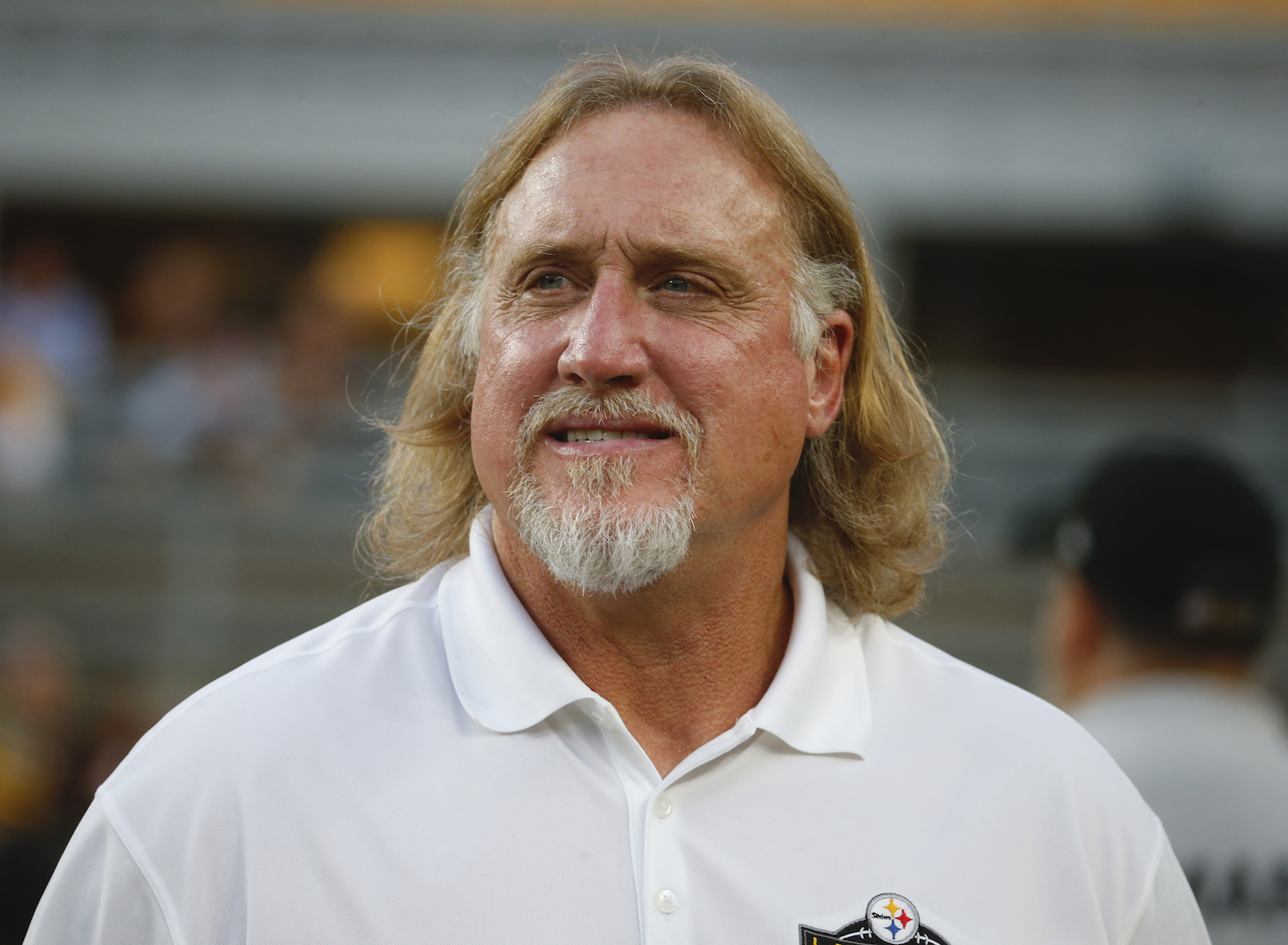 What Was Kevin Greene's Net Worth at the Time of His Death?
Kevin Greene played 15 seasons in the NFL and recorded 160 sacks en route to a Hall of Fame career. What was Kevin Greene's net worth at the time of his death?
Kevin Greene terrorized opposing NFL offenses from the late 1980s through most of the 1990s for the LA Rams, Pittsburgh Steelers, and Carolina Panthers. During that time, he earned five Pro Bowl nods and two All-Pro honors. In addition to football, Greene moonlighted a couple of times as a professional wrestler. After he retired from the NFL, he transitioned into coaching in 2009 through the 2018 season. All of his different jobs combined, Greene has earned a nice chunk of money. What was his net worth at the time of his death?
Kevin Greene's Hall of Fame career
The LA Rams selected Kevin Greene in the fifth round of the 1985 NFL Draft. He played sporadically during his first season in the league. That changed in year two, and so did his level of production. 
Greene didn't start any games that second season but still managed to record seven sacks. It was a precursor of things to come. In 1988, Greene established himself as one of the NFL's top defensive players, recording an impressive 16.5 sacks. Surprisingly, Greene didn't make the Pro Bowl that season. 
The following season Greene replicated his efforts, recording 16.5 sacks, and earned his first Pro Bowl nomination. In 1993, he signed as a free agent with the Pittsburgh Steelers. Different coast. Different conference. Same dominance. 
Kevin Greene played three seasons in Pittsburgh and made two Pro Bowls, his best season in 1994 when he recorded 14 sacks. He played four more seasons, including a stop in San Francisco, which was sandwiched in between a pair of stints with the Carolina Panthers where he earned a couple more Pro Bowl nominations, before retiring after the 1999 season. 
Life after football and his death 
In 2009, a decade after playing, Kevin Greene returned to the game as a coach with the Green Bay Packers. He reunited with his former head coach Dom Capers, who he played for with the Steelers and Panthers. For five seasons, Greene served as the outside linebackers coach, before retiring to spend more time with his family.
In 2016, Kevin Greene received the ultimate honor for his NFL career when he was inducted into the Pro Football Hall of Fame as the third all-time leader in sacks at 160.
A year after his induction and the draw of the game still strong, Greene returned to coaching with the New York Jets as the team's outside linebacker coach. He remained in that position for a couple of seasons but was not retained when Adam Gase was hired. 
Kevin Greene died unexpectedly on December 21, 2020 at age 58.
What was Kevin Greene's net worth at the time of his death?
Kevin Greene played in the NFL before enormous nine-figure contracts were a thing. In fact, during the first-ever year of NFL free agency in 1993, Greene signed a three-year deal with the Steelers worth $5.35 million — modest compared to today's standards.
For his career, Greene earned approximately $22 million in career earnings. That amount, coupled with the money from his coaching career, Kevin Greene has a net worth of approximately $9 million according to Celebrity Net Worth.