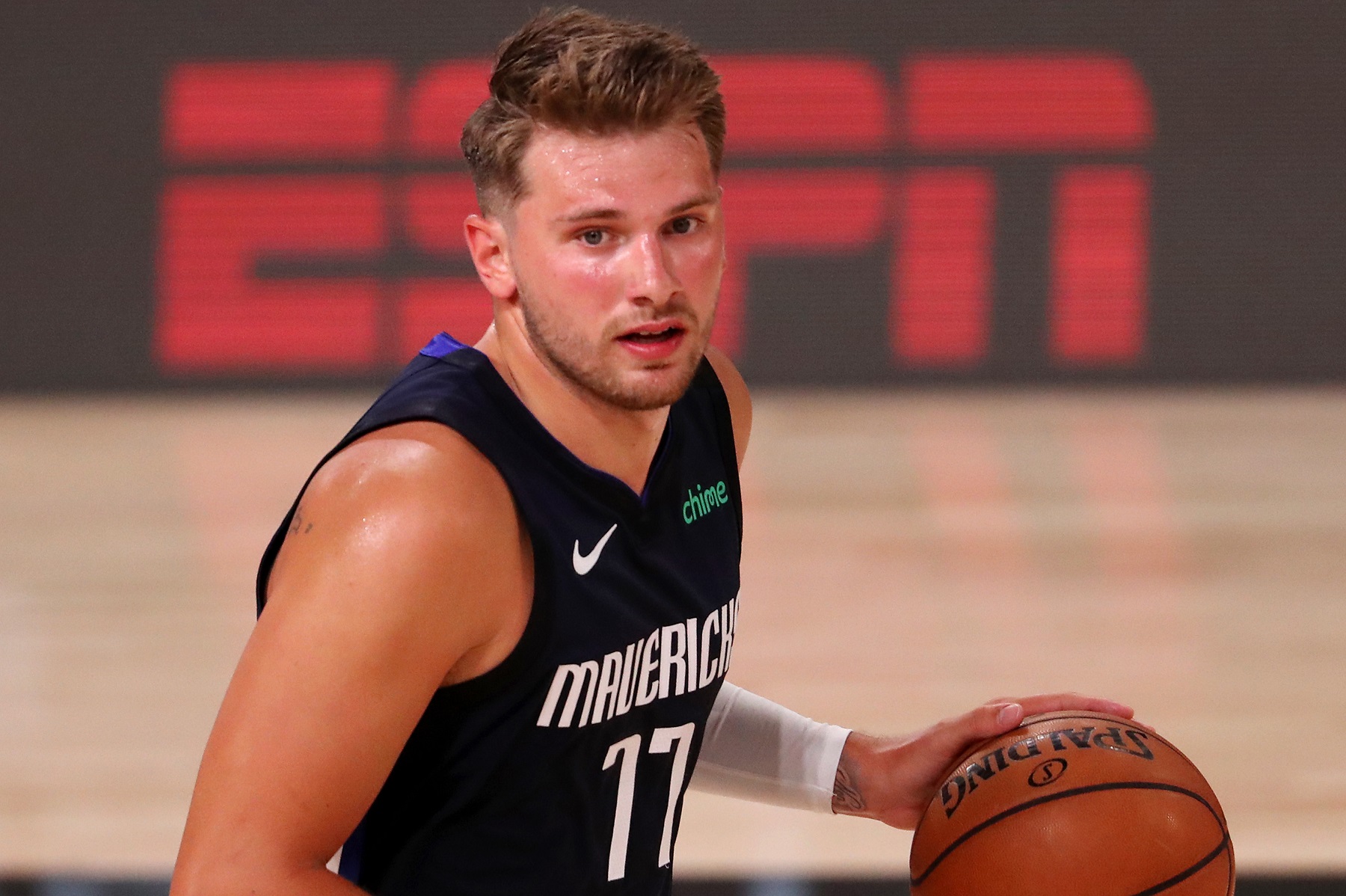 What Will Motivate Luka Doncic Now That He's Fulfilled His First 2 Basketball Dreams?
Dallas Mavericks star Luka Doncic had two dreams related to basketball while growing up. He's just 21 years old and has accomplished both.
Guard Luka Doncic of the Dallas Mavericks gave basketball fans a game for the ages to knot up the NBA Western Conference first-round series against the Los Angeles Clippers at two games apiece.
Doncic capped his triple-double with a dagger 3-pointer as overtime expired. It was the sort of performance that athletes dream about, but it wasn't one of Doncic's dreams. The 21-year-old from Slovenia began his career with two dreams and achieved them both long ago.
Luka Doncic becomes a household name
Hardcore NBA fans already knew plenty about Luka Doncic before the season resumed in the NBA bubble at Disney World. Others, curious to see what basketball was like without fans in the stands, switched on the TV and witnessed a blossoming star. The 6-foot-7 guard averaged 30.0 points, 10.1 rebounds, and 9.7 assists in seven games in Orlando while tuning up for the playoffs.
Doncic's playoff numbers through four games are nearly identical. His performance in tying the series was the most jaw-dropping of the bunch: 43 points, 17 rebounds, and 13 assists in 45:45 of action – all on a sprained ankle.
He capped his effort with a buzzer-beater that gave the Dallas Mavericks a 135-133 victory over the Los Angeles Clippers. Social media lit up as American sports fans discovered a superstar.
"One of the best feelings I ever had as a player," Doncic said.
A brilliant career began in Europe
Luka Doncic grew up playing for the Olimpija Basketball Club in his hometown of Ljubljana, Slovenia. He signed his first contract with Real Madrid in September 2012 at the age of 13 and moved immediately onto the roster of the Spanish club's under-16 team. He was unstoppable from the start. That first season ended with Doncic earning MVP honors as the national under-16 tournament.
Doncic moved up to the under-18 team for the 2014-15 season, again proving himself the equal or better of the older competition.
The prodigy from Slovenia was still just 16 years old when he made his pro debut for Real Madrid in 2015 and worked his way into the rotation on the senior team. His breakthrough came the following season as Doncic began posting occasional double-doubles.
Doncic's European swan song in 2017-18 saw him carry Real Madrid to the EuroLeague championship with a 15-point showing in the final. He earned the league's MVP award by averaging 16 points and 4.3 assists. At that point, however, Doncic and the European basketball community knew it was time for a new challenge: the NBA.
Luka Doncic fulfills his second dream
Luka Doncic was 19 years old when he entered the 2018 NBA draft, where the Atlanta Hawks made him the No. 3 overall pick. The Dallas Mavericks took Trae Young at No. 5 and then worked a trade with Atlanta to bring Doncic to Dallas, where we earned the league's top rookie honor by a 98-2 margin over Young.
He just completed his second regular season, averaging 28.8 points, 9.4 rebounds, and 8.8 assists.
On his way out the door from Real Madrid in June 2018, Doncic wrote a letter to fans of the Spanish club. Doncic thanked the fans and media for their support and respect. He also shared that he had accomplished his first dream and was knocking on the door of the second.
"When I was 13, I came to Madrid, where I intended on making my dream of becoming a good basketball player come true. What I never imagined is that that journey would be the start of an adventure which would see not just one, but two of my dreams, which are the kind you only see in films, come true: I've played for the best club in the world and now, I'm going to play in the best league on the planet."

Luka Doncic
All stats courtesy of Basketball Reference.