Whatever Happened to Pittsburgh Steelers Running Back Bam Morris?
At six-feet, 244 pounds, Byron 'Bam' Morris was one tough guy to bring down. The former Pittsburgh Steelers running back rushed for 16 touchdowns in his first two years in the NFL. Some off-the-field issues led to him being cut by the Steelers and then having short stints with three other football teams. What has since happened to Morris?
Bam Morris' football career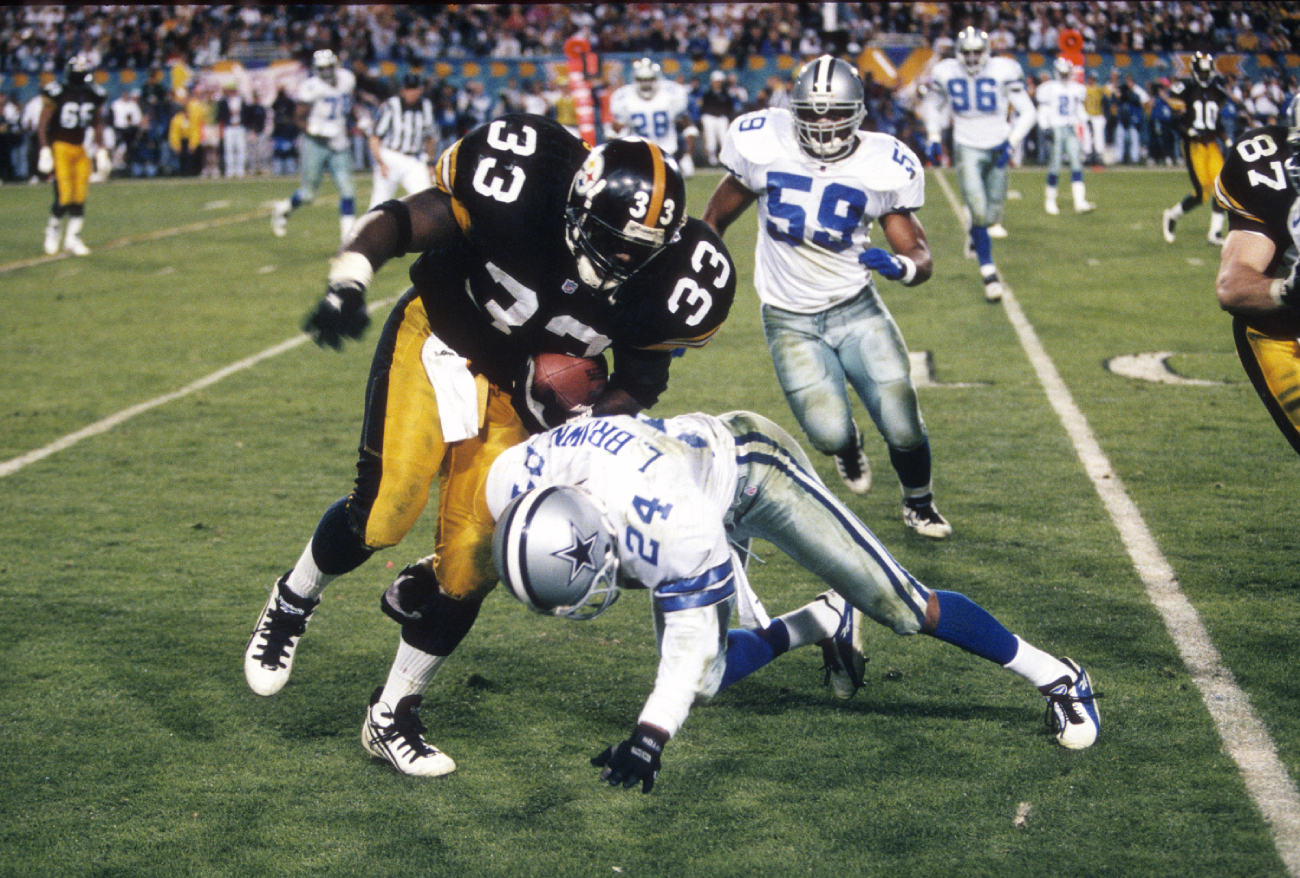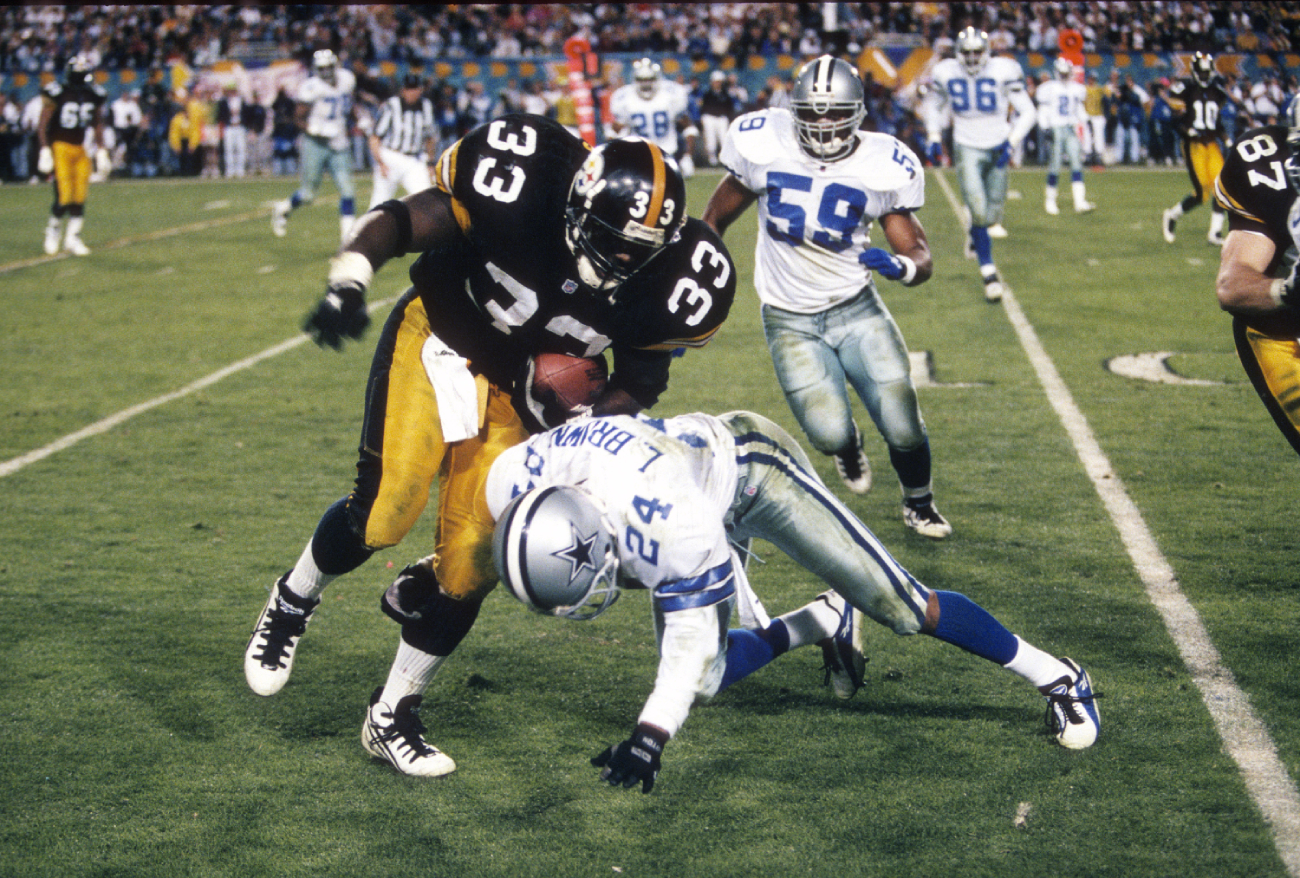 Bam Morris played his college football at Texas Tech. He played three seasons, rushing for 3,545 yards and 37 touchdowns. In his junior year, Morris racked up 1,752 yards and rushed for 22 touchdowns.
Morris was a third-round selection in the 1994 NFL draft. He was selected by the Pittsburgh Steelers with the 91st overall pick. Morris made an impact in his rookie season, playing in 15 games, starting six, and rushing for 836 yards and seven touchdowns. He followed that up with nine rushing touchdowns in 13 games in his second season. He played a big role in helping the Steelers reach Super Bowl 30, where they were defeated by the Dallas Cowboys.
Morris was cut after his second season with the Steelers after an off-the-field involving drugs. He hooked on with the Baltimore Ravens for two so-so seasons. He ended his career playing in two games for the Chicago Bears and then playing parts of two seasons with the Kansas City Chiefs.
Morris' off-the-field troubles
Bam Morris had just finished his second year with the Pittsburgh Steelers and had just played in the Super Bowl. He was stopped by police as his vehicle was swerving. Police found five pounds of marijuana in a gym bag in the trunk and also found a gram of cocaine in the ashtray, according to the Beaver County Times.
In 2000, Morris was sentenced to 10 years in federal prison on drug trafficking charges. After three years, he was released and said his time incarcerated helped change him personally. "After football was over and you have time to think about life and have a clear mind, clear head, no drinks, no drugs, no marijuana, no pain pills, just a clear mind," he said to The Times. "You can sit and think about your life and all the stuff that I went through. I vowed that I would never put my parents and brothers and sisters through the stuff that I put them through. I just made a decision."
Morris said he was depressed after he left the Steelers. "After I left Pittsburgh, football was just football," Morris said. "It wasn't even fun anymore. I was just playing. After I left Pittsburgh, I was depressed."
Morris said football may have had something to do with his decisions
Ultimately, Bam Morris takes the blame for his decision making. He does believe that playing football and the repeated hits he took to the head may have had an impact on some of his behavior. "I think a lot of my stuff may have been controlled if the facts would have been out," he said to the Beaver County Times. "I did a lot of dumb stuff, and I always thought I was crazy. Didn't know what it was and I can think of some incidents, stuff I had done and would ask myself after: 'Why did I do that?' And I knew it was wrong. My judgment was bad."
Morris hasn't had a run-in with the law since his release from prison in 2004. He's had time to reflect and he can't help but dwell on the fact football may have played a role in his troubles. "I think it had a lot to do with it," said Morris. "Looking back now, I never had incidents of these kind before, even in college. I think a lot of stuff could have been prevented if I knew some of the issues that existed. I think a lot of the bad decisions I made was because of contact sports."
According to The Times, Morris said he's dealing with the aches and pains associated with football and said he still deals with depression. He said he's more knowledgeable and is able to deal with it better. With that said, Morris insists if he had to do it all over again, he'd play football. "If I could go back and play again I would," he said. "Even knowing what I know now … it was fun."