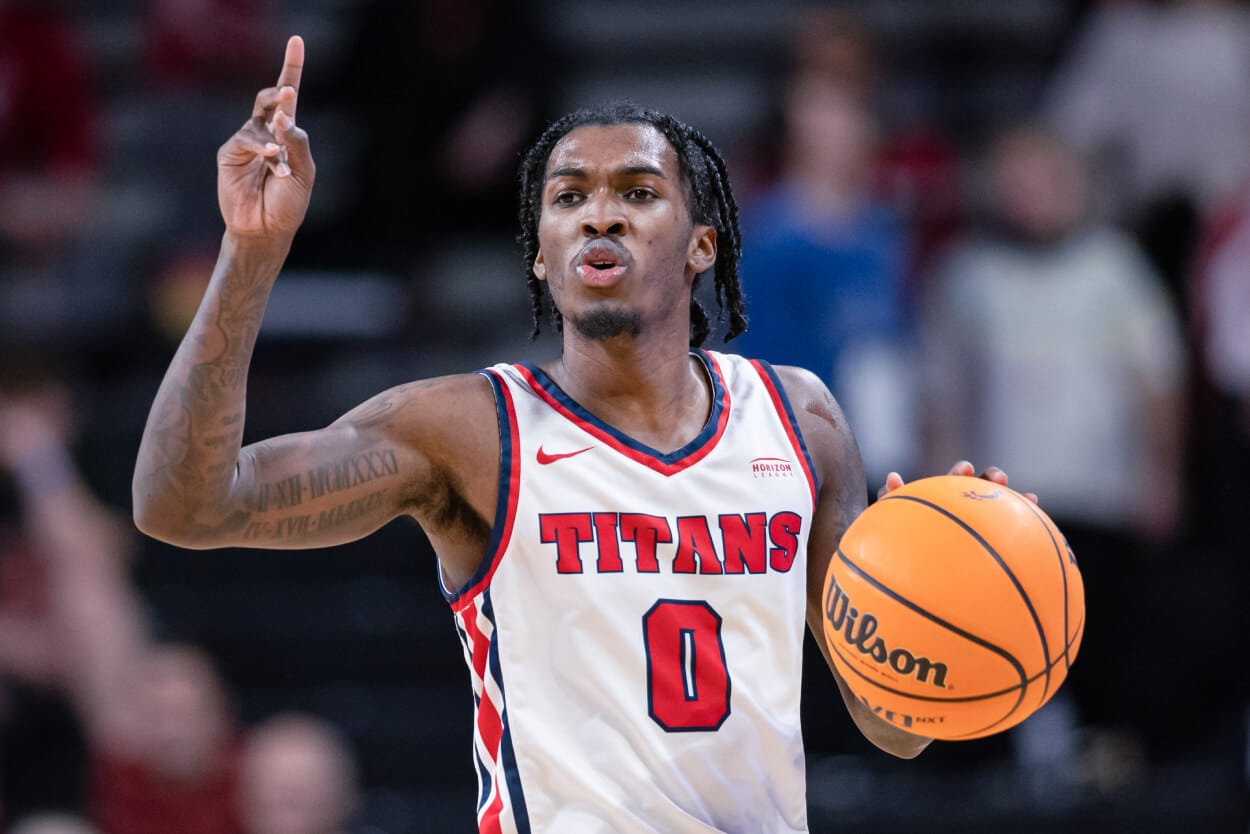 What's Next for Antoine Davis, the Detroit Mercy Star Who Chased Pete Maravich's Scoring Record?
Antoine Davis wasn't selected in the 2023 NBA Draft, but that doesn't mean his NBA dreams are dashed.
Former Detroit Mercy star guard Antoine Davis made plenty of noise during the 2022-23 NCAA season as he closed in on Pete Maravich's all-time scoring record. While he fell short of tying Maravich's mark of 3,667 career points, Davis put Detroit Mercy on the basketball map and captured the eyes of basketball fans throughout the season.
Davis didn't hear his name called during the 2023 NBA Draft, but those NBA hopes he has are far from dashed.
Antoine Davis grabbed plenty of headlines this season
Antoine Davis made waves this year as he closed in on history. Playing in his fifth college season, the 6-foot-1 guard averaged 28.2 points for a Detroit Mercy team that finished 14-19 overall and 9-11 in conference play. While the team struggled, David shined.
Granted a fifth year at Detroit Mercy because of COVID-19 disruptions, Davis made the most of it. He played 33 games during the 2022-23 season and racked up 930 points. He shot 41.4% from the floor and 41.2% from three-point land. Davis finished his college career with 3,664 points.
He made a run at Pete Maravich, whose 3,667 points is a record that has stood for 53 years. Maravich did his damage in just three seasons, as freshmen weren't allowed to play at the varsity level back then. He also didn't have the benefit of having a three-point line and a shot clock.
Davis' run at Maravich's mark didn't come without controversy. While he had 61 more games than Maravich under his belt, he nearly got another one. With his team failing to qualify for either the NCAA or NIT postseason tourneys, he had one more chance with the College Basketball Invitational. The CBI is a little-known tourney that charges teams to play, although they must get an invite from the CBI. With Davis three points shy of history, it seemed the CBI might invite Detroit Mercy to increase ratings.
"It would be setting a bad precedent," Jaeson Maravich told Sportscasting before the CBI made its decision. "What about the eight teams that finished ahead of them in their conference? They don't get an invite? I don't understand how the NCAA even counts these stats. How does this count when my dad's freshman stats don't count?"
The CBI did the right thing and didn't send Detroit Mercy an invitation.
What's next for Davis?
Davis did nothing wrong when it came to Maravich's record. He took some heat, but he simply played by the rules. Even Jaeson Maravich agreed.
"I haven't ripped the kid at all," he said. "I'm happy he's had a good run."
During the 2023 NBA Draft, Davis wasn't selected. In all, there were 58 players chosen, but Davis didn't hear his name called. That doesn't mean his dream of playing in the NBA is crushed.
Davis landed with the Portland Trail Blazers on an Exhibit 10 contract after the draft. An Exhibit 10 contract is a one-year deal at minimum salary that can be converted to a two-way deal. A two-way deal gives teams the flexibility to have their player suit up for both their NBA team and that team's G League affiliate.
The Blazers have been in the news recently regarding the status of their All-Star guard Damian Lillard. Lillard has been rumored in trade talks that could affect what the Blazers do with a player like Davis. Davis is too talented to have his basketball career come to an end. He'll likely play professionally, but whether he sticks in the NBA remains to be seen.