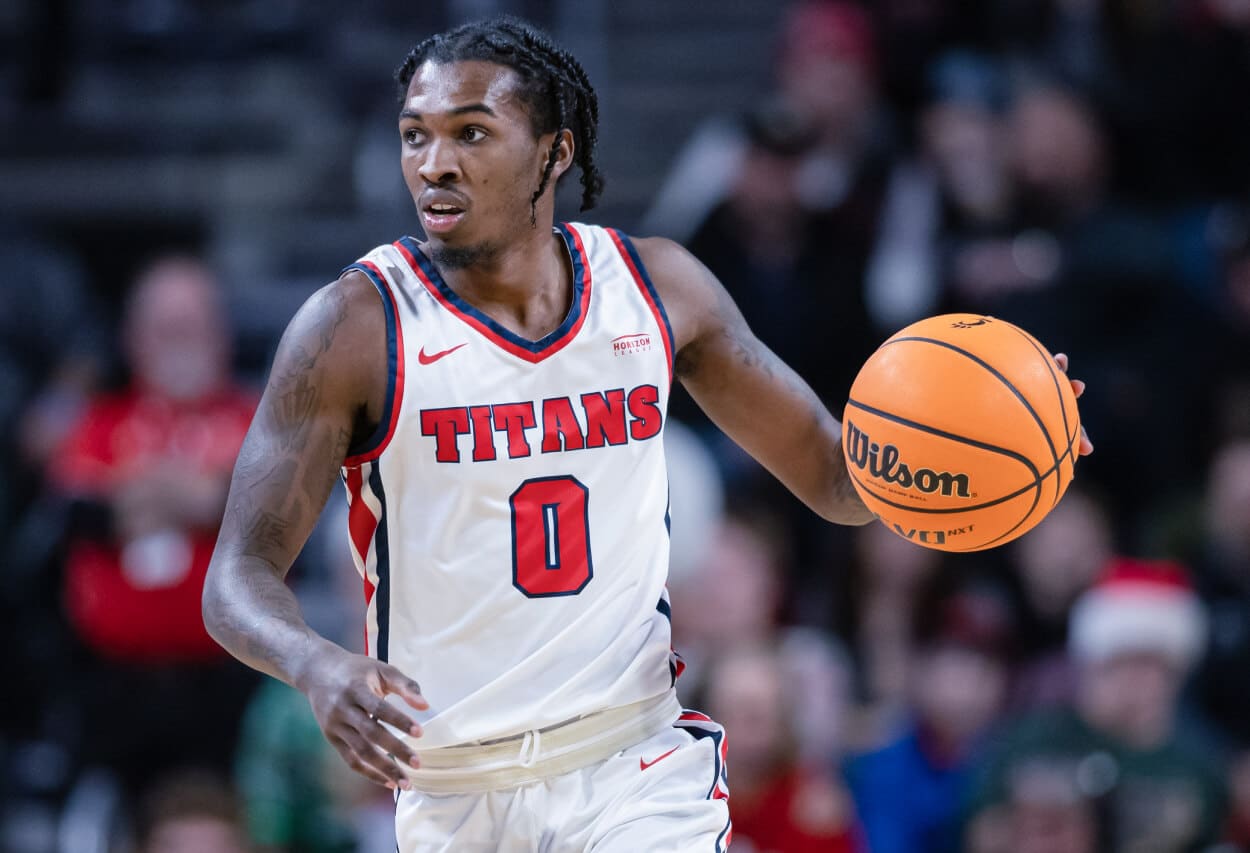 'Cheated' Antoine Davis Has Interesting Take On Falling 3 Points Shy of Pete Maravich's NCAA Scoring Record
Detroit Mercy guard Antoine Davis said he feels "cheated" after how his college basketball career ended.
Detroit Mercy guard Antoine Davis had his chance. Actually, he had 61 more chances than Pete Maravich. Davis capped his illustrious NCAA basketball career with 3,664 points, falling just shy of "Pistol Pete," who finished his LSU career with 3,667.
Davis needed 26 points to break Maravich's mark in the quarterfinals of the Horizon League tournament. He finished with 22 in a season-ending loss to Youngstown State. Because of Detroit Mercy's 14-19 record, there was no NCAA tourney or NIT play in sight. The lone hope for one last shot was an invitation to the College Basketball Invitational. That never came. Davis recently said he was upset and felt "cheated" by how his college career ended.
Antoine Davis has a strange take on how his season ended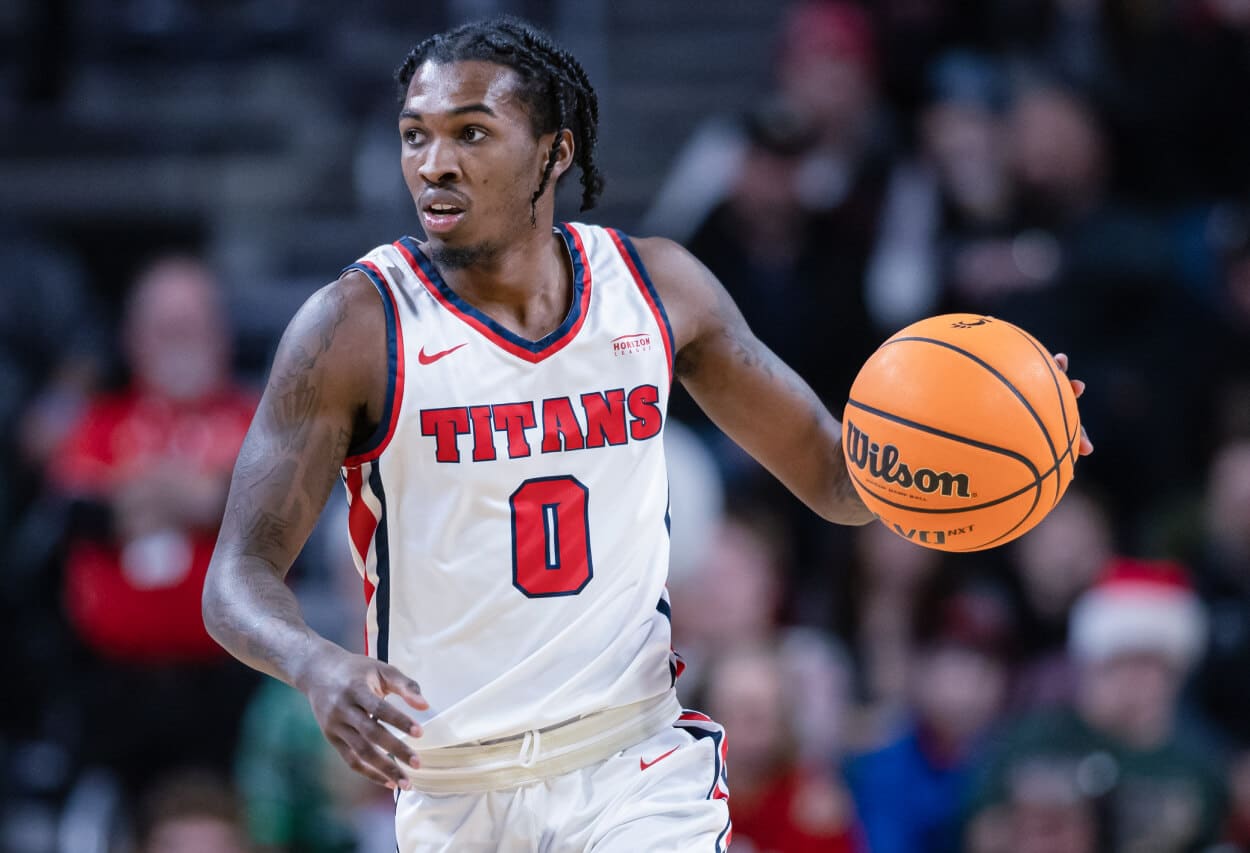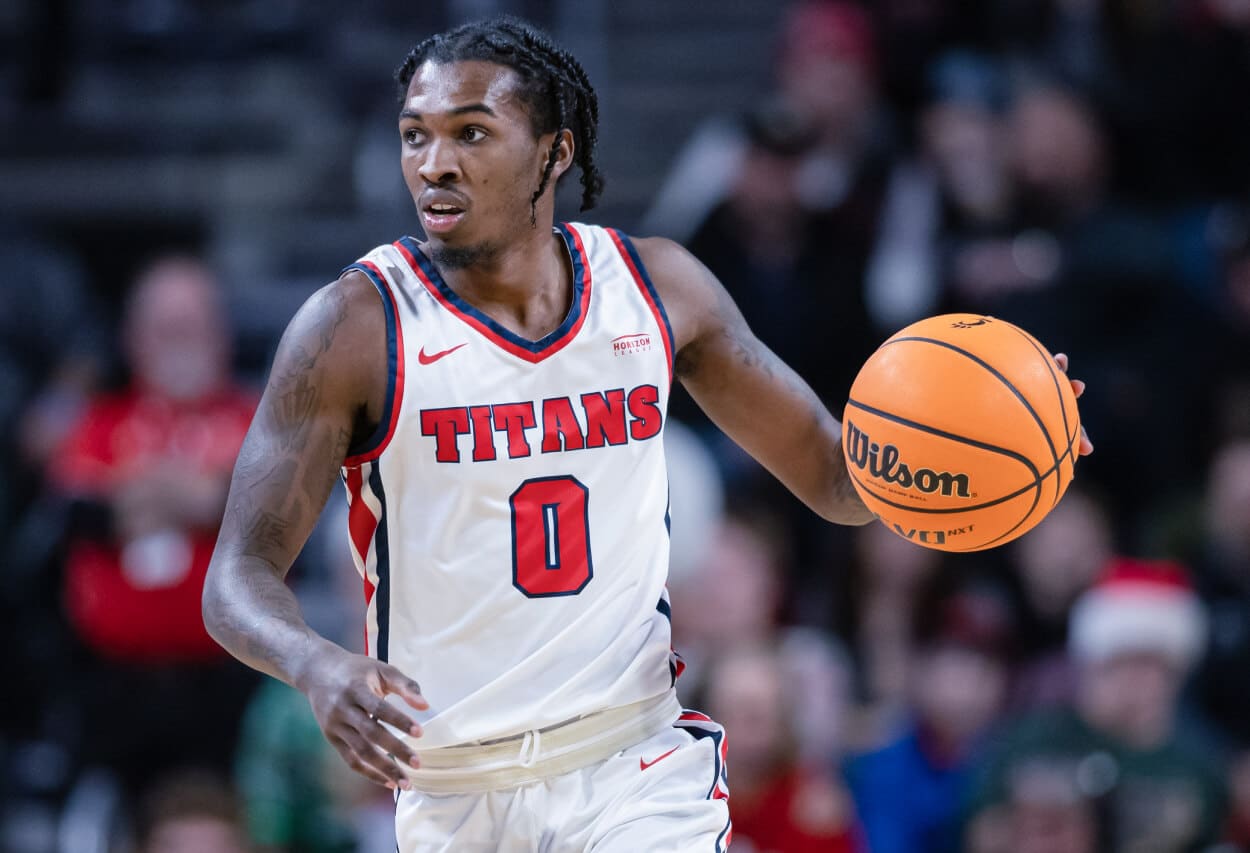 Antoine Davis played in 144 college basketball games. He wanted a 145th. He didn't get it and is upset why it never happened.
Davis was awarded a fifth year at Detroit Mercy because of the COVID-19 pandemic, even though he still took part in 22 games in that "lost" season. He played in 33 games this year, averaging 28.2 points and shooting 41.4% from the floor. The Titans, however, finished five games below .500 and ninth in the 11-team conference.
There was plenty of talk that the CBI would invite Detroit Mercy to play in its season-ending tournament. That would have given Davis another opportunity at Maravich's 53-year-old mark. The CBI is a relatively-unknown tourney that would have gotten some serious publicity had it invited Detroit Mercy to its 16-team field and the school paid the $27,500 entry fee. The CBI did not extend an invitation.
According to The Associated Press, Rick Giles, president of the Gazelle Group which runs the CBI, said he received feedback from fans stating Maravich's record should stand, and it would be unfair for the CBI to invite the Titans.
"We did receive unsolicited emails and voicemails about Detroit Mercy and some said we don't ever want Pete Maravich's record broken," said Giles. "The decision we made wasn't based purely on whether we wanted him to break the record or not."
Davis wasn't happy with the way things went down.
"I'm upset about it," Davis said to the AP. "I feel like I got cheated out of something that they can't ever give back to me. I think it's selfish — and weird — that people emailed or called the CBI to say we shouldn't be in the tournament because they didn't want me to break the record."
Davis had a great run, and the CBI did the right thing
The issue with the record potentially being broken has nothing to do with Davis himself. As they say, records are meant to be broken but had the CBI invited Detroit Mercy, Maravich's record would have been bought.
At 14-19, Detroit Mercy has zero business heading to any season-ending tournament. The only reason why the CBI would have considered the Titans was because all eyes would have been on Davis until he scored four points. Having a 14-19 team pay $27,500 for an extra game would have been an embarrassing and faulty way for a long-standing record to fall.
For Davis to say he was "cheated" is also embarrassing. It's not like Maravich fans (and most college basketball fans in general) have a problem with the record legitimately being broken. Had Davis scored the 26 points he needed in that final game against Youngstown State, it's Davis' record. Yes, there would be an asterisk because Maravich scored his 3,667 points in three years (freshmen weren't allowed to play with the varsity back then). Maravich also put up those points without a three-point line and a shot clock.
It took Maravich 83 games to rack up his points. If anyone gets cheated, it's him. There is absolutely no comparison between the two players. Maravich is recognized as one of the best, if not the best, college basketball players ever.
Davis has an outstanding college resume. He averaged 25.4 points for his career (Maravich 44.2). He made 588 three-point shots in his career. He's a top-notch college player, but he was far from cheated.
"There's nothing to hold my head down about," Davis said. "I still feel like I'm the best scorer in my generation, especially finishing No. 2 behind him."