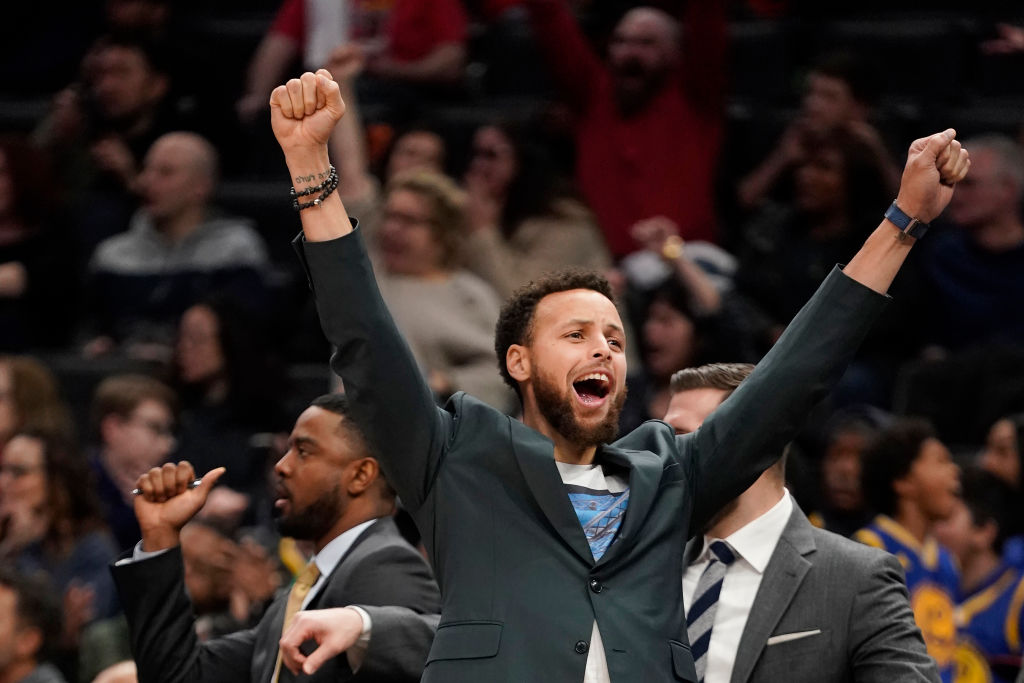 When Will Stephen Curry Return to NBA Action With the Golden State Warriors?
The Golden State Warriors have endured a brutal season, but there could be a bright spot. How soon will Stephen Curry return to action?
Since 2014, the Golden State Warriors have dominated the NBA. A great deal of their success was due to Stephen Curry; while he had plenty of help from guys like Klay Thompson and Kevin Durant, the guard's shooting touch is second to none. This season, however, has been a bit different. The Warriors roster has been gutted by personnel turnover and injuries, leaving the club languishing at the bottom of the standings.
A change might be on the horizon, though. After breaking his hand in October, Stephen Curry should be back sooner rather than later.
The Golden State Warriors' struggles without Stephen Curry
Coming into the 2019-20 campaign, the Golden State Warriors knew things would be a challenge. While replacing players like Kevin Durant and Andre Iguodala was never going to be easy, things went from bad to worse.
With Klay Thompson sidelined since the NBA Finals, most of the team's offensive burden fell to Stephen Curry. While the guard was doing his share—scoring 23, 23, and 26 points in his first three games—things quickly went from bad to worse. Golden State's star player broke his hand on October 30; he still hasn't returned from that injury.
Despite Curry's best efforts to support his team from the sidelines, cheerleading can only do so much. Without either of the Super Splash Brothers, the Warriors have struggled; guys like D'Angelo Russell, Alec Burks, both of whom have been traded, and Eric Paschall have played admirably, but they can only do so much. The Warriors sit at the bottom of the league in offensive rating, defensive rating, and, unsurprisingly, the standings.
Stephen Curry is still on track for a March return
As we learned from Zion Williamson, players don't always return to the court according to their team's estimated timeline. Thankfully, Stephen Curry still appears to be on track to rejoin the Golden State Warriors in March.
In December, Curry had metal pins removed from his wrist and transitioned away from wearing a brace. While he still wasn't able to take part in basketball activities—head coach Steve Kerr said most of the guard's work was related to general agility and movement—it provided a glimmer of hope for Warriors fans everywhere.
On February 1, the Warriors issued another update on Curry's condition. The team explained that the guard was "making good progress" and "[expanding] his individual on-court work each week." He'll have another evaluation in four weeks and will ideally return to full action in March.
The Golden State Warriors' brutal season is almost over
No matter how good he looks when he returns to action, Stephen Curry can't save the Golden State Warriors' season. The guard, however, will provide a glimmer of hope that the team's nightmare is coming to an end.
As every NBA fan knows, Curry will score as long as he's healthy; the same should be true of Klay Thompson when he returns next season. This year's miserable campaign will also bear fruit. Playing meaningless games isn't fun for the fans, but every minute of action will help young Warriors, like Eric Paschall, develop. Golden State will also have plenty of draft picks going forward, which will ideally allow them to supplement their existing stars.
It's been a tough year for basketball fans in the Bay Area. Steph Curry's return to action, though, should signal that the darkest stretch of the season is over.