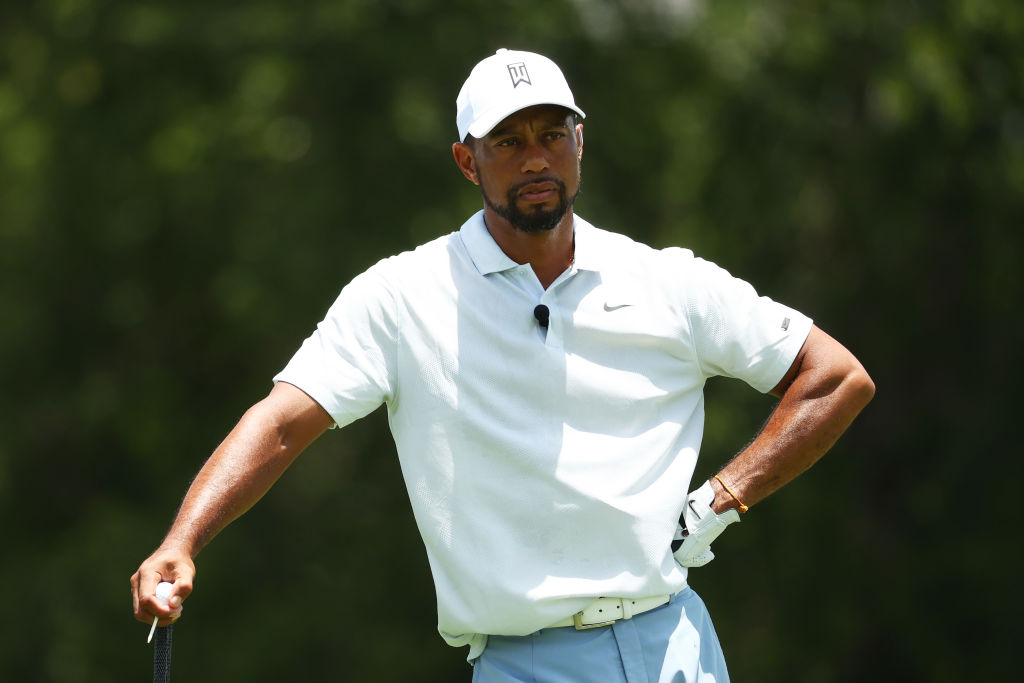 When Will Tiger Woods Make His Return to the PGA Tour When Play Resumes?
A look at the tournaments Tiger Woods may choose to play when the PGA Tour resumes its season following the COVID-19 outbreak.
With the PGA Tour set to resume play next week, many golf fans around the world are asking the same question: When will Tiger Woods re-start his season? Well, the answer is actually quite simple: We have no idea.
Before the PGA Tour shut down following the first round of The Players Championship back in March, the answer was actually the same. Citing back pain, Tiger had opted out of numerous events, including The Players, and many were concerned that he wouldn't even tee it up at The Masters.
Obviously, we'll never know that answer as the season's first major was postponed but what we do know now is that Tiger looks ready to go, as evidenced by his stellar play at "The Match: Champions for Charity" in which he and Peyton Manning took down Phil Mickelson and Tom Brady.
So let's take a look at the schedule and try to figure out exactly when Tiger Woods could re-start his season.
Tiger Woods normally wouldn't play in any of the upcoming PGA Tour events
Once play resumes, the first four PGA Tour events are as follows: the Charles Schwab Challenge at Colonial (June 11-14), the RBC Heritage at Harbour Town in Hilton Head (June 18-21), the Travelers Championship at TPC River Highlands in Connecticut (June 25-28), and the Rocket Mortgage Classic in Detroit (July 2-5).
In a normal year, there's essentially zero chance that Tiger Woods would tee it up at any one of these events as these aren't normal stops on his schedule. But this certainly isn't a normal season, is it? One would think that Tiger would be excited to be healthy and that he'd be looking forward to teeing it up in at least one of these first four events, right? But which one?
If I had to guess, I'd say that the RBC Heritage would be the best bet. The tournament is known to be a favorite among players and is expected to have a great field, including world number one Rory McIlroy, who has already committed to playing the first three events. Choosing Hilton Head still gives Tiger a little more time to get his game where he wants it without dealing with the pressure that the first event at Colonial will bring, even without fans in attendance.
It's likely that Tiger plays in just one of those first four events as he'll be wanting to save his body for a tough stretch of golf later this summer.
Tiger Woods will have some tough decisions to make later this summer
With his ongoing back issues, it's likely that Tiger Woods won't play back-to-back weeks unless absolutely necessary, which just might come up following those first four events. The John Deere Classic, set for July 9-12, was recently canceled and there has been talk of the PGA Tour replacing it with an event at TPC Sawgrass, where Tiger has had success in the past. However, the Memorial, Jack Nicklaus' tournament that Tiger has won a record five times, is the following week and he'll almost certainly want to be in the field there.
But the most difficult stretch on the schedule begins in August. We know for certain that Tiger will be at the PGA Championship (August 6-9) at Harding Park. We know he won't play the following week at the Wyndham Championship. But, assuming he qualifies for all of them anyway, would his body be able to withstand playing three consecutive weeks in the FedEx Cup playoffs right after that? Or could he possibly skip one, which would naturally bring a little controversy, to keep his back a little fresher for the U.S. Open in September? Everyone knows that Tiger works his entire schedule around the majors but with this season being as crazy as it is, it's hard to know exactly what he's going to do. At least we know he'll be at Augusta in November, right?
He usually waits until the last minute to announce his plans
While he'll sometimes drop a few subtle hints about which events he'll be playing, Tiger Woods usually waits as long as possible to officially commit to a tournament, especially these days. With his back being the way it is, he wants to be absolutely certain that he'll be ready to go before making any definite plans, which is certainly understandable.
While I still say the RBC Heritage is the event where we'll next see Tiger Woods, we just have to wait and see. But hey, aren't we all used to that by now?