Where Does Ezekiel Elliott Rank Among the All-Time Great Dallas Cowboys Running Backs?
After eight seasons, Ezekiel Elliott's tenure with the Dallas Cowboys has come to an end. While the Ohio State product still had several seasons remaining on the six-year/$90 million contract he signed ahead of the 2019 NFL campaign, he's been released as the Cowboys are moving forward with Tony Pollard.
Taken with the fourth overall pick in the 2016 NFL Draft, Elliott made an immediate impact as he was the league's leading rusher as a rookie, running for 1,631 yards with 15 touchdowns. He also added 32 receptions for 363 yards and a score and finished second in the Offensive Rookie of the Year voting behind teammate Dak Prescott, whom the Cowboys selected 131 picks after Zeke in that same 2016 draft.
While his sophomore season certainly wasn't as successful as he was suspended six games for violating the league's personal conduct policy, he still rushed for 983 yards.
Elliott again led the NFL in rushing in his third year, running for 1,434 yards with six touchdowns, also adding 77 catches for 567 yards and three touchdowns to earn his second Pro Bowl selection.
He earned a third Pro Bowl nod in 2019, a season in which he tallied 1,357 rushing yards, 420 receiving yards, and scored 14 total touchdowns.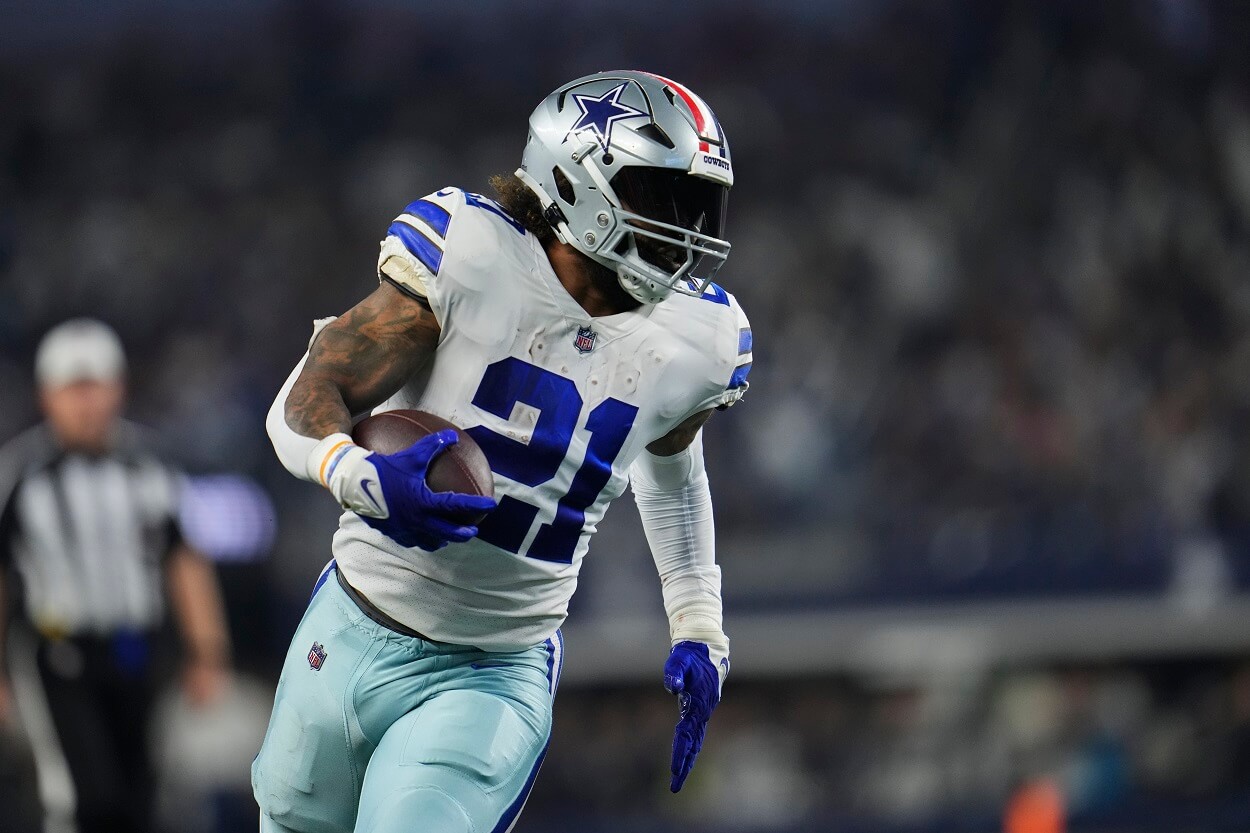 Elliott's production dipped over the next three seasons as he began to share more carries with Pollard. The only season he reached the 1,000-yard mark in that stretch was 2021, and that was by a slim margin, as he ran for 1,002 yards.
Zeke ends his career with the Cowboys with 8,262 regular-season rushing yards, 2,336 receiving yards, and 80 total touchdowns. He added another 393 rushing yards, 65 receiving yards, and two scores in six postseason games.
So where does Ezekiel Elliott rank among Dallas Cowboys running backs?
Where does Ezekiel Elliott rank among Dallas Cowboys running backs?
Looking at every running back the Dallas Cowboys have ever employed, Ezekiel Elliott certainly can't rank in the top two, as those spots belong to Hall of Famers Emmitt Smith and Tony Dorsett. There's just no getting around that, especially given what the two Super Bowl champions added in the postseason.
But Zeke is the clear No. 3 on the all-time list — and not only because that's where he ranks in most of the major statistical categories. At his peak, Elliott was easily one of the best running backs in the NFL. And that wasn't only because of his numbers. In addition to his skills as a runner, he's been an excellent blocker throughout his career. And his ability to hang onto the football has been stellar as well.
In 103 regular-season games, Elliott fumbled just 22 times, meaning he turned the ball over once every 4.68 games. By comparison, Smith fumbled 55 times in 201 regular-season games with Dallas, meaning he turned the ball over once every 3.65 games. And Dorsett fumbled once every 1.87 games while wearing a Cowboys uniform.
Here's how Elliott's overall regular-season stats match up against the two legends.
Player
Seasons
Games
Rush
Att
Rush
Yds
Rush
TD
Rush
Yds/Gm
Fmb
Rec
Rec
Yds
Rec
TD
Rec
Yds/Gm
Emmitt Smith
13
201
4,052
17,162
153
85.4
55
486
3,012
11
15.0
Tony Dorsett
11
157
2,755
12,036
72
76.7
84
382
3,432
13
21.9
Ezekiel Elliott
7
103
1,881
8,262
68
80.2
22
305
2,336
12
22.7
For those wondering, rounding out the top five on the Cowboys' all-time rushing yards list are Don Perkins (6,217 yards, 42 TD) and Calvin Hill (5,009 yards, 39 TD).
So, again, Ezekiel Elliott is the clear No. 3 here. And had the Cowboys chosen to keep him as the primary option for a few more years, there's a strong chance he could have challenged Dorsett for the No. 2 spot.