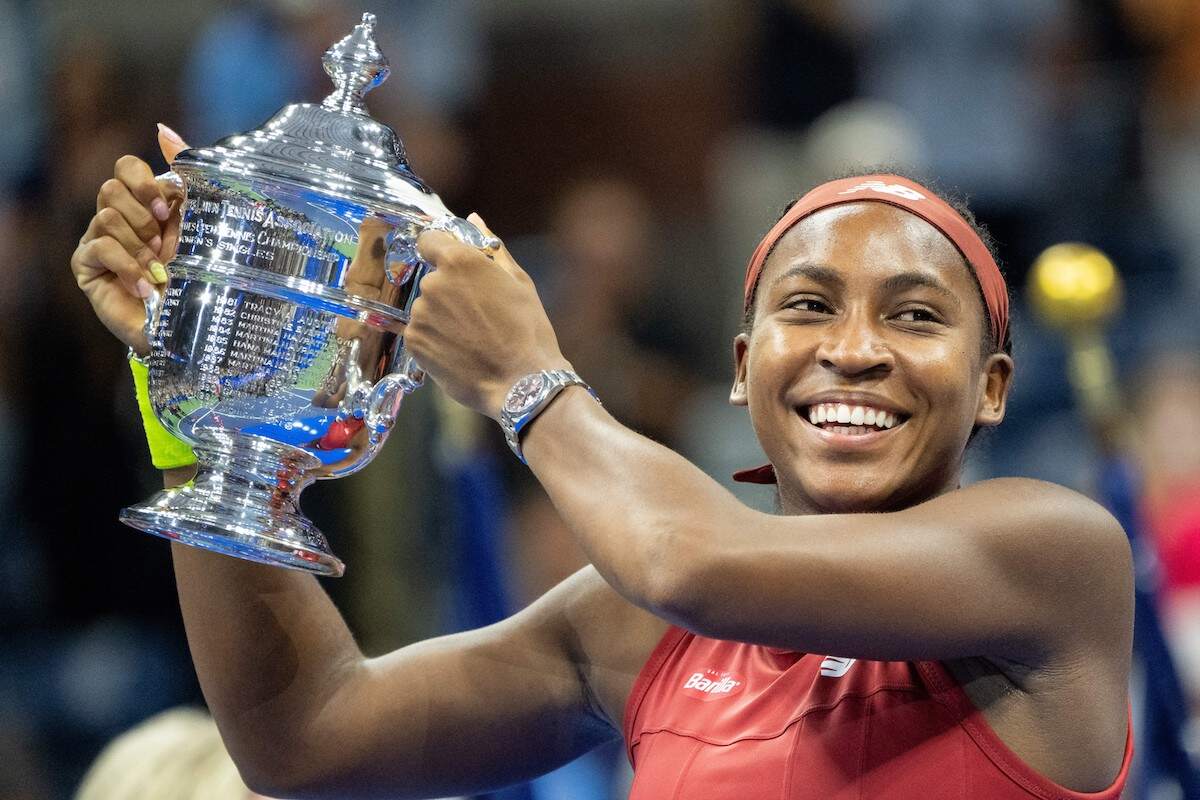 Where Is Coco Gauff From? The American Tennis Star's Hometown, Residence, Parents, and More
Coco Gauff's parents saw a natural talent in their young daughter and knew there would be better training options for Coco in another state.
The 2023 U.S. Open was one for the record books. At just 19 years old, tennis prodigy Coco Gauff won her first Grand Slam tennis tournament. Having won the U.S. Open, Gauff became the youngest American to win the Grand Slam event since Serena Williams's victory at the 1999 U.S. Open when she was just 17 years old. Nonetheless, this victory is an amazing milestone in the young tennis star's professional career.
To celebrate Gauff's latest achievement, learn more about the teenage tennis star's family, hometown, and path to greatness. 
Where is Coco Gauff from?
Corine Dionne "Coco" Gauff is the oldest child and only daughter born to Corey and Candi (Odom) Gauff. The 19-year-old was born on March 13, 2004, in Delray Beach, Florida. Gauff is the older sister of Cameron Gauff (born in 2013) and Codey Gauff (born in 2007). 
Like their older sister, Cameron and Codey both have their own athletic aspirations. Per Perfect Game, Codey Gauff's athletic passion is baseball; he's an aspiring pitcher. The youngest Gauff sibling, Cameron, has aspirations to play in the NFL. In addition, Cameron has also used his artistic ability to help his older sister design her signature sneaker line with New Balance. 
Coming as no surprise, Corey and Candi, the parents of the Gauff siblings, are also talented athletes. Corey Gauff was a college hooper at Georgia State University. Candi was on the track and field team at Florida State University. While the couple had their first child in Florida, they quickly relocated to Georgia. Thus, Coco lived her early years in Atlanta while her dad worked as a health executive and her mom worked as an educator.
Coco Gauff moves to Florida
While the Gauff family was still in Georgia, Coco began playing tennis at the age of six. In the following year, the Gauffs decided to return to Delray Beach, Florida, where both Corey and Candi were originally from. 
Gauff's parents saw a natural talent in their young daughter and knew there would be better training opportunities for Coco in Florida compared to Georgia. Florida has long been considered the mecca for tennis prodigies from the Williams sisters to Maria Sharapova to Andy Roddick.  
Coco Gauff parents
At the age of eight, Coco began training under Gerard Loglo at the New Generation Tennis Academy. Soon after, her parents decided to give up their careers and go all-in on Coco's training. Her dad, Corey, functioned as Coco's primary coach, while her mom, Candi, took the reigns on Coco's homeschooling curriculum. 
Per Mouratoglou Academy, Coco headed to France at the age of 10 to start training at Patrick Mouratoglou's tennis academy. Mouratoglou is well-known for being Serena William's longtime tennis coach. While Mouratoglou recognized Coco's talent and invited her to train at his academy, he has never officially served as her coach. 
While her dad served as her coach for the majority of her career, Brad Gilbert and Pere Riba joined Coco's coaching staff in 2023, per ESPN. Following her quarterfinal victory against Jelena Ostapenko at the 2023 U.S. Open, Coco candidly discussed why her dad no longer sits in the coaching box during her matches.
During the post-match interview via The Tennis Letter, Coco revealed, "My dad isn't in the box anymore because he gets too nervous. He's somewhere in 1 of the suites & he's been apparently doing laps around the stadium…I don't know if he can hear me right now, but I felt his good energy!"