Travis and Jason Kelce: Which Brother Makes More Money in the NFL?
Over the years, many families have seen their members play in the NFL — the Mannings and Matthews come to mind. Currently, one prominent set of brothers compete in the NFL, Travis and Jason Kelce.
While they play for different teams, both have had incredibly prosperous NFL careers. So which one is more successful financially?
Travis Kelce's NFL career
Currently playing for the Chiefs, Travis Kelce is one of the best tight ends in the NFL. Kansas City selected him with the 63rd overall pick in the third round of the 2013 NFL Draft out of the University of Cincinnati. Here's what he's been able to accomplish thus far in his NFL career: 
941 catches (814 regular season, 127 postseason)
11,811 receiving yards (10,344 regular season, 1,467 postseason) 
84 touchdowns (69 regular season, 15 postseason)
Eight-time Pro Bowl selection
Seven-time All-Pro selection (four First Team, three Second Team)
Two-time Super Bowl champion
Jason Kelce's NFL career
The Philadelphia Eagles selected Jason Kelce with the 191st overall pick in the sixth round of the 2011 NFL Draft. A center on the Eagles' offensive line, he's qualified for six Pro Bowls, been named a First-Team All-Pro five times, and won a Super Bowl following the 2017 season over the New England Patriots, beating his brother to a championship ring by two years.
Jason's football story has rather humble beginnings. Like his brother Travis, he played college football at the University of Cincinnati. He began his career as a walk-on running back.
Which NFL brother makes more money: Travis or Jason Kelce?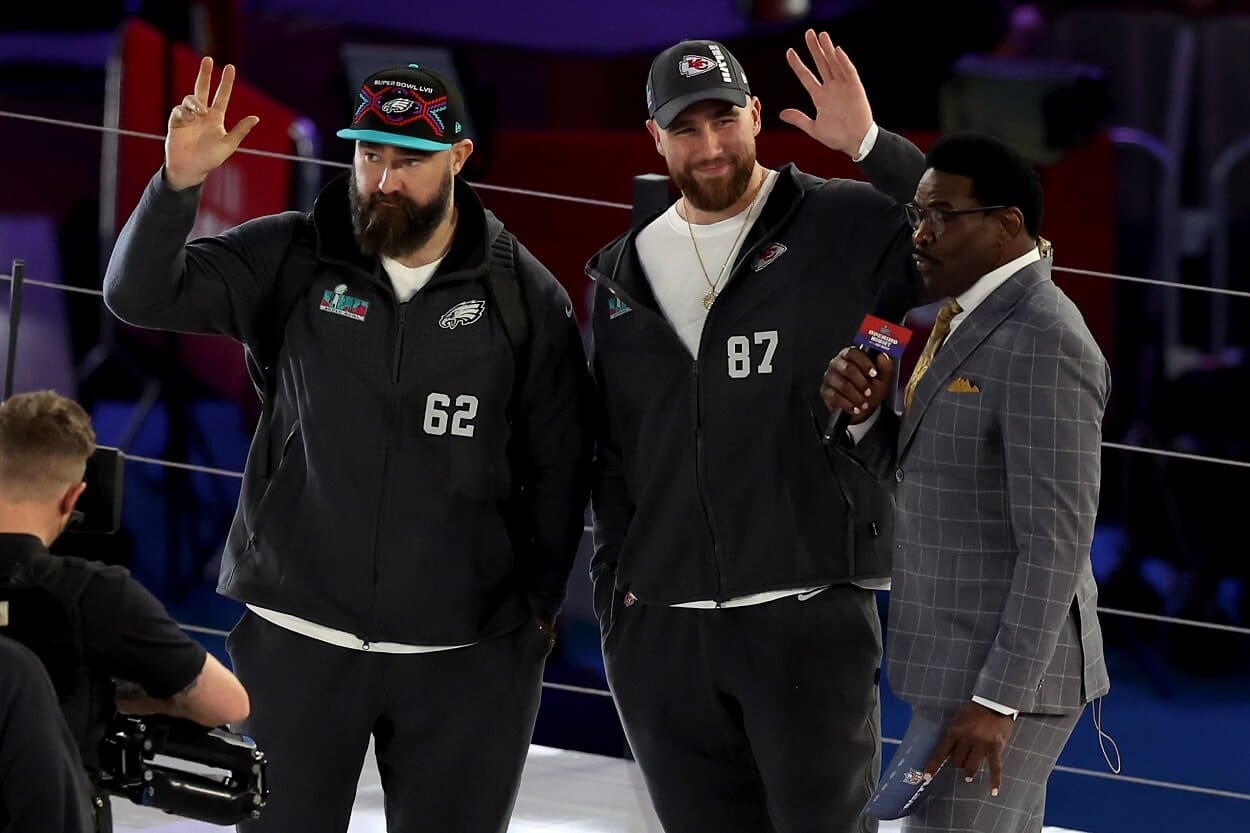 Both Kelce brothers are paid handsomely, and Travis made a bit more than his older brother over the last few years. In 2022, however, Jason was the higher earner, collecting $11.25 million in total cash, with Travis raking in $10.5 million.
Jason has been a standout offensive lineman for his entire career, but it goes to show that a pass catcher with the athleticism, great hands, and blocking ability of Travis is truly rare.
Make no mistake; both brothers are among the best players at their respective positions. There certainly aren't many (if any) tight ends better than Travis, and Jason may be the best center in the NFL. 
The two brothers met in Super Bowl 57, with Travis Kelce and the Chiefs taking a 38-35 win over Jason Kelce and the Eagles.