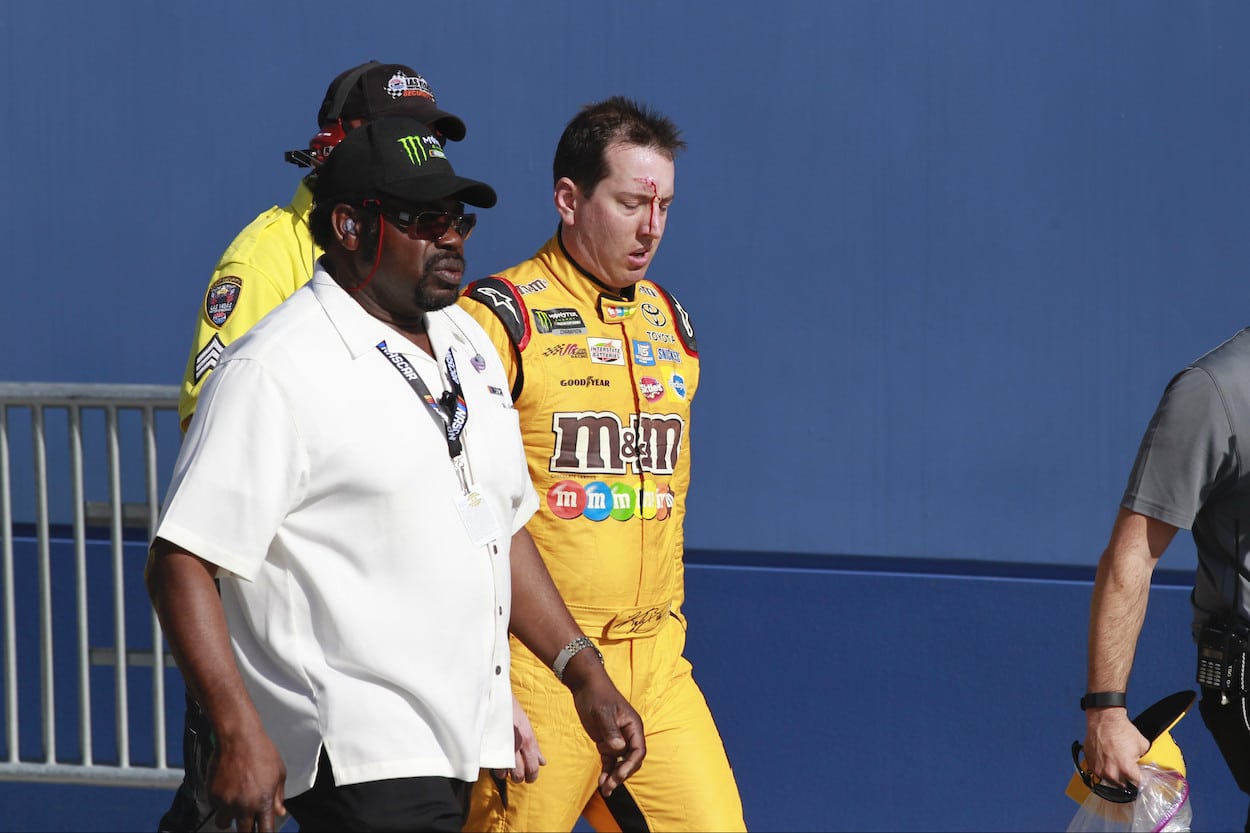 Which NASCAR Cup Series Drivers Recommend 'Getting Punched in the Mouth' as a Way to Restore Respect in the Garage?
The NASCAR garage has a lack of respect problem and several Cup drivers believe the solution is the return of punching someone in the mouth to pay for that behavior.
Respect.
It's universally agreed by all NASCAR Cup Series drivers that there's presently a lack of it in the garage. However, there's no agreement on how the problem became so prominent or who is to blame for its development. Lots of finger-pointing going on. 
Solutions have been discussed, including intervention by NASCAR, which the drivers absolutely do not want, or the drivers policing themselves. That clearly hasn't worked well, or they wouldn't be in this situation in the first place. 
According to a couple of drivers, that's exactly what needs to change. The competitors need to do a better job of self-enforcement when disrespect is shown on the track and that comes in the form of an immediate response with physical consequences. They're convinced if those increase, the level of respect will follow.
Kyle Busch brings up lack of respect topic
Kyle Busch was addressing Denny Hamlin's podcast remarks about intentionally wrecking Ross Chastain at Phoenix a few weeks ago before the race at Atlanta when he steered the conversation in a different direction by talking about a lack of respect in the garage and how prominent it had become, especially compared to years past. 
"Now you're going down the right path because we have completely lost any sense of respect in the garage area between drivers at all," Busch said. "That's where the problem lies is nobody gives two s**** about anybody else, and it's just a problem where everybody takes advantage of everybody as much as they can. We're all selfish, granted. 
"But there was an etiquette that once did live here. Mark (Martin) started it. I think Tony (Stewart) really lived by it. I think Jeff (Gordon) lived by it. Bobby Labonte. Rusty (Wallace) for the most part. Dale Jarrett for sure. It did exist. That's gone."
The two-time champion said he had spoken to younger drivers about race etiquette, and no one bothered to listen. He was done trying. 
Let's get physical
This past weekend at Circuit of the Americas, multiple drivers were asked about the lack of respect and what can be done to restore it. There were a variety of answers, but two stuck out like a black eye. That's because both suggested the same thing – the reintroduction of physical consequences. 
"I think NASCAR can do stuff as far as moving people to the back but I also think people tend less to wreck others if they get punched in the mouth for doing so," Ty Dillon said. "I think drivers can take it in their own hands, too. I think handling some consequences outside of your actions, some real physical consequences instead of walking away and not having to talk about it might change some people's attitudes, too."  
Chase Briscoe, who's been known to get overly aggressive a time or two, including Denny Hamlin on the Indy Road Course in 2021 and Tyler Reddick on Bristol Dirt in 2022, effectively echoed Dillon's thoughts with his own personal example thrown in. 
"I've had my run-ins before but even at Bristol with Reddick. I was fully expecting to get punched in the mouth and I was willing to accept that because I deserved it," Briscoe admitted. "You just don't really see that anymore. I think if you had that, I think there'd be a lot more respect." 
Disrespect on display Sunday at COTA
A day after Dillon and Briscoe made their remarks, there was chaos at COTA on the three overtime restarts. The second restart included a Turn 1 incident with Trackhouse Racing teammates Ross Chastain and Daniel Suarez, Alex Bowman, and Martin Truex Jr. The No. 14 Stewart-Haas Racing car can be seen at the back of the line doing the pushing, which results in an accordion effect and the No. 19 ultimately spinning out.
That incident is why an angry Suarez drove the entire length of the 3.41-mile racetrack on the cool-down lap seeking payback on the Nos. 1 and 48. After bumping both vehicles, including the HMS car on pit road, which earned him a $50,000 fine, Suarez got out of his car, confronted both Bowman and Chastain, had heated conversations and then walked away. That was it. 
No punches were thrown. 
And everyone moves on to Richmond. 
For the latest breaking news and information about NASCAR's three national series, check out @kdsportswriter on Twitter.