While Larry Bird's Three-Point Shootout Trash Talk Is Classic, Michael Jordan Sang a Similar Tune in 1988
Larry Bird's performance in the NBA three-point contest in 1986 was classic. So were his comments before the event. Bird famously asked his competitors which one of them would be playing for second place and then promptly went out and won the first of three straight shooting contests. Two years later, Michael Jordan had a similar prediction when it came to the 1988 dunk contest. Jordan, however, was far more discreet than Bird with his comments.
Larry Bird and Michael Jordan were All-Star Weekend fixtures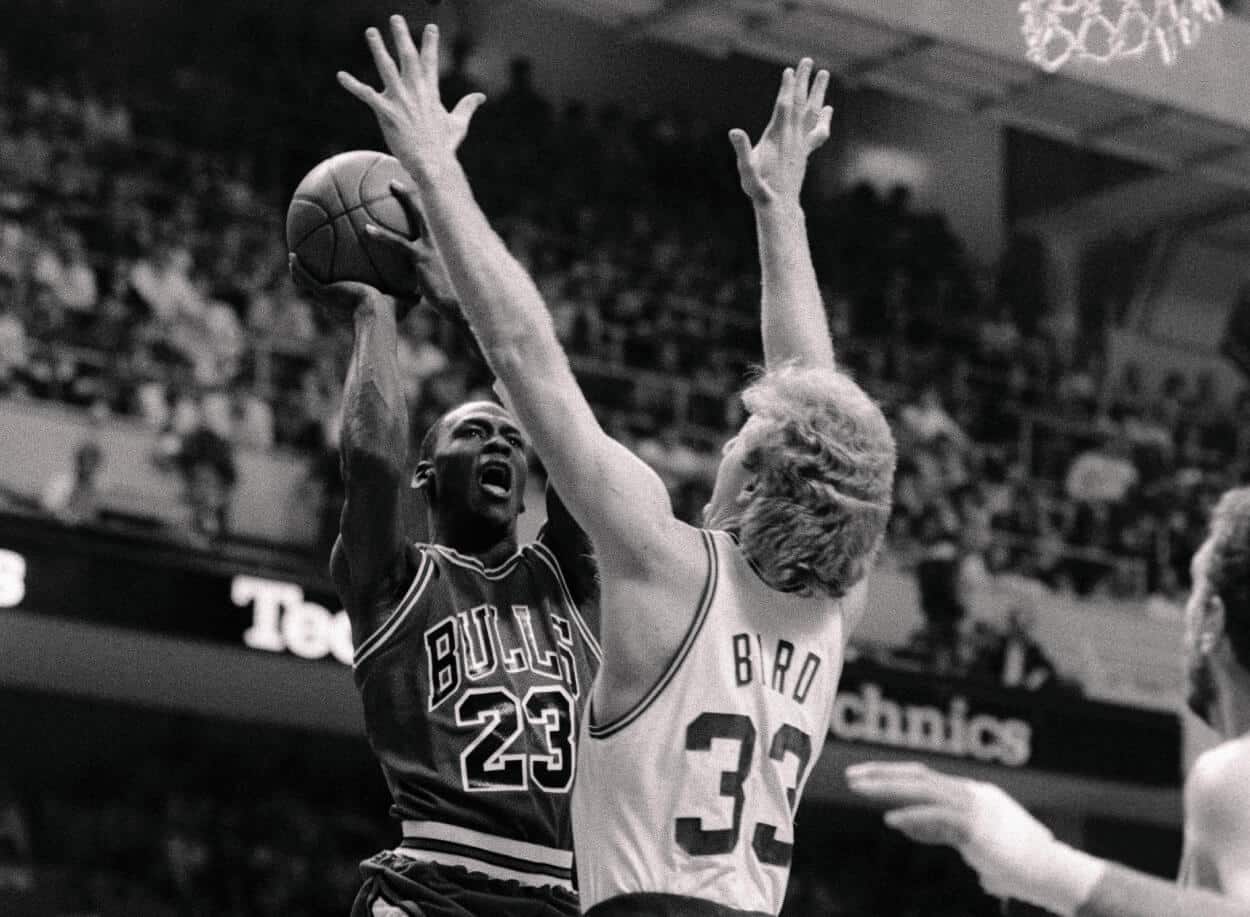 When the NBA said it was All-Star Weekend, it meant it. All the stars were there throughout the weekend, with the biggest ones, including Bird and Jordan, taking part in the festivities leading up to the All-Star Game.
The league introduced the three-point contest in 1986, and many of the game's top players took part. Leading the way was Bird, who was in the midst of his third straight MVP season. Norm Nixon, Dale Ellis, and Craig Hodges also took part, along with four others. It was truly a star-studded event.
While Bird was chucking up threes, Jordan was throwing down slam dunks. Jordan joined the event in 1987, facing other stars like Clyde Drexler, Tom Chambers, and Ron Harper. Jordan won the event in 1987 and returned in 1988.
In '88, he faced Drexler and Dominique Wilkins, who won the contest in 1985. Jordan claimed back-to-back titles. Back in the '80s, the stars were all out on All-Star Weekend.
Bird and Jordan did some trash-talking during All-Star Weekend
Bird and Jordan are two of the most confident athletes ever. Bird's confidence/cockiness went down as trash talk when he walked into the locker room in 1986 and asked the participants which one would be coming in second place. Bird later admitted he rarely went out and practiced the three-point shot.
"Me and Danny (Ainge) used to shoot some before we went out there," Bird said in a YouTube video as former teammate Kevin McHale interviewed him. "Everybody's sitting there, and everybody's real quiet. You knew the guys, but you never were really around them. Nobody's really saying anything, so I walked in, looked around, and it just came out. I had no clue I was going to win it."
While Bird's quip made headlines, Jordan also exuded confidence before his 1988 dunk contest, but he was a little more discreet about it.
Bob Neal, who did play-by-play analysis of the '88 dunk contest for TBS, said the event was one of the biggest he'd ever been a part of. He said he saw Jordan before the contest and knew Jordan was going to win.
"This was more exciting and tense than any game I ever did, more than the Bulls and the Celtics, more than the Bulls and the Bad Boy Pistons," Neal told Sports Illustrated in 2013. "I'm not exaggerating when I say it was the most mesmerizing competition I was ever involved with — and I saw Hank Aaron's 715th home run. Dominique had that determined look on his face that was so different from Jordan's confident smirk. If it was possible, Michael would have had a cigar in the side of his mouth."
Tim Hallam, the Bulls public relations director, explained how Jordan issued a Bird-like statement that only he heard.
"About an hour before, I plopped down next to Michael in the locker room, and he was putting on his shoes, not a care in the world," Hallam said, per SI. "I asked, 'What's the slam dunk trophy look like this year?' He said, 'I don't know. But you'll find out when you're putting it in my car.'"