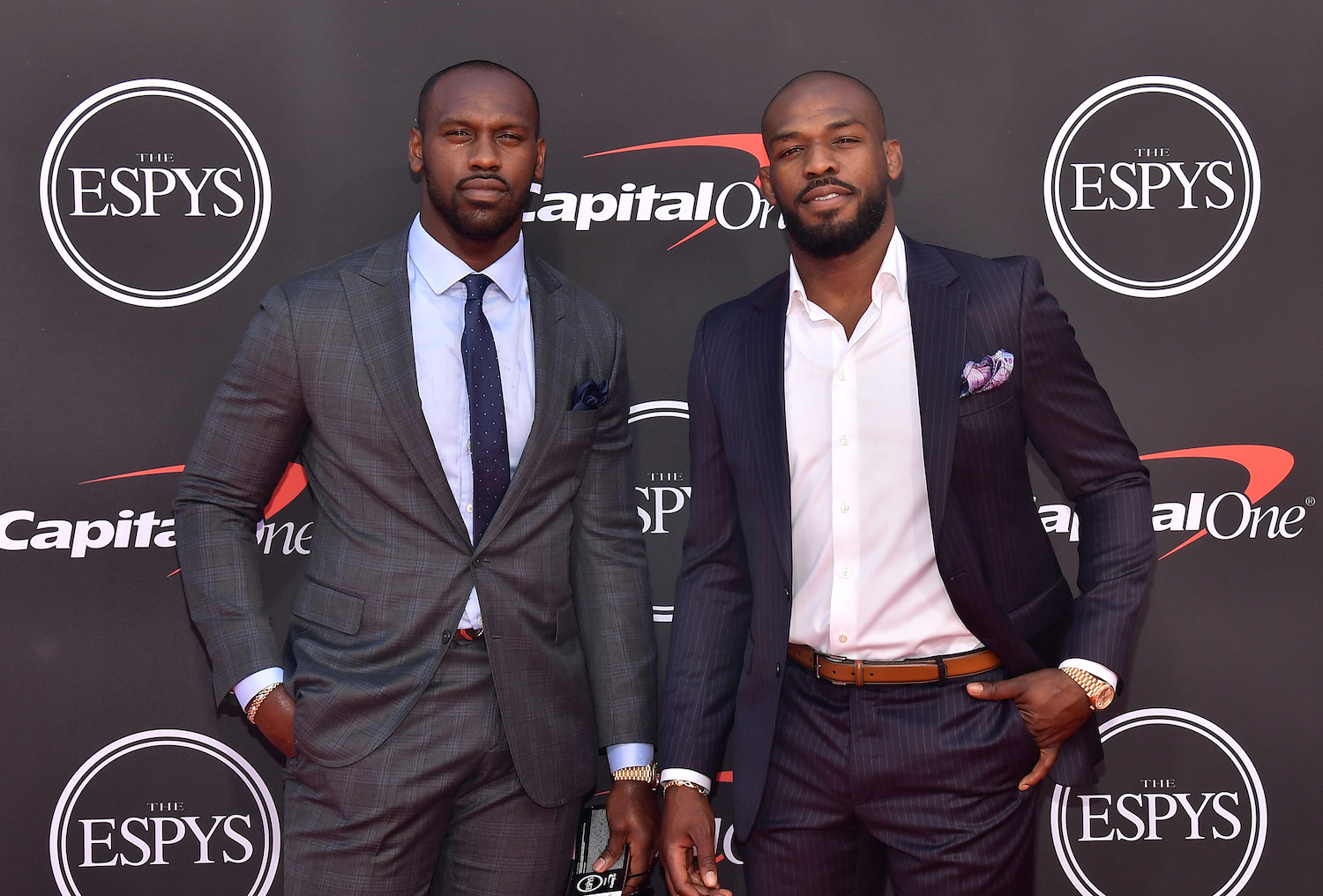 Who Has a Higher Net Worth Between Brothers Jon Jones and Chandler Jones?
Jon Jones is one of the greatest UFC fighters of all time. Chandler Jones is a star defensive player in the NFL. Which Jones brother has a higher net worth?
Jon Jones is a champion fighter in the UFC and considered one of the greatest mixed martial artists of all time. Chandler Jones is Jon's younger brother and considered one of the best defensive players in the NFL. Jon has been fighting professionally since 2008. Chandler joined the NFL in 2012. Which Jones brother has the higher net worth?
Jon Jones fights his way to top of UFC
Jon Jones made his professional fighting debut in April 2008. He won via first-round knockout. Six fights, and just four months later, Jones made his UFC debut, winning by decision. In his fourth UFC fight, Jones was disqualified and suffered his first loss in the octagon. It was also his last loss.
Since that DQ in late 2009, Jones has reeled off 18 consecutive victories, his most recent in February, a unanimous decision over Dominick Reyes to defend his UFC light heavyweight title. While Jones has been flawless inside the octagon, his life outside of it has been anything but that. 
Jones has encountered numerous legal troubles, including a 2015 hit-and-run incident where the vehicle he was driving collided with two other vehicles leaving a pregnant woman injured. Jones fled the scene. Jones later turned himself in. He received 18 months supervised probation and the UFC stripped him of his title and suspended him indefinitely.
In recent months, Jon Jones made headlines squabbling with UFC President Dana White over money. In August, Jones announced he was relinquishing his light heavyweight belt and was moving up to the heavyweight division. 
Chandler Jones is an NFL defensive star
After playing three seasons at Syracuse University, the New England Patriots drafted Chandler Jones with the No. 21 overall pick of the 2012 NFL draft. Jones played four seasons in Foxboro, including 2015, when he recorded 12.5 sacks and was a dominant force on defense for the Super Bowl-winning Patriots. Jones earned his first Pro Bowl trip that year.
The following season the Patriots traded Jones to the Arizona Cardinals. Since joining the Cardinals, Jones has been a dominant defensive force in the desert. In 2017, he led the NFL with an impressive 17 sacks and 28 tackles for loss. He earned his first All-Pro honor and second Pro Bowl. 
After 2018 when he registered 13 sacks, Jones exploded in 2019 with an incredible 19 sacks on the season. In addition, he led the NFL with eight forced fumbles. He earned his second All-Pro and third Pro Bowl nominations. 
Who has a higher net worth — Jon Jones or Chandler Jones? 
During his 12 years in the UFC, Jon Jones' pay has steadily risen along with his success. In his most recent fight against Dominick Reyes, Jones earned a total payout of $580,000. For his career, Jones has earned a $7.23 million. 
In addition to his fight earnings, Jones also receives a portion of pay-per-view dollars. As recently as May, Jon Jones said he earns about $5 million per fight with all of the dollars combined. All of it together adds up to Jones having a net worth of $10 million. 
When Chandler Jones joined the New England Patriots in 2012, his original salary was $390,000 and he received a $4.38 million signing bonus. In 2016, when Jones signed on with the Cardinals, he received a significant pay raise.
He signed a 5-year, $82.5 million deal, which included a $15 million signing bonus, $51 million guaranteed, and an average annual salary of $16.5 million. Jones has an estimated net worth of approximately $40 million.
It makes sense, based on popularity alone, that playing in the NFL would net Chandler Jones more money than Jon Jones. Regardless of who earns more, it's a rarity for any person to become a millionaire playing sports, which makes it all the more impressive that a pair of brothers can do it in two different sports.