Why Denny Hamlin Could Be Up a Creek Without a Paddle in Contract Negotiations With Joe Gibbs Racing
A big-name Joe Gibbs Racing driver is headed into the final year of the contracts for both himself and his sponsor for the second year in a row. Will this be a repeat edition of the 2022 JGR Silly Season saga?
Denny Hamlin has been the driver of the No. 11 car at JGR that FedEx has primarily sponsored since the beginning of his Cup Series career in 2005. He has had remarkable success with 48 wins, 36 pole awards, and 11 finishes of sixth or better in the final season championship standings, including top-five in each of the last four years.
He is still one of the premier drivers in the sport after 18 years in the series. Hamlin has won multiple races in seven of the last eight years and had two in 2022 to go with three poles, which tied for the fourth-most in the series.
Denny Hamlin could be in the same position Kyle Busch was in 2022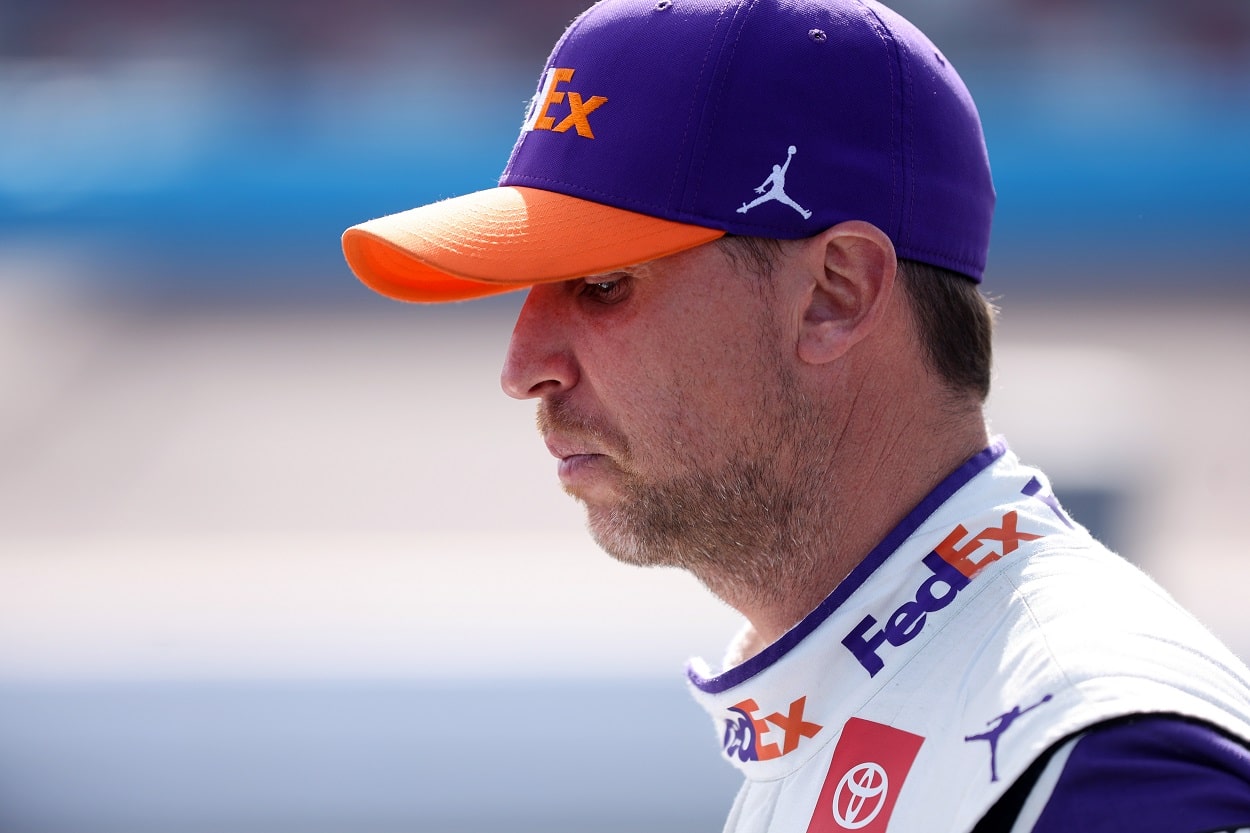 Those numbers suggest Hamlin is still at or near the prime of his career at age 42, but a potential roadblock toward his future awaits at the end of next season. It was one JGR and Hamlin's now-former teammate Kyle Busch were unable to overcome this past season.
Hamlin's contract and FedEx's sponsorship contract are both up at the end of the 2023 campaign, so the stage is set for another possible Silly Season saga at JGR after negotiations with Busch became the dominant Silly Season storyline of 2022.
Busch's longtime primary sponsor, M&M's/Mars, announced in December 2021 that it would leave the sport at the close of the following season. That news left a gaping hole in the No. 18 car's sponsorship schedule, and the organization was able to fill that space and still come to agreeable contract terms with Busch. The driver announced in September he would move to Richard Childress Racing and drive its No. 8 car starting in 2023.
Hamlin could be headed in a similar direction.
"Certainly, I've always wanted to finish my career at JGR," Hamlin said on Dec. 1 prior to the NASCAR awards ceremony in Nashville, "and I'm optimistic that will be the case."
However, what he wants and what could happen are two completely different scenarios.
JGR will likely need FedEx or a similarly large sponsor to be able to keep Hamlin
Perhaps FedEx wants to extend its partnership with JGR and remains the primary backer of the No. 11 car for the foreseeable future. That would go a long way toward checking the necessary boxes for Hamlin to remain in the JGR fold. The parties could then agree to a salary and move on without any disruption.
The FedEx portion of the situation is vital. The company has not given any public indication about its future plans in NASCAR, but it is one of an ever-decreasingly few sponsors that cover the vast majority of the season. 
Brands such as Busch Beer, NAPA Auto Parts, Ally, and Shell Pennzoil still appear on their respective cars for most of the season, but what used to be the norm is now the exception as sponsorship costs have risen through the decades.
A continuation of the No. 11 sponsorship for FedEx would have likely been a given 20 years ago, but M&M's/Mars, which was a similar big-time sponsor, showed it is impossible to assume a sponsorship will remain through the end of a driver's career.
Other veteran drivers have managed to stay with their organizations until retirement
Hall of Famer Jeff Gordon did not end his career with DuPont/Axalta as his sponsor for the majority of the 2015 season, and seven-time champion Jimmie Johnson drove an Ally-sponsored car for the final two years of his full-time career.
Hamlin's situation differs a little from Busch's because he also co-owns a full-time Cup Series team in 23XI Racing with Michael Jordan. That organization currently fields two cars and would need to secure an additional charter to run a third, but it is at least more of a potential fallback option than Busch had with his Kyle Busch Motorsports operation in the Camping World Truck Series.
The Busch situation was also more of an anomaly than a common occurrence. JGR was able to bring back Martin Truex Jr. for the 2023 season after he had considered retirement up until his announcement in June that he would come back for at least one more year, and Auto-Owners Insurance has already announced it will return to be the primary sponsor for at least some races on the No. 19 car next year.
Aric Almirola made a similar decision with Stewart-Haas Racing during the 2022 season, but he continues to have strong backing from Smithfield as his primary sponsor.
If JGR does not have Hamlin and FedEx resigned by the summer portion of the 2023 season, his future could become a prominent storyline much the same way Busch's this past year.
Have thoughts on this topic? Keep the conversation rolling in our comments section below.