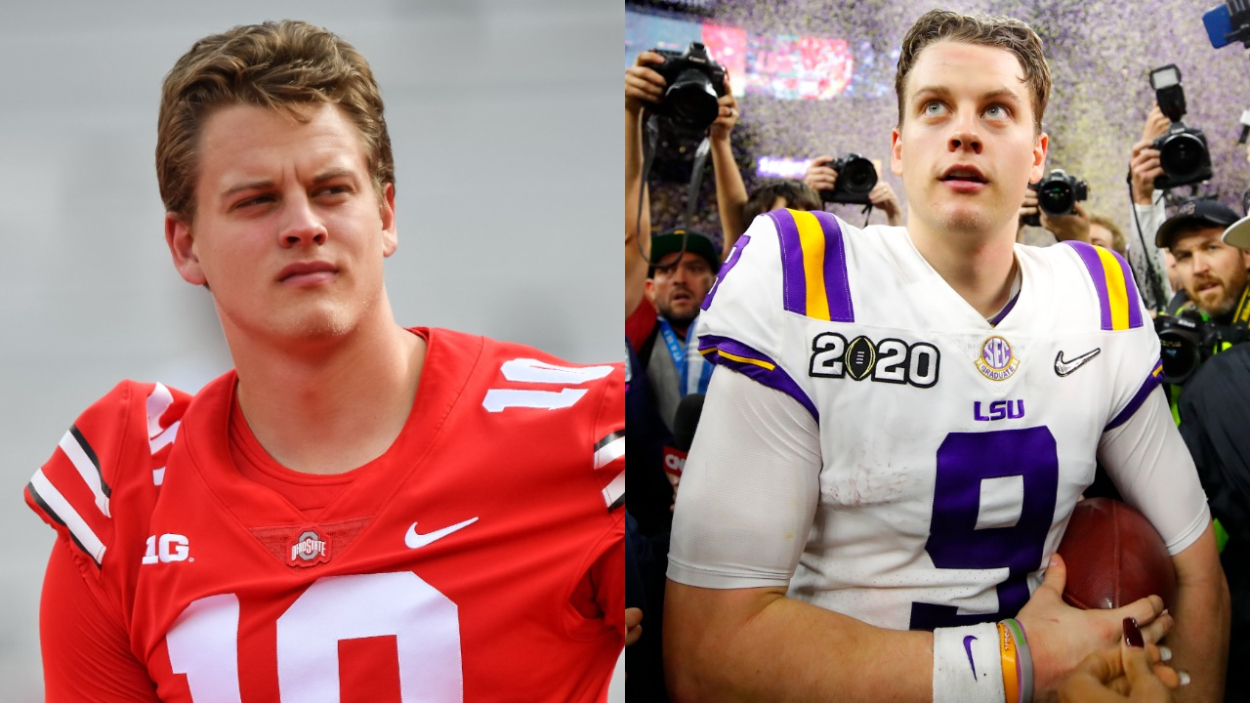 Why Did Joe Burrow Transfer From Ohio State to LSU?
Before becoming an NFL star for the Cincinnati Bengals, Joe Burrow won a Heisman Trophy and national title at LSU. Here's why he transferred from Ohio State.
If you have watched Joe Burrow play for the Cincinnati Bengals at all, you have likely heard announcers say one thing over and over again: He played for Ohio State.
But when people remember Burrow's college career, they don't think of his time playing for the Ohio State Buckeyes. They look back at his stellar tenure with the LSU Tigers.
So, why did Burrow, who grew up in Ohio, transfer from the decorated Big Ten program to LSU, a school in the dominant SEC that has to compete with Alabama every year?
Here's a look at why Burrow switched schools.
Why did Joe Burrow leave the Ohio State Buckeyes and transfer to LSU?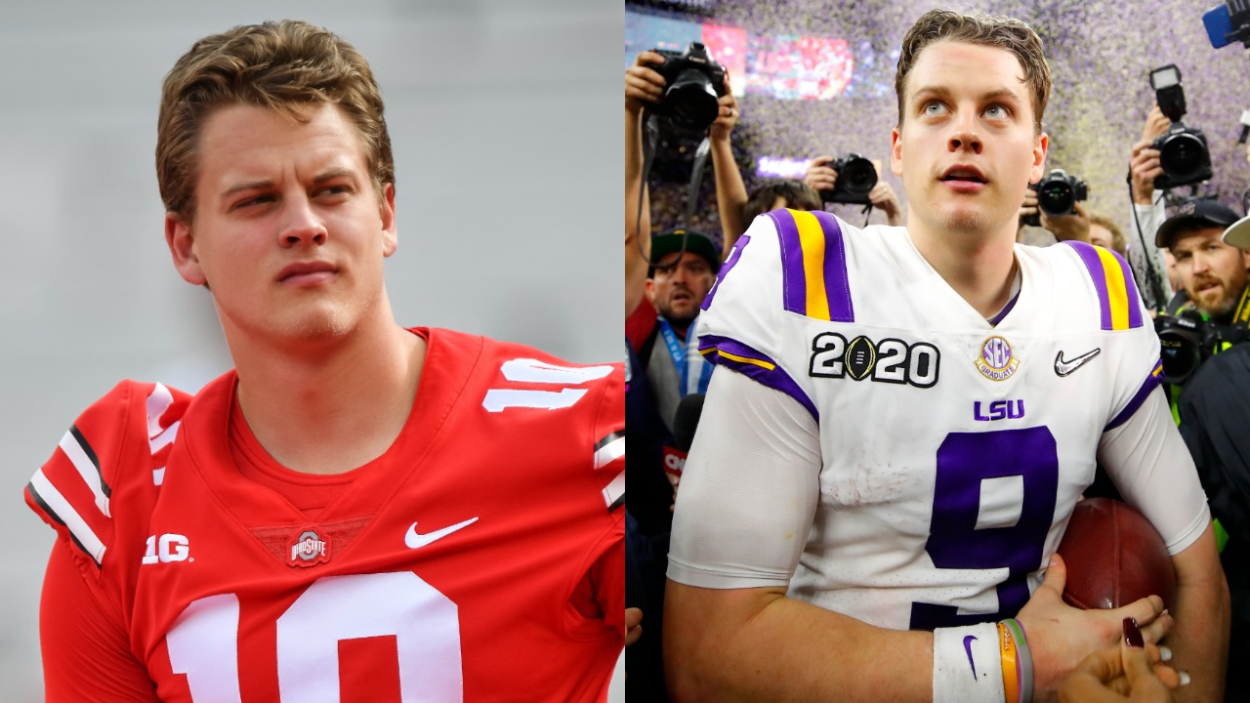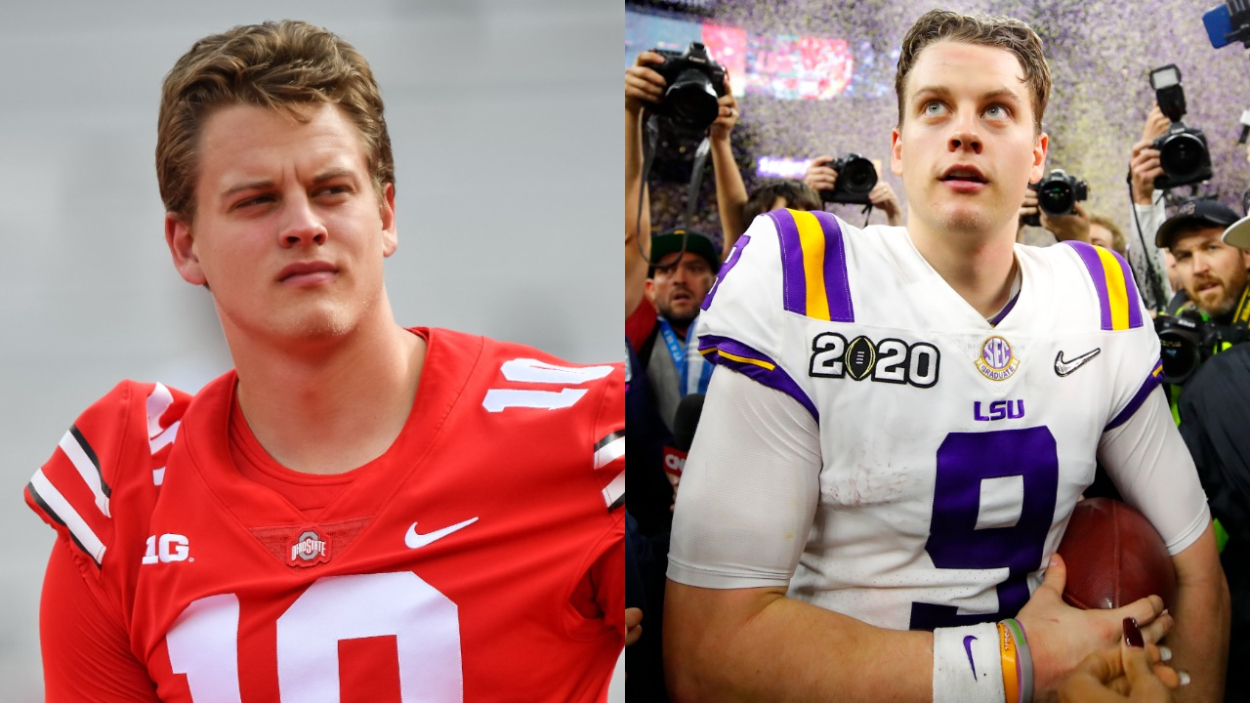 Joe Burrow joined the Ohio State program in 2015 as a four-star prospect out of Athens High School in The Plains, Ohio. He redshirted that first year due to three stellar quarterbacks from OSU's 2014 national-championship winning team returning to school in Braxton Miller, J.T. Barrett, and Cardale Jones.
Burrow was then the second-string QB to Barrett in 2016. He completed 22-of-28 total passes for 226 yards and two touchdowns.
However, according to The Sporting News, he broke his hand during an August practice in 2017, and Dwayne Haskins became QB2. Burrow threw only 11 passes that season for 61 yards.
Following Barrett's graduation, Burrow and Haskins entered 2018 spring practice in a QB competition. But despite former Ohio State coach Urban Meyer never naming Haskins as the front-runner, Burrow chose to transfer, likely due to there being writing on the wall.
"I didn't come here to sit on the bench for four years," he said after the team's spring game, per ESPN, "and I know I'm a pretty darn good quarterback. I want to play somewhere."
Burrow graduated from Ohio State early, so he immediately became eligible to play. He then narrowed his schools down to the University of Cincinnati and LSU but chose to go to Louisiana and play for the Tigers.
"Excited to be playing in Death Valley next season. Ready to get to work," Burrow tweeted.
Joey Heisman became a star at LSU
Joe Burrow immediately became the starter at LSU, but his first season was pretty mediocre.
He threw for just 2,894 yards, 16 touchdowns, and five interceptions. LSU went just 10-3 during that 2018 campaign and played in the Fiesta Bowl.
However, he became an absolute star in 2019 and had one of the greatest seasons in college football history.
Burrow threw for a whopping 5,671 yards, 60 touchdowns, and only six interceptions that year. He won the Heisman Trophy and led the Tigers to a 15-0 record and a national championship.
Joe essentially proved Ohio State wrong and showed the world he was the real deal.
He made the right decision by transferring to LSU.
Joe Burrow made the correct decision by transferring from Ohio State to LSU
Had Joe Burrow stayed at Ohio State, he may have rode the bench again in 2018. Yes, there's a chance he could have played in 2019, and he would have had a pretty darn good team around him (OSU made the College Football Playoff that year), but he wouldn't have gained the experience in the season before and likely wouldn't have had as much success.
So, if Burrow had never won the Heisman in 2019, he likely wouldn't have become the No. 1 pick in the 2020 NFL Draft. And he wouldn't currently be helping the Cincinnati Bengals become an absolute powerhouse after spending the last 30 years as one of the NFL's worst franchises.
Sure, some may have questioned his decision to transfer from Ohio State to LSU. But it worked out in the long run, and Joe Burrow is now one of the top QBs in the NFL.
Stats courtesy of Sports Reference