Why Does Ohio State Put Stickers on Its Football Helmets?
The Ohio State University football program is one of the most successful college football programs in the entire country. Whenever the Buckeyes take the field, fans know that they are, most likely, going to look pretty good and that they will win more games than they will lose. However, the players also have something interesting on each of their helmets whenever they take the field — buckeye leaf stickers. So, why does Ohio State put those buckeye leaf stickers on each of its players' helmets?
Ohio State is one of the best college football programs in the country
When college football fans think of the programs that are good pretty much every season, the Ohio State Buckeyes almost always come to mind.
Ohio State has one of the most storied traditions in all of college football. They have had some excellent players, ranging from the only two-time Heisman Trophy winner ever, Archie Griffin, to Pro Football Hall of Famer Orlando Pace. They have also had some more recent stars who are currently dominating in the NFL in Ezekiel Elliott, Michael Thomas, Chase Young, and the Bosa brothers.
This is all in addition to some legendary coaches: Woody Hayes, Jim Tressel, Urban Meyer, and now even Ryan Day.
The incredible players and coaches have helped the Buckeyes dominate the Big Ten Conference for years, earn seven Heisman Trophies, and win eight national championships.
For years, though, whenever the Buckeyes' players take the field, fans have seen them wearing buckeye leaf stickers on each of their helmets. So, why do they wear those stickers?
The Buckeyes started wearing the stickers in 1968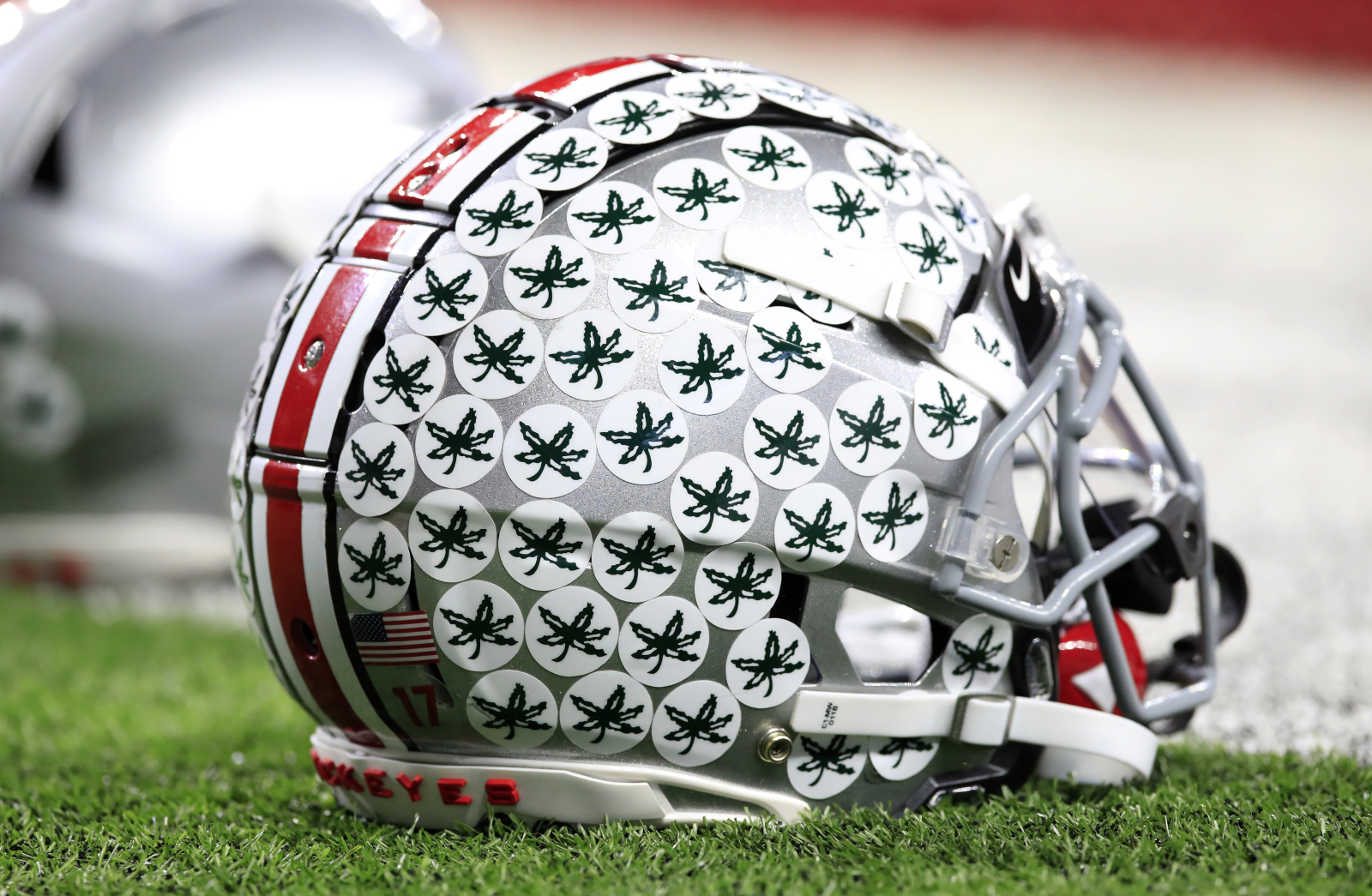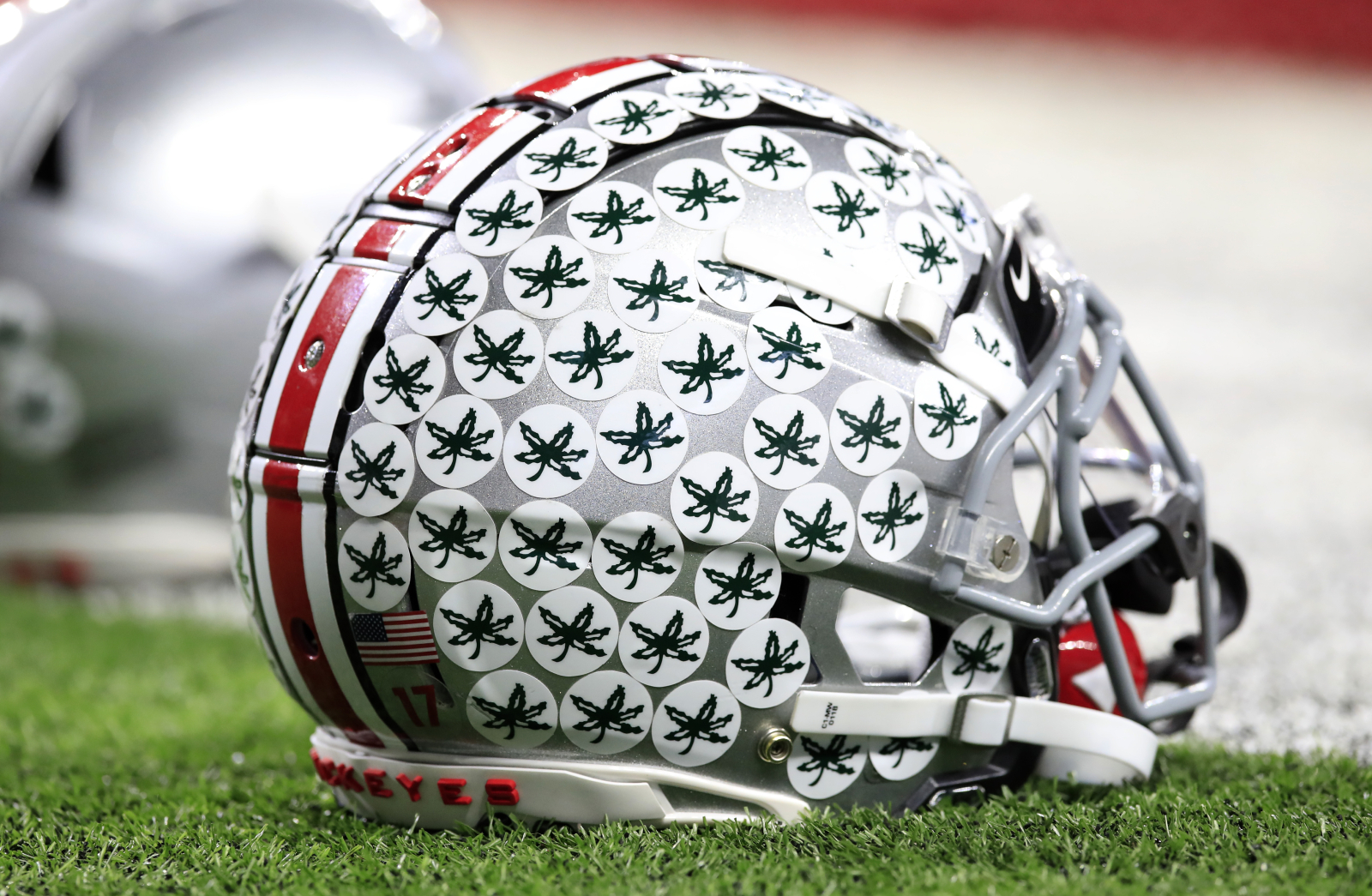 According to ESPN, legend has it that in 1968, Ohio State's trainer, Ernie Biggs, thought of the idea to award players with helmet stickers resembling buckeye leaves. It would be used for motivational purposes, as players got them for making big plays. Woody Hayes then embraced the idea.
"Woody was always trying to get that extra motivational edge," Rex Kern, who was Ohio State's quarterback in 1968, said, according to ESPN.
There have since been other programs to start similar helmet-sticker traditions, but it is reported that Ohio State was the first.
Why the Buckeyes started it and how it got started is not 100% certain. It is all lore within the Buckeye program and among its fans. However, the current reason for players getting stickers is now more known: players, in fact, get buckeye leaves for doing something good.
Ohio State continues to put buckeye leaves on its players' helmets
According to ESPN, when Jim Tressel coached the Buckeyes from 2001 to 2010, everyone on the team received a buckeye leaf for each Ohio State win, plus an additional one for Big Ten wins. Additionally, defensive players received stickers if the defense recorded at least five three-and-outs. The offense also got one if they had 10 plays that gained 12 or more yards. 
Players then got them individually by meeting film-grade standards set for each position. They also got rewarded for big plays, but at Tressel's discretion.
Additionally, according to Eleven Warriors, a site that covers Ohio State, under Tressel, players could keep track of how many leaves they had by looking at a chart, which potentially created some friendly competition.
However, Urban Meyer explained the system in simpler terms when asked about it by a young fan on Twitter.
"They are stickers and each one means the player did something really good to help the Buckeyes win! Thanks for being a fan, Hannah!! Go Bucks," Meyer tweeted in 2019.
According to Eleven Warriors, approximately 45 stickers can fit on each side of the helmet. No stickers are rewarded after a loss, though.
So, there is your answer. To sum it all up: if Ohio State players rack up a bunch of accomplishments on the football field, they earn a ton of stickers to put on their helmets. With how successful the Buckeyes typically are, their players usually have a lot of stickers by the end of the year, too.