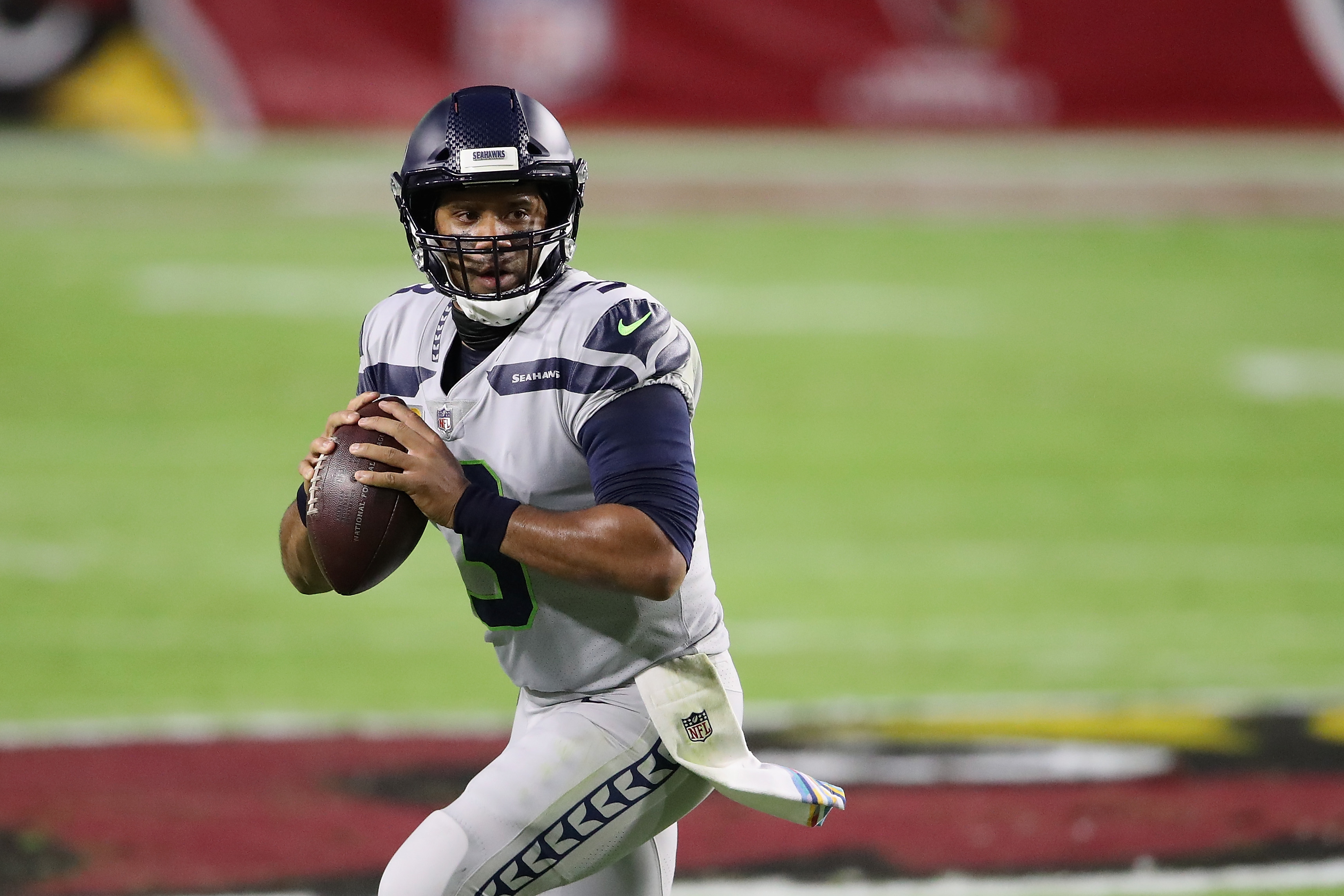 Why Does Russell Wilson Always Have a Picture of Joe Montana With Him?
Why does Seattle Seahawks quarterback always have a photo of Hall-of-Fame quarterback Joe Montana with him?
Russell Wilson has always been a big fan of former San Francisco 49ers quarterback Joe Montana. The two are very similar after having been third-round draft picks and earned Super Bowl rings. Being a fan of Montana, however, isn't the only reason why the Seattle Seahawks quarterback always has a photo of Montana with him.
Joe Montana is always in the GOAT debate
Tampa Bay Buccaneers quarterback Tom Brady is widely considered the GOAT in the NFL, mainly because of his six Super Bowl rings. Joe Montana is always in the conversation as he earned four rings himself and has gone undefeated in Super Bowls. Prior to Brady passing him in the rings department, Montana was usually at the top of the list when it came to the NFL GOAT.
Montana played his college football at Notre Dame. He was a third-round pick by the San Francisco 49ers and became the full-time starter for the team during the 1981 season. He started all 16 games in 1981, making the first of his eight Pro Bowls and leading the Niners to the first of their four Super Bowls under his wing.
Montana led the NFL in completion percentage five times. He spent the first 13 years of his 15-year career with the 49ers before playing his final two seasons with the Kansas City Chiefs. Montana is a two-time MVP and was inducted into the Pro Football Hall of Fame in 2000.
Russell Wilson having an MVP-type season
Russell Wilson is in his ninth season in the NFL. Like Joe Montana, he was a third-round pick in the NFL draft, selected 75th overall by the Seattle Seahawks in 2012. Unlike Montana, Wilson became the starter in his rookie season and has never missed a game.
Not only has Wilson never missed a game, he has never had a losing season in the NFL. In every year but 2017, Wilson and the Seahawks racked up double-digit victories for the season. The Seahawks went 9-7 in 2017. Wilson has made the Pro Bowl six seasons, including his first two in the league. He also led the Seahawks to consecutive Super bowls, winning one of them.
This season, Wilson is having an MVP-type year. He has guided the Seahawks to a 5-1 record and had thrown 17 touchdown passes. He has completed 71.8% of his passes and has thrown for 1,582 yards. Wilson has also rushed for 215 yards.
Wilson always has a Montana photo with him
Russell Wilson and Joe Montana have a lot in common. Both are Super Bowl Champs. Both were third-round draft picks. They have both worn No. 3 and No. 16 in college and the NFL (Montana was 3 in college and 16 in the NFL, while Wilson wore 16 in college and 3 now). Both are very mild-mannered and hard-working.
The hard-working part is why Wilson carries a photo of Montana with him. During Wilson's DangerTalk podcast, Wilson had Montana on as a guest and he explained how much Montana meant to him. "Every time I go to Levi's Stadium, there's this huge picture of you and you're sitting on the floor," Wilson said. "You got your legs spread out, your high white socks up, gold pants on. You're sitting back against the wall.
"I've actually taken a screenshot of that photo and I've saved that for a long time. What that picture showed me was all the work, all the energy that you had to put in to be successful – just to be one of the best in the world. You should be, after the game, so sold out and so tired that you left everything out on the field. Whenever I play, I want to leave everything out there."