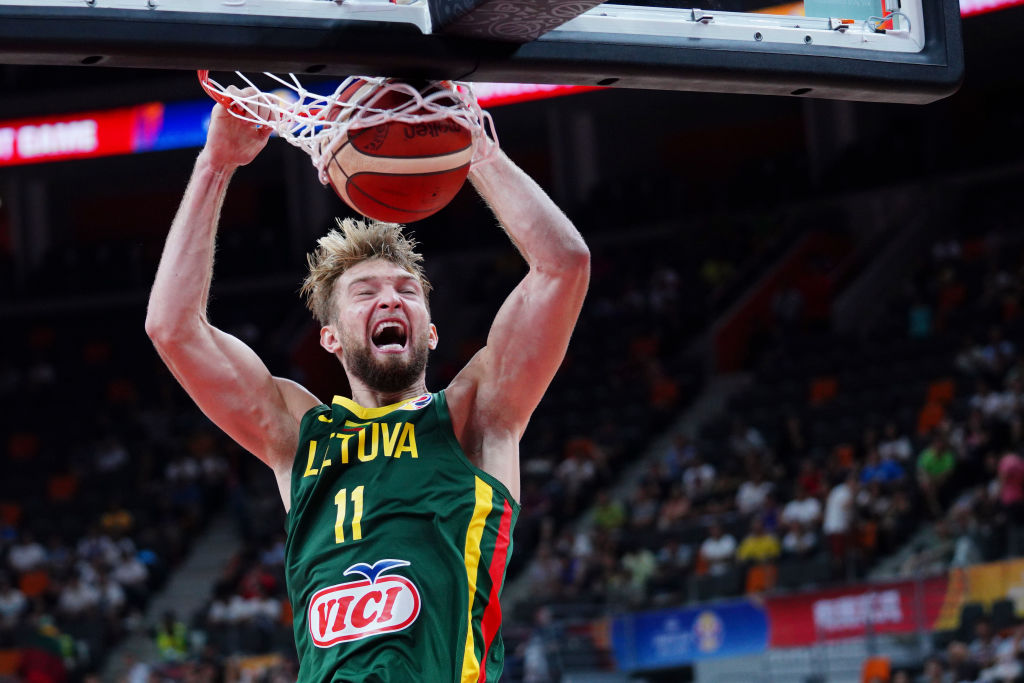 Why Is Lithuania so Good at Basketball?
When you think of basketball hotbeds, your mind probably jumps to New York or Chicago. Lithuania, however, produces plenty of pros.
When you think of basketball hotbeds, certain locations spring to mind. New York City has a strong sporting culture, with iconic courts like Rucker Park, the Cage, and Madison Square Garden; Chicago and Philadelphia aren't far behind. Most fans, however, probably wouldn't think of Lithuania. That's actually quite the oversight.
In the midst of a soccer-mad continent, the small Baltic nation prefers to ply their trade on the hardwood. That love of basketball isn't a fluke; there's actually a historical reason behind relationship with the game.
Basketball first arrives in Lithuania
While Lithuania grew into a basketball hotbed, the country's relationship with the game started slowly. In the early 1900s, netball, a relative of basketball primarily played by women, arrived in the nation via nearby Germany.
Over time, though, things changed. Two educational books on basketball were published, and, eventually, men started playing basketball. There were still some problems, though. Not only did games take place outside, but most basketball players were athletes who specialized in other sports; those realities meant basketball was a part-time hobby that could only be played during the summer.
In 1934, however, Kaunas' Physical Culture Palace opened. While it was originally built for tennis matches, the space proved to be a perfect venue for indoor basketball games. A year later, Lithuania hosted the World Lithuanian Congress; the guests included several Lithuanian-American basketball players, who played exhibition games and shared their knowledge of the sport. Within a few years, the nation boasted Europe's top basketball team.
"Our basketball disease starts from that time," Sarunas Marciulionis, who spent seven seasons in the NBA, explained. "Every Lithuanian player knows about the help we had at the beginning from Lithuanian-Americans."
When basketball becomes more than a game
While those events laid the groundwork for basketball in Lithuania, there's still plenty of history left.
Lithuanian basketball understandably slowed down during World War II, but it came back during the country's postwar Soviet occupation. Since Lithuanian became a Soviet Socialist Republic, its citizens had to play the U.S.S.R.'s national sports teams; the next several decades, the basketball squad was led by Lithuanians.
Despite the occupation, Lithuania still maintained its own domestic teams; that allowed them an opportunity to fight back against the Soviet Union, at least on the court. ″For a long time when we played Russian teams in club competitions, it was like a fight between David and Goliath,″ Arunas Pakula, who was then serving as director of Lithuania's basketball program, said in 1992. ″We felt like an occupied nation. We had no weapons to use. The only opportunity to prove ourselves against the Soviets was in basketball.″
While things changed after the fall of the Soviet Union, basketball still occupied a similar role. Although there was no longer an occupier to resist, the game allowed Lithuania, a small nation that had been tucked behind the Iron Curtain, to make a name for itself on the global stage. The men's basketball team did just that, claiming an Olympic bronze medal in 1992, just two years after declaring independence from the U.S.S.R.
Why is Lithuania so good at basketball?
While it's never easy to boil history down to a few breakpoints, Lithuania's love of basketball and skill on the hardwood can be traced back to its past.
Thanks to Lithuanian-Americans, the country learned the rules of basketball and became an early power. While World War II and Soviet Occupation could have wiped the game out, the opposite happened: Lithuanians saw basketball as their game and used it to assert their own cultural identity. At that point, things became cyclical. Basketball's cultural status meant that each new generation grew up around the game; those children eventually became the next crop of talent who would inspire even more players.
That cycle will continue on Sunday night when Domantas Sabonis suits up for the NBA All-Star Game. The center, like his father before him, is doing his part to keep Lithuania a hotbed of basketball.