Why Kyle Larson Will End the 2022 NASCAR Cup Series Regular Season With the Most Wins
The remaining 2022 NASCAR Cup Series schedule sets up perfectly for Kyle Larson.
Reigning NASCAR Cup Series champion Kyle Larson has drifted through much of the season after winning the Daytona 500 pole and the second race of the season at Auto Club Speedway. But he might still be poised to be the headliner of the summer and put a pause on all of the parity talk the Next Gen car has created.
Larson dominated the 2021 campaign en route to his first career NASCAR championship. He won a career-high and series-high 10 races, including five 10 races in the NASCAR Playoffs. 
He tied Tony Stewart's 2011 title-winning run for the most wins in a single postseason and was the first champion to win at least 10 races since Jimmie Johnson won 10 in 2007. Larson's 2,581 laps led also set the record for most laps led in a single 36-race season, eclipsing Jeff Gordon's 2001 mark of 2,320.
Kyle Larson has been good but not yet dominant in 2022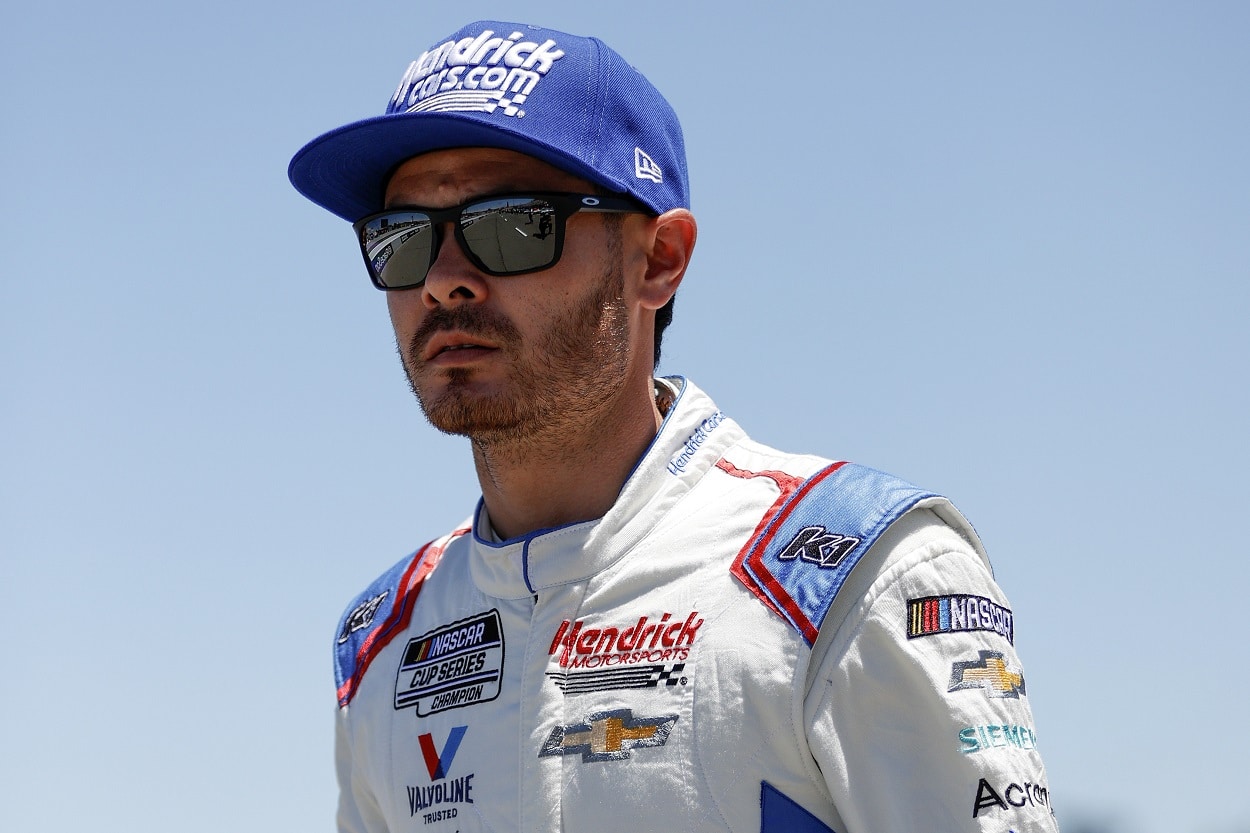 This season has been more of a struggle so far. Despite his Fontana win, Larson finished 19th or worse in five of the first eight races. He found some traction in April with three straight finishes of sixth or better, but only two of his last five finishes have been inside the top 10.
That doesn't mean Larson has not been a factor in several races this season. He has still led laps in 12 of the 16 events, his 9.8 average starting position ranks third in the series, and he won his second pole award of the season in the most recent race at Sonoma Raceway.
He has also been the odds-on favorite to win 12 of the 18 events this season, including the two exhibition races, according to OddsChecker.
Still, four other drivers, including his Hendrick Motorsports teammate William Byron, have captured two wins this season and sit ahead of him on the playoff grid.
Larson didn't get hot until the middle of last year's championship season, either
It might be just a matter of time before he and the No. 5 HMS team turn those excellent starts into race-winning finishes. Larson had only one win through the first 14 races of the 2021 season before winning three straight starting with the Coca-Cola 600 at Charlotte Motor Speedway.
His third win of that streak came in the inaugural Cup Series race at Nashville Superspeedway, which is the next stop on the 2022 circuit. Perhaps the Music City is where he can get back to Victory Lane and kick off a similar domination tour this season.
He will have a couple of more obstacles to overcome this time. First, the new Next Gen car model NASCAR introduced this season has effectively leveled the playing field throughout the series. The 12 winners through the first 16 races of 2022 trail only the 13 different winners in 2003 for the most in Cup Series history through 16 events in a season.
Also, Larson will be without his crew chief, Cliff Daniels, along with jackman Brandon Johnson and front-tire changer Donnie Tasser, for the next four races because a wheel came off of the No. 5 car on lap 84 at Sonoma, which triggered automatic four-race suspensions.
Veteran crew chief Kevin Meendering will fill in during the four events Daniels will miss, and HMS has maintained success during crew chief suspensions in the past. Most famously, Jimmie Johnson still won the 2006 Daytona 500, although regular crew chief Chad Knaus had been suspended earlier in Speedweeks.
He's had success on upcoming tracks on the NASCAR Cup Series schedule
The rest of the regular-season schedule also favors Larson. He has won a combined seven races at four of the remaining 10 venues on the regular-season slate, and he finished inside the top five in six of the next 10 races a year ago.
Three of those races will take place on road courses, where Larson has excelled in recent years. His three road-course wins since 2019 are second only to teammate Chase Elliott's six, and Larson's 10.8 average finish in that span ranks third.
Plus, the four drivers already with multiple wins this season are either relatively inexperienced or veterans who have had rocky seasons themselves.
Ross Chastain's two wins are the first of his Cup Series career, and Byron has only four career victories. Joey Logano has 29 wins to his name but hasn't had more than two wins in a single regular season since 2015. Denny Hamlin, meanwhile, sits 21st in the points standings and has only one top-10 finish in a race he didn't win this year.
If any driver can break up the nearly historic unpredictability of the first 16 races this season, Larson might be the smart choice.
Stats courtesy of Racing Reference
Like Sportscasting on Facebook. Follow us on Twitter @sportscasting19 and subscribe to our YouTube channel.