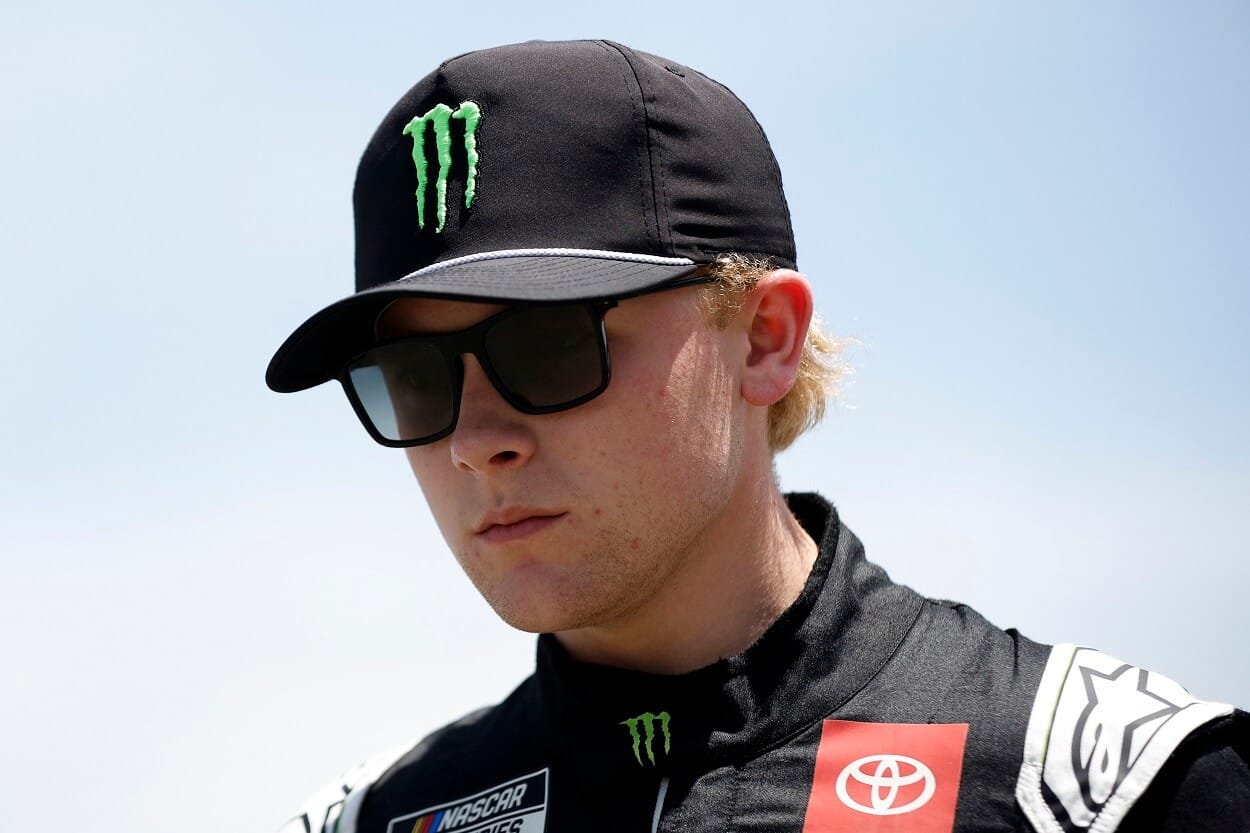 Why Ty Gibbs Is the Least Likely Bubble Driver to Make the NASCAR Cup Series Playoffs
Ty Gibbs currently sits in 18th place in the NASCAR Cup Series points standings.
NASCAR Cup Series rookie Ty Gibbs is only two spots and 10 points outside of a playoff berth as the season approaches the midway point, but the remaining regular-season schedule likely favors all of his closest competitors more than the 20-year-old prodigy.
Gibbs currently sits 18th in the points standings after a 14th-place finish Sunday at Nashville Superspeedway, his third straight result of 20th or better and fourth in his last five races.
He is 10 points shy of Daniel Suarez for the 16th and final spot in the NASCAR Playoffs, with Alex Bowman in between, eight points ahead of Gibbs. He is followed by AJ Allmendinger, Michael McDowell, Corey LaJoie, and Austin Cindric, with nine races left in the regular season.
Remaining regular-season schedule lines up better for Ty Gibbs' competitors than for himself
The potential largest problem for Ty Gibbs' playoff hopes are the three road/street courses and the two superspeedway events that make up more than half of the remaining races before the postseason begins September 3 at Darlington Raceway.
Suarez, Allmendinger, McDowell, and Cindric all excel at road-course racing, combining for 15 top-five finishes on road courses. The only Cup Series victories for Suarez and Allmendinger have been at road courses. Five of the last 10 top-10 results for McDowell have come at road courses, and Cindric has scored half of his 12 career top-10 finishes at road courses, along with five of his 13 career Xfinity Series wins.
McDowell and Cindric also have both previously won at Daytona International Speedway, which is where the regular season is scheduled to come to a close on August 26. LaJoie, meanwhile, has finished inside the top five each of the past two March races at Atlanta Motor Speedway since Speedway Motorsports Inc. revamped the 1.54-mile oval into a superspeedway-style track, which is where the series will visit July 9.
All six of his Cup Series top-10s have been in superspeedway-style races at Atlanta, Daytona, or Talladega Superspeedway. Bubba Wallace in 15th is also a superb superspeedway driver and could clinch a playoff berth at Atlanta or Daytona.
Gibbs has had a solid start to his official rookie campaign, even though he ran 15 races a year ago as a fill-in driver for Kurt Busch after Busch suffered a head injury in a qualifying crash in July at Pocono Raceway.
Gibbs has posted four top-10 finishes, but none better than ninth. All four came in consecutive races from March 19 at Atlanta through April 9 in the dirt race at Bristol Motor Speedway. His 21.1 average finishing position in the nine races since Bristol ranks 25th in the series. He has led only six laps combined through the first 32 starts of his Cup Series career and has yet to finish better than ninth.
Flashes of brilliance plus Joe Gibbs Racing power provide postseason potential
Sure, he will have as much of a chance as the rest of the field to score a surprise victory in the superspeedway-style races at Atlanta and Daytona. He was also a good road-course racer in the Xfinity Series, with four of his 11 wins coming on road courses, including his first career NASCAR win in his first career start on February 20, 2021, on the road-course layout at Daytona.
While Gibbs is currently only 10 markers behind Suarez for the final playoff spot, a win from any four drivers behind him in the standings would propel them into the 16-driver playoff field and increase Gibbs' points deficit. He is 38 points behind Wallace, who would move to the bubble position if a driver currently outside of the playoffs wins one of the next nine races.
Gibbs' best chance to win his way into the playoffs might be Aug. 6 at Michigan International Speedway. The 2.0-mile oval was the site of his first career Cup Series top-10 finish last year in just his third career start at the sport's highest level. He also won the Xfinity Series race there the day before as part of his march toward the series title.
Gibbs pilots the No. 54 car for his grandfather-owned Joe Gibbs Racing, which leads all teams with seven top-five finishes and a 98.8 average driver rating among its four cars in the last four races at Michigan since 2020. JGR's 10.4 average finishing position in those events is second only to 23XI Racing, which also runs Toyotas and has close ties to JGR thanks to 23XI co-founder and current JGR driver Denny Hamlin.
JGR has also sent a car to Victory Lane an organization-best 18 times at Richmond Raceway, which will host the Cup Series on July 30 and is where the reigning Xfinity Series champ finished ninth on April 2 in the second race of his top-10 streak.
A path exists for Ty Gibbs to reach the postseason in his first full year of Cup Series competition. It is just incredibly narrow.