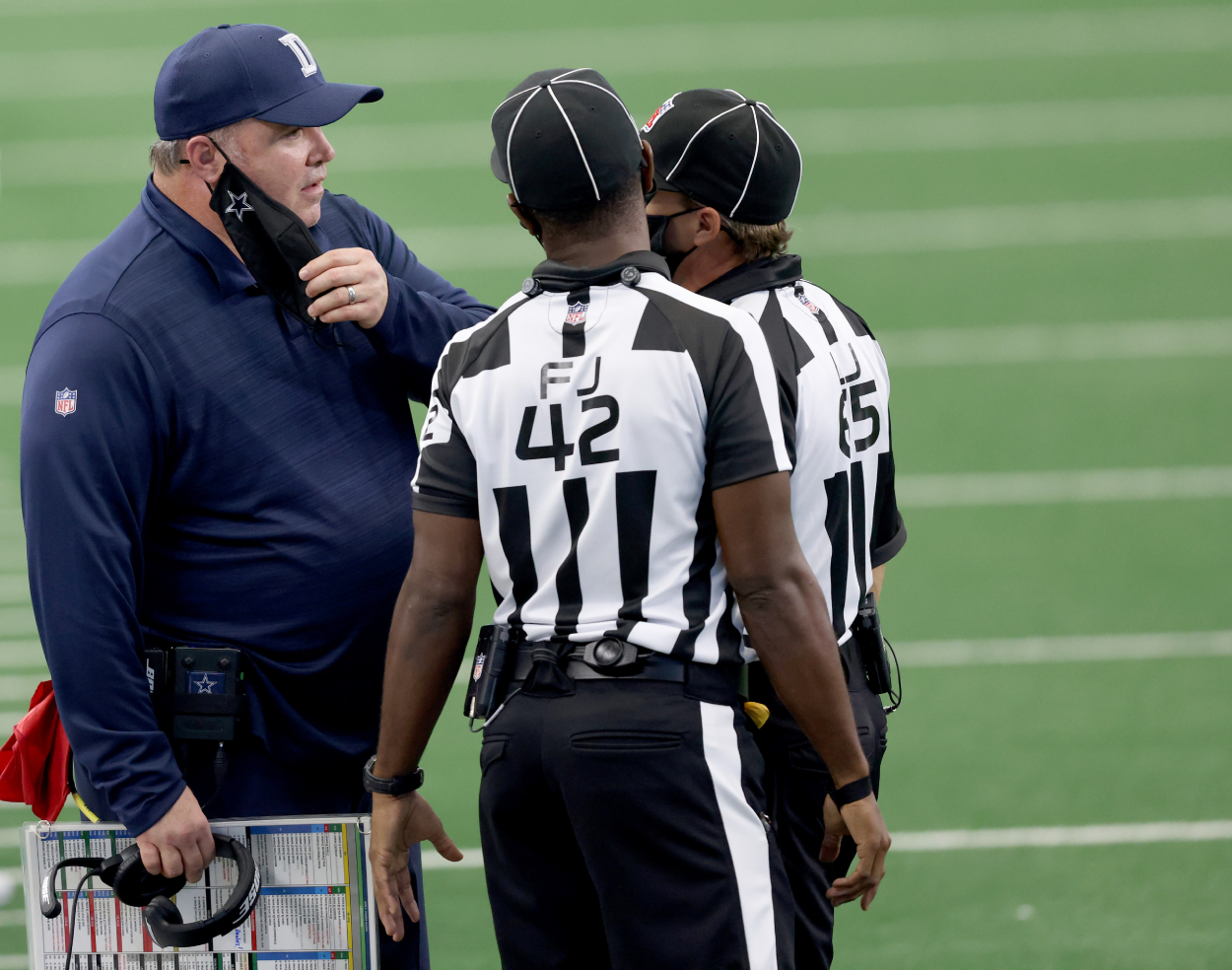 Why Was Mike McCarthy Trending Sunday When the Dallas Cowboys Were Off?
Dallas Cowboys head coach Mike McCarthy was trending on social media sites Sunday even though his team didn't make the playoffs.
Sunday was a football fan's dream. Two games covered roughly seven hours total and featured four teams vying for two Super Bowl spots. One of those teams was not the Dallas Cowboys, yet their head coach, Mike McCarthy, could be found trending on social media sites smack dab in the middle of the evening.
Mike McCarthy had a first year to forget with the Dallas Cowboys
Mike McCarthy just wrapped up his first season as head coach of the Dallas Cowboys. Although the Cowboys were in the playoff hunt until the final regular-season game, it was an ugly season all-around for McCarthy. Dallas finished 6-10 and played in the worst division in the NFL.
McCarthy was hired before the season, replacing Jason Garrett, who had one losing season in 10 years with the Cowboys. Garrett, however, was the definition of mediocrity, collecting four .500 seasons. He did finish his career with a record of 85-67 in 152 regular-season games.
McCarthy came over to Dallas after 13 seasons with the Green Bay Packers. He won a Super Bowl with the team and finished his career with a 131-87-2 regular-season record. This year, the Cowboys got off to a 2-7 start under McCarthy and the first of those wins was a miraculous one. They needed an onside kick to cap a rally from a nine-point deficit with less than two minutes left to stun the Atlanta Falcons in Week 2.
It will be Tom Brady vs. Patrick Mahomes in Super Bowl 55
Kansas City Chiefs quarterback Patrick Mahomes is looking to win his second straight Super Bowl. Tampa Bay Buccaneers quarterback Tom Brady is seeking his seventh title. The matchup for Super Bowl 55 was decided Sunday night.
Mahomes and the Chiefs got by the Buffalo Bills relatively easy, while Brady and the Bucs held off the Green Bay Packers. For the first time in NFL history, a team will be playing in the city where the Super Bowl is hosted. Super Bowl 55 is being played at Raymond James Stadium, home of the Tampa Bay Buccaneers.
The Chiefs and Buccaneers have already met this season with the Chiefs outlasting the Bucs 27-24 at Raymond James Stadium. The two quarterbacks combined to throw for better than 800 yards. Mahomes completed 37 of 49 passes for 462 yards and three touchdowns. Brady also had three touchdowns and threw for 345 yards.
Why was Mike McCarthy trending Sunday night?
During the latter part of the Green Bay Packers vs. Tampa Bay Buccaneers NFC title game Sunday, Dallas Cowboys coach Mike McCarthy's name was found trending on social media sites. McCarthy's team wasn't playing, but his former team was. The former Green Bay Packers coach was trending for all the wrong reasons.
With the Packers trailing by eight points with a little more than two minutes remaining, head coach Matt LaFleur decided to kick a field goal. It was a decision that was puzzling to most, but it was a decision that Green Bay Packers fans are used to. McCarthy was known for his bizarre fourth-down decisions and LaFleur carried on the tradition Sunday night.
LaFleur's decision prompted tons Twitter users to compare LaFleur and McCarthy. The memes and videos of McCarthy's blunders lasted a while on social media. Overall, McCarthy had a successful run in Green Bay during his 13-year career, but for LaFleur to be compared to him Sunday was anything but flattering.