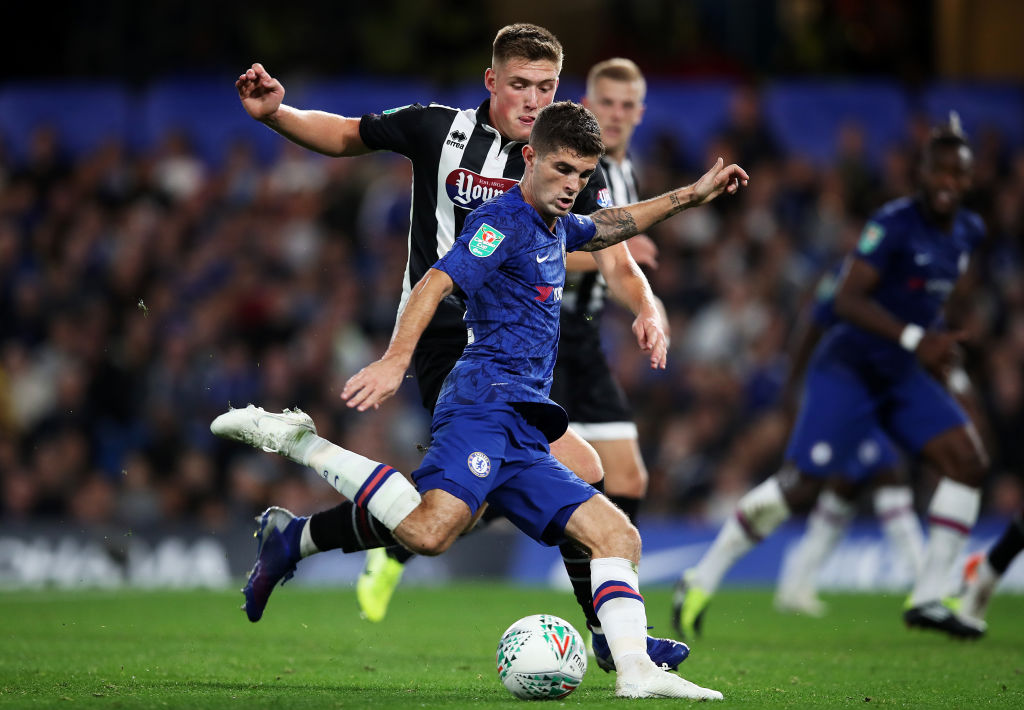 Will Christian Pulisic Regret His Move to Chelsea?
After breaking out at Borussia Dortmund, Christian Pulisic moved to the Premier League. Will he regret his transfer to Chelsea?
America, for all of its athletic potential, is still trying to find soccer success. While there have been moments of hope—fans still remember the 2014 World Cup—there have been more false starts and embarrassments than anything else. Christian Pulisic, however, seems to be the real deal.
After bursting onto the European scene with Borussia Dortmund as a teenager, Pulisic moved to Chelsea this past summer. That move, however, hasn't started like the winger would have hoped.
Pulisic's time at Dortmund
In 2015, Bundesliga club Borussia Dortmund signed Christian Pulisic as a youth player. After a year in Germany, however, he got his chance to join the first team during two winter break friendlies. Those performances impressed manager Thomas Tuchel and earned the American a spot in the senior squad.
Pulisic became a first-team regular during the 2016-17 season, making 43 appearances and scoring five goals across all competitions. He became the youngest player to ever appear in the Champions League, earmarking himself as a promising young player. Dortmund agreed, signing him to a contract extension in January 2017. Despite that new deal, a bigger stage called; Pulisic transferred to Chelsea during the January 2019 window, although he finished the season on loan with his old club.
Adapting to life at Chelsea
When Pulisic finally moved to Chelsea in the summer of 2019, he came to a club in flux. Despite winning the Europa League, manager Maurizio Sarri left England after one season; club legend Frank Lampard would take over in the dugout. The club had also sold its best player, Eden Hazard, and was unable to replace him due to a transfer market ban. It seemed like the perfect scenario for Pulisic to arrive and stake his claim to a starting role.
Things haven't worked out as he imagined, however. Since August, the American's playing time has dropped off. Mason Mount, who Lampard previously worked with at Derby, has generally been taking up one of the wide forward positions, leaving Pulisic to fight it out with Willian and Callum Hudson-Odoi for playing time. Even when Mount dropped into the midfield against Southampton, the latter two players took up the advanced positions, with Pulisic only coming on as a substitute.
Pulisic has admitted that his lack of playing time is "frustrating"; that doesn't mean he's doomed to be a flop at Chelsea, however.
Christian Pulisic's path forward
Right now, there's an apparent roadblock in front of Pulisic at Chelsea. Mount has been playing well and has a previous relationship with Lampard; Willian is an experienced Premier League professional, and Hudson-Odoi has looked promising during his first team appearances. At this point, all the American can do is keep working hard in training and make the most of his appearances off the bench and in cup games.
Lampard's role as manager, however, could help Pulisic handle the setback. As a former player, who worked his way through the West Ham academy before moving the Chelsea, Lampard surely knows the challenges of breaking into a Premier League squad. If he can help Pulisic remain engaged and see this as motivation, rather than an obstacle, everything could work out in the long run.
Even if the playing time hasn't been there, there's no reason for Christian Pulisic to regret his move to Chelsea. He's still only 21-years-old and carrying the banner for an entire nation in Europe's top league; that pressure would weigh on anyone.
Pulisic's talent is clearly there, and opportunities will arise. At this point, he just has to be ready to seize them.