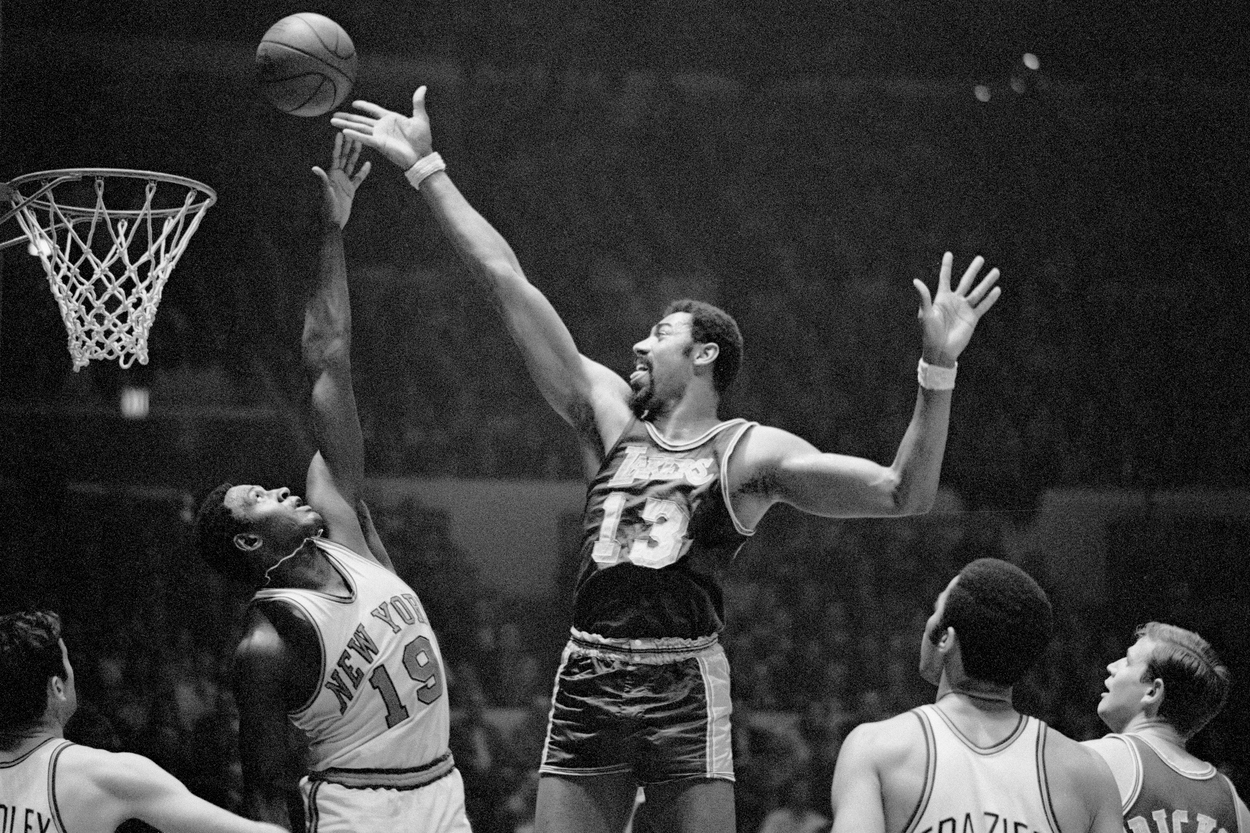 Wilt Chamberlain's Ability to Eat Is Arguably More Impressive Than His Hall of Fame Career
As Jerry West explained, former Los Angeles Lakers great Wilt Chamberlain had an appetite as legendary as his career.
Wilt Chamberlain is one of the most legendary figures in sports. From the time he scored 100 points in a game to his self-proclaimed record off the court (yes, that one), Wilt the Stilt was a player and person whose life was full of extremes.
As former Los Angeles Lakers teammate Jerry West once revealed, Chamberlain's epic eating ability should be just as notable as everything else for which the Hall of Fame center was famous.
Wilt Chamberlain was incredibly unique
At 7-foot-1, Chamberlain already stood out more than nearly everyone he interacted with. But his gargantuan height barely scratches of surface of what made Wilt one-of-a-kind.
Before the Big Dipper dominated the NBA, he was a show-stopping big man for the Harlem Globetrotters. Chamberlain left the University of Kansas after his junior season to entertain crowds with the Globetrotters for a year.
Upon entering the NBA with the Philadelphia Warriors in 1959, he began his career with six straight scoring titles. His third season was one of the most epic in league history, averaging 50.4 points and 25.7 rebounds across 80 games.
Beyond the basketball court, Wilt lived a fascinating life. He owned a famous nightclub in New York City during his playing career, reports The New York Times. Following his NBA days, reports Inside Hook, he played professional volleyball in the International Volleyball Association. And he struck up a friendship with Arnold Schwarzenegger, starring together in the film Conan the Destroyer.
On top of everything else, Wilt's appetite for life included a jaw-dropping appetite for food.
Jerry West witnessed the full capacity of Wilt eating
After a highly-productive nine-year run, Chamberlain was dealt to the Lakers in 1968. The towering center joined West and Elgin Baylor in Tinseltown, where he'd eventually finish his career.
West, Chamberlain's teammate of five seasons, told a story — while visiting Pepperdine University — about a trip to Kansas City in which Wilt the Stilt demonstrated his love of eating. It started when the big man called Mr. Clutch at the hotel and invited him up to the room for dinner.
"I open the door, and he's got a towel tied around his neck, [and] he's got a pair of basketball shorts on. That's all he had on," West explained. "I look around, and I said, 'Oh my God, what is this guy doing?' There were three [giant] racks of ribs; there were six 7 Ups — he drank 7 Up like it was water. There were two one-pound brisket sandwiches. … Coleslaw, potato salad, barbecued beans, barbecued chicken. I'm sitting there thinking, 'Oh my God, what's going to happen here tonight?'"
Once The Logo got past the initial shock, he accepted Chamberlain's invitation to eat something. West said he ate a small piece of the brisket sandwich but could barely even finish that. Meanwhile, by the time the meal ended, hardly any food was left.
"I think there was about half of one of these 7 Ups left," West continued. "I said, 'Have you been working out?' Nope. I said, 'How in the hell are you going to play tomorrow night?' … Well, he goes out and gets 25 rebounds. And when I left there that night, his towel [made it look] like he was pregnant. I have no idea how a man could eat that much."
Wilt Chamberlain had a Hall of Fame basketball career
With a little training, Chamberlain could have become quite the competitive eater. But his greatest abilities were on the court instead of around a table.
Even though he averaged just 17.7 points across five seasons in LA, Wilt still finished with a career average of 30.1. That's due to six seasons with the Warriors in which he averaged a ridiculous 41.5 points. Chamberlain also led the league in rebounding 11 times, averaging 22.9 boards per game.
Chamberlain ended his career as a 13-time All-Star, a seven-time scoring champ, and a four-time MVP. He also won a pair of rings in the latter half of his career, winning his first with the 76ers in 1967 and his second with the Lakers in 1972. For his victory with the Purple and Gold, Wilt's averages of 19.4 points and 23.2 rebounds helped him earn Finals MVP.
All in all, Chamberlain is one of the most accomplished players in basketball history. And you'd be hard-pressed to find someone with a stronger appetite.
Statistics courtesy of Basketball Reference