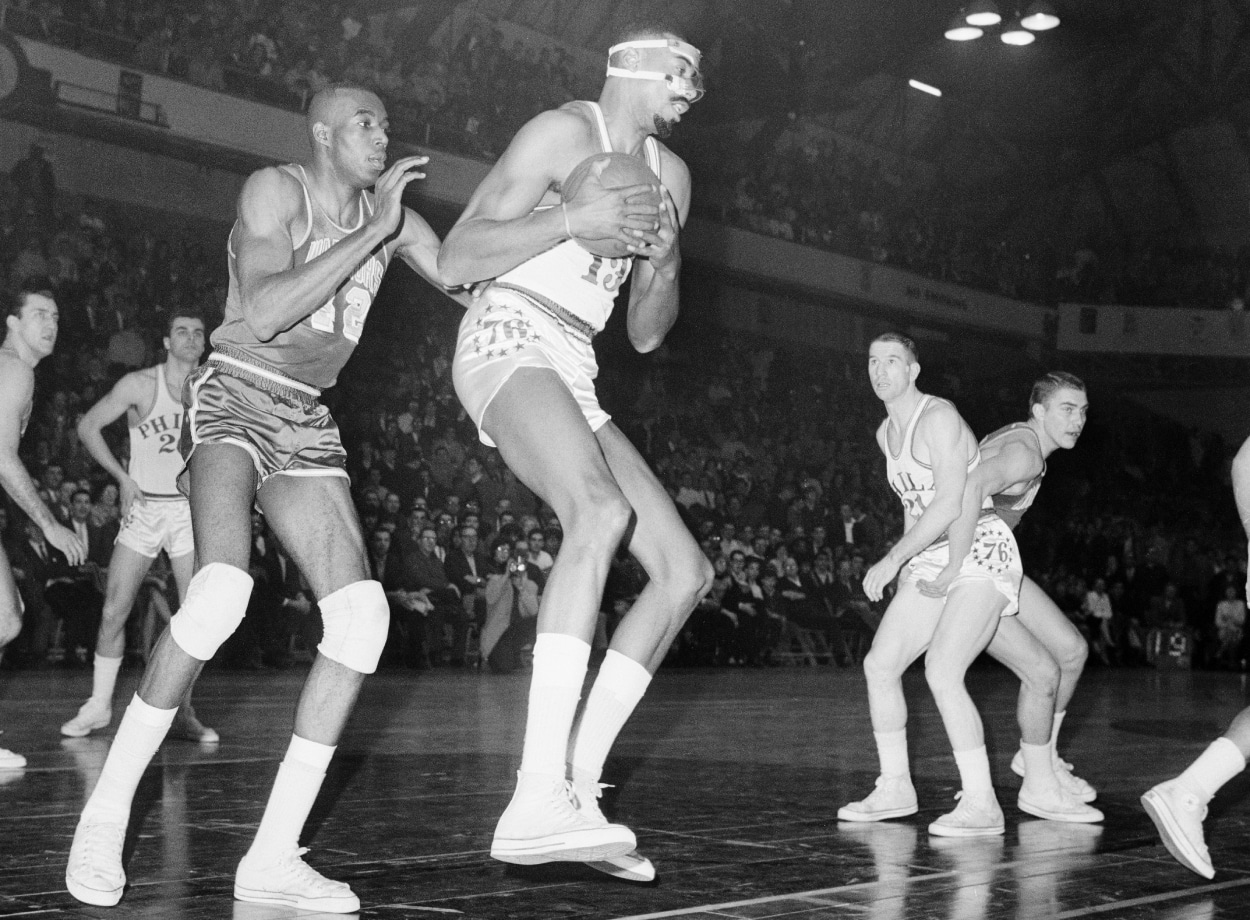 Wilt Chamberlain Went Public About His Fragile Psyche as a 29-Year-Old Star, and It Resulted in a Record-Setting Fine
Wilt Chamberlain was hit with a record-setting fine after going public with his frustrations as a 29-year-old NBA star.
Wilt Chamberlain had it all, yet he had very little. Nobody put up bigger NBA numbers than Chamberlain, but he often felt lonely and isolated. The four-time MVP developed a reputation for not being a winner. His battles against Boston Celtics center Bill Russell were often viewed as one-on-one matchups. Chamberlain usually won the statistical game, but Russell often won the basketball game.
While Russell was one of the best to ever play in the NBA, he was also blessed with much better talent around him. He finished his career with 11 championships, while Chamberlain had two. During his career, Chamberlain vented in a Sports Illustrated article that led to a hefty $750 fine, the biggest one at that time.
Wilt Chamberlain put up NBA numbers like nobody else
A case can certainly be made that Wilt Chamberlain is the GOAT. His numbers speak for themselves, although his two championships are what seemingly knock him down a few notches. Is that his fault?
Chamberlain had to be the main man on his teams. He was the go-to guy on offense and the shut-down guy on defense. With future Hall of Famers like Bob Cousy, Tom Heinsohn, Bill Sharman, K.C. Jones, and Sam Jones as teammates (in the same season), Russell didn't have to carry the load like Chamberlain.
And Chamberlain certainly carried the load.
Take, for example, his 1961-62 season. It was Chamberlain's third year in the league, and he had already led the NBA in scoring and rebounding in each of his first two seasons. Statistically, Chamberlain blew everyone out of the water in that '61-'62 season, the year in which he famously scored 100 points in a game. Not only did he make history with that 100-point effort, but he also averaged 50.4 points and 25.7 rebounds that season. He also averaged 48.5 minutes per game, even though NBA games are only 48 minutes long.
Despite Chamberlain's incomparable numbers, Russell won MVP that year. The Celtics finished 11 games ahead of the Philadelphia Warriors, but Chamberlain and the Warriors took Boston to seven games in the Eastern Division Finals. Russell averaged 18.9 points and 23.6 rebounds.
Chamberlain vented, and it cost him a hefty fine
Soon after the 1964-65 season ended, NBA president Walter Kennedy slapped Chamberlain with a $750 fine for "detrimental to the best interest of the league," according to Robert Cherry's biography of Chamberlain Wilt: Larger than Life." Chamberlain co-authored a two-part series in Sports Illustrated called, "My Life in the Bish Leagues."
In the articles, Chamberlain provided insight into how he saw himself and how others perceived him as a 29-year-old NBA star. He spoke about how he was unable to please his critics. Some viewed him as selfish. They labeled Russell as a winner and Chamberlain as a loser.
Chamberlain wrote, "Sometimes I feel like a guy not exactly living — but being chased through life, you know?" He said fans were insensitive toward him.
"'Hey boy,' they'd say in their condescending way," Chamberlain wrote, per Cherry. "'What are you, a basketball player or something like that?' Or what's worse, they'd say, 'Hey you, stand right over here for a minute. I want to have my picture taken with you. Man, the folks back home won't believe this.' And I'm supposed to stand there and smile like I'm some big, wooly pet.
"'There are days when it all makes me pretty sad and lonely. I stand on the balcony of my New York apartment and look down at all the normal cats and their girlfriends, maybe just walking hand in hand along the edge of Central Park and, you know, just sort of living. I wonder how it would be for me.'"
Chamberlain spilled his guts, and it cost him $750, the largest fine in league history at the time. He opens up, he gets fined. He says nothing, he's a selfish individual. Welcome to the life of Wilt Chamberlain.